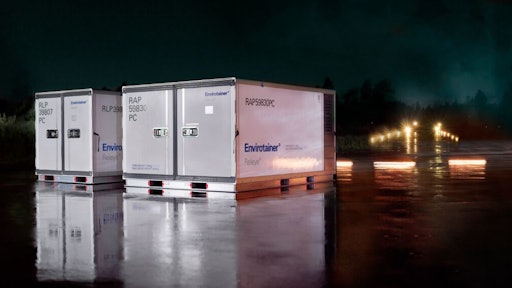 Envirotainer
Envirotainer expanded air transportation of pharmaceuticals with the release of the Releye RAP, a temperature-controlled 5-pallet solution designed to meet the strictest requirements in pharmaceutical air freight.
"When we launched the new Releye RLP in May 2021, we raised the bar in cold chain transportation to new heights of control, monitoring and autonomy. Now, with the launch of Releye RAP, we raise the bar yet another notch in terms of value and sustainability," says Peter Gisel-Ekdahl, CEO at Envirotainer.
"The COVID-19 pandemic is ongoing. Air cargo capacity is constrained and there's a huge demand for intercontinental shipments. In this context, organizations that qualify the Releye RAP will secure access to the most cost-efficient and sustainable solution for temperature-controlled airfreight," says Fredrik Linnér, chief business development officer at Envirotainer.
"The Releye series offer unique visibility, and with the control tower service, we're taking visibility to another level. Based on the most sophisticated live monitoring technology in the market and our 24/7/365 customer service, we are monitoring all Releye shipments, offering our customers a helping hand within 15 minutes from any potential event happening, in order to secure the safe delivery of pharmaceuticals," says Linus Wollentz, head of digital services at Envirotainer.
From Envirotainer:
With its increased efficiency and capacity, Releye RAP reaches outstanding CO2 reductions per shipment and is the future solution for secure cold chain shipments.
Releye RAP offers the most cargo space per fuel unit and is said to have the smallest CO2 footprint of all solutions on the market. This is thanks to its low weight, large cargo space and outstanding reliability.