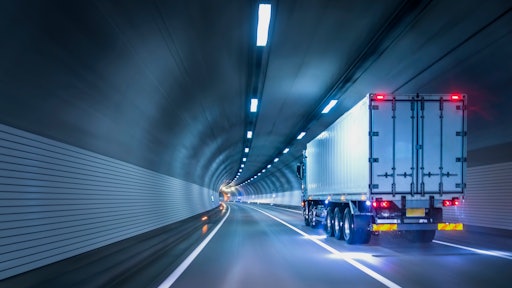 Getty Images
When growing a fleet, the steps are incremental. As you add trucks and drivers, you can add technology as you scale in size. One must-have for mid-to-large size fleets is a fleet management system (FMS). But, at what size do you actually start considering moving manual processes into an automated FMS system?
According to Jerry Robertson, chief technology officer for BOLT System, a fleet management system provider, the answer varies. "For for-hire carriers, we peg the number at around 12 to 15 trucks," he says. "But, for those operating a private or dedicated fleet, that magic number typically comes in at 20 to 25 trucks."
A fleet management system offers many benefits. It can streamline load management and dispatch, plus automate invoicing and driver payroll. And, it can generate reports that will help in decision making. "Want to see which lanes are really the most profitable?" asks Robertson. "Run a report and find out. The data and corresponding information you get with a FMS is invaluable and as soon as you're sized right, it's imperative to look into the right system for your fleet."
Here is a list of nine things to ask for in order lift the fog when implementing a FMS.
Do You Really Understand Your Business?
"Don't take that question as an insult," Robertson says. "If you're a for-hire fleet for example, what type of shipper are you working with? And, is that your niche, or do you want to broaden out? Why do you have your current shipper's business and what are your strengths in the market to expand your business? Just as important, what areas do you want to enhance and improve upon? By really understanding your business – taking a deep dive – you'll be in a great position to talk to your prospective FMS account manager to develop a custom solution for your business."
Should You Run a "Legacy" or Hosted FMS?
A simple analogy is owning or leasing a truck. "If you own a truck, you're responsible for everything – from the total acquisition cost, to repairs, to replacement," Robertson says. "In between you pay in efficiency and driver comfort if you spread out the replacement schedule too long and run a truck that is aged and more likely to have breakdowns. The same is true with your information system. Yes, you can host your own computer and have the information on your server…and it's dedicated to you. That's the 'pro.' The 'con' is you have to pay for it and have an IT group that can maintain 'patches' (updates) as your software and business evolves - and patches aren't simple. Often the IT person will wait to bundle patches before implementing the fixes, and that causes delays. It's not simple. Lastly, what happens when a legacy system crashes…or if your computer system is hacked, and you're taken hostage? Those are very real questions that you should think of now, instead of later."
What's the benefit of a Hosted system?
"Ease and paying for what you actually need," says Robertson. "Just like with a leased truck, you're paying for what you use – you don't actually own the asset, you're paying a subscription fee. And, that means you don't have a big upfront cost, or have to have IT staff assigned for 'maintenance' and 'patches.' It's much more economical. And, you can pick and chose the level of service and support you want."
The Right Capabilities
Most FMS providers have more capabilities than you'll ever need, but it's always good to ask to ensure.
Typically, they can help you with:
Integration with ELDs and other applications you need to manage your business
Load management and dispatch
Invoicing and freight bills
Labor tracking/detention pay and activity-based pay
Payroll settlements
Reports
Asset management
Since you probably don't need everything, can you order and pay for just what you need, or do you have to pay for the entire buffet? What's more, how is the information viewed, is it in real-time. How can information be used by you and your customers? For example, if you have a load in transit, can your system automatically alert your customer that the load is 15 or 30 minutes out? Or, if the load is delayed? Lastly, how easy is the integration and how much help can they provide?
How Can I Tell if the FMS Provider is Right For Me?
According to Robertson, the most critical thing is not what you should ask, but how you should feel. "You know your company, and what you need to accomplish, so after interviewing providers you need to have a gut feel that they're the right partner, because it's a big decision."
Robertson says to look for a provider that listens, and can come up with a program and solutions that fit your needs. "Not the other way around," he says. "You shouldn't conform to what the provider wants when it comes to information, they should conform to what you want. FMS is not static. It's always evolving and every customer is different. Don't compromise. You should work with a provider that wants to work with you individually, to come up with the right solution that will help your business grow. You should have the gut feel that they have your best interests at heart. Because if they don't, you'll end up with a vendor, not a partner, and that relationship won't likely last."
Service and Support
If you're comfortable with the product offering and have feeling the provider will be a good partner, ask about support and what to expect. "It's one thing to get you set up and running, it's another to have your back when you have questions or issues," says Robertson. "And, do they charge extra for any support, or is it part of your contract? Be upfront on support questions and what any costs might entail. You'll always need support – and you may need to pay for that time -- but you don't want to feel gouged. Understand how support works before you sign that contract."
If I Have A Hosted FMS, Does that Ensure Uptime?
"Generally yes. Uptime is at the top of the list for everyone, and it's a key selling feature for many of the providers," says Robertson. "But, be careful. Ask if the provider 'guarantees' uptime, and what happens if that uptime doesn't come through. If you're working with a provider that is hosting the information, you should ask, 'what is the penalty should they not perform as advertised?' Also ask how long 'planned' updates and patches generally take. Planned updates could be when you change ELDs, and need to add new information to your FMS, or program in compliance regulations.
Planning for the Future
Robertson says he always enjoys the 'what if' questions when dealing with new customers. "We encourage it – it shows they're thinking about the future," he says. "One big thing on the radar now is last-mile delivery. While most fleets don't need to incorporate that now, they very well may in the near future.
"The key point is that your transportation model today will likely vary in the years to come. And, if you chose the right FMS partner, they can help you along the path and show how what might happen in the future could be integrated into your system."
Ask for Referrals
Robertson says this is the litmus test. And companies should not be afraid to have you talk with existing customers. "If you do your homework and feel confident about the FMS provider you're most interested, do one final check," he says. "Talk with two or three of their customers and ask questions that will be vital to your operation. If they talk glowingly, you can move forward with confidence."