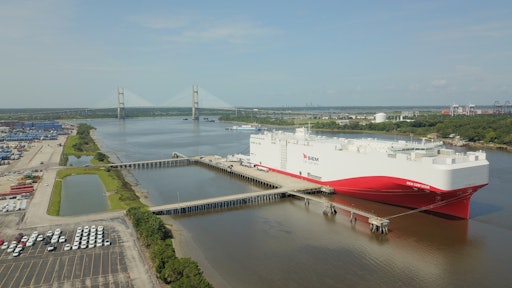 The Jacksonville Port Authority (JAXPORT) welcomed Siem Confucius, the world's first vehicle carrier of its size operated by cleaner, greener liquefied natural gas (LNG).
The vessel arrived at JAXPORT from Veracruz, Mexico, and unloaded new Volkswagen Group of America cars and SUVs at the port's Blount Island Marine Terminal.
The 7,500-car-capacity Siem Confucius is the first of two new LNG-powered ships built by Siem Car Carriers AS and commissioned by Volkswagen Group of America. The ships reduce carbon dioxide emissions by up to 25% and sulphur oxide emissions up to 100%.
"Siem Confucius and its sister ship, Siem Aristotle, are among the most modern and eco-friendly ships serving the automotive industry today," said Siem Car Carriers President Jeffrey Campbell. "By investing in world-class technology and maintaining a modern and efficient fleet, we are able to reduce emissions and our overall carbon footprint, while delivering the world-class service our customers have come to expect from Siem."
"Northeast Florida is a global leader in the use of LNG as a preferred fuel type for the maritime industry," said JAXPORT CEO Eric Green. "Some of the world's most environmentally friendly vessels call JAXPORT and we are proud to support these initiatives and do our part to make the supply chain cleaner and greener for the communities we serve."