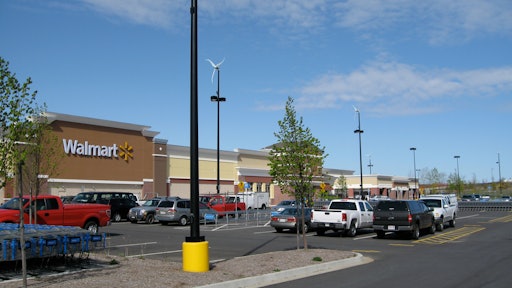 During Walmart's annual Milestone Summit Wednesday, the company launched a sustainability platform inviting suppliers to join Walmart in committing to reduce greenhouse gas emissions resulting from their operations and supply chains. Dubbed Project Gigaton, this initiative will provide an emissions reduction toolkit to a broad network of suppliers seeking to eliminate one gigaton of emissions, focusing on areas such as manufacturing, materials and use of products by 2030. That's the equivalent to taking more than 211 million passenger vehicles off of U.S. roads and highways for a year.
Walmart is the first retailer with a verified science-based target emissions-reduction plan. The company aims to reduce its absolute Scope 1 and 2 emissions by 18 percent by 2025. The retailer will also work to reduce CO2, or carbon dioxide equivalent, emissions from upstream and downstream Scope 3 sources by one billion tons (a gigaton) between 2015 and 2030.
Project Gigaton is part of a series of Walmart sustainability initiatives, focused on addressing social and environmental issues in ways that help communities while also strengthening business. For example, by investing in solar energy, Walmart has helped to support jobs for American solar companies. Walmart is now one of America's leading commercial solar and on-site renewable energy users and gets about 25 percent of its global energy from renewable sources. To give another example, by doubling the efficiency of our U.S. fleet from 2005 to 2015, Walmart saved nearly $1 billion compared to a 2005 baseline.
"We are proud of the improvements we've made in reducing our own emissions, but we aim to do more. That's why we're working with our suppliers and others on Project Gigaton," says Kathleen McLaughlin, senior vice president and chief sustainability officer for Walmart.
Walmart has identified energy, agriculture, waste, packaging, deforestation, and product use and design as the goal areas in which to focus their Scope 3 climate efforts. Participating suppliers are encouraged to focus their commitment in one or more of these goal areas.
To help suppliers make commitments to emission reduction, or to establish emission reduction projects, Walmart collaborated with NGOs, like World Wildlife Fund and Environmental Defense Fund, and additional like-minded organizations to create an emissions reduction toolkit. In this toolkit, Walmart highlights the business case for why suppliers should consider signing on to Project Gigaton.
"Supply chains are the new frontier of sustainability. The journey products take from source to shelf will collectively shape our planet's future," says Carter Roberts, president and CEO, World Wildlife Fund. "Project Gigaton is a testament to the transformative impact that leaders of industry can have on our greatest common challenges. As more companies follow in the footsteps of Walmart and their suppliers, we can achieve the critical mass needed to address climate change. Today's commitment represents an important step toward a safer and more prosperous future."
"A challenge like Project Gigaton will catalyze leadership and innovative solutions around the globe," says Fred Krupp, president of Environmental Defense Fund (EDF). "Forward-looking companies like Walmart, and the suppliers that will join them, know that our economy and our planet can—and must—thrive together. Consumers deserve both, and these businesses are leading the way. EDF looks forward to helping them along this journey."
"Through the years, we've seen that integrating sustainable practices into our operations improves business performance, spurs technological innovation, inspires brand loyalty, and boosts employee engagement," adds Laura Phillips, senior vice president, Sustainability for Walmart. "Our suppliers recognize the opportunity to realize those same benefits in their businesses. By working together on such an ambitious goal, we can accelerate progress within our respective companies and deep in our shared supply chains."