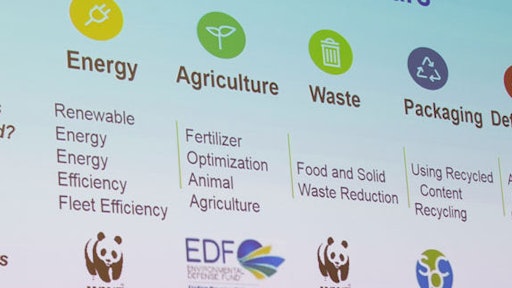 The Sustainability Consortium (TSC) announced its partnership with Walmart on Project Gigaton during their annual Milestone Summit in Bentonville, Arkansas. Walmart invited key suppliers to join together to make climate commitments that will use collective action to achieve Walmart's supply chain target of reducing emissions by 1 gigaton. At the meeting, Walmart launched a new sustainability platform inviting suppliers to join them in committing to reduce greenhouse gas emissions resulting from their operations and supply chains.
As an official measurement partner, TSC will lead Scope 3 data collection from participating Walmart suppliers. Scope 3 emissions are indirect emissions occurring upstream and downstream in the value chain of a product and may compromise as much as 90 percent of a company's total emissions. TSC is preparing to work with Walmart suppliers on innovation projects that make step-change improvements in their carbon footprint. Walmart will work with TSC to reduce emissions from upstream and downstream sources by one billion tons (a "gigaton") by 2030.
TSC will also be working on the measurement advisory committee alongside World Wildlife Fund (WWF), the Environmental Defense Fund (EDF) and fellow measurement partner, the Carbon Disclosure Project (CDP), on topics spanning energy, agriculture, waste, packaging, deforestation and product use and design. The committee will support methodology development and resolve cross-cutting issues.
"Climate change is one of the gravest threats we face. It also presents unlimited opportunities for companies that choose to lead. By taking a science-based approach to set such an audacious goal, Walmart cements its place as a leader with Project Gigaton. The Sustainability Consortium is proud to support Walmart in this critical initiative and we look forward to helping them deliver," said Euan Murray, TSC chief executive.
TSC staff and members attended Walmart's Milestone Summit, alongside Walmart's top suppliers. Over the next few months, TSC will establish the tracking mechanisms for Project Gigaton that will sit alongside the Walmart Sustainability Index and will be used for the first time later this year in the fall. TSC also powers Walmart's Sustainability Index through the development of our key performance indicators. The Index helps retailers and suppliers measure sustainability performance across more than 120 different consumer goods categories. The Index not only improves the sustainability of the everyday products we use, but also drives efficiency and reduces waste for producers all over the world.