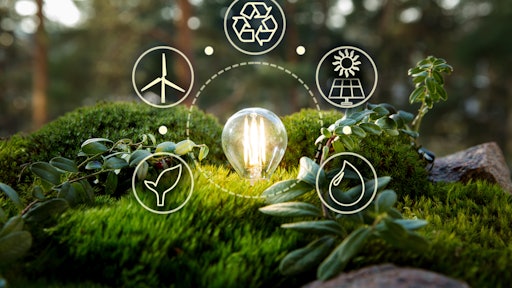 Suzi Media/stock.adobe.com
The pandemic has made the supply chain a household name. Today everyone from the multi-national construction firm building an expansive warehouse to the small business owner opening a new hair salon to the first-time homeowner working through a bathroom remodel has uttered the words "supply chain issues" at least once. It's not exactly the recognition the supply chain deserves, but it's the one we've got. So how can we make this moment in the sun a positive one?
It may start with the old adage of focusing on the things we can control. While ships float offshore from ports for weeks on end and major manufacturing hubs are still experiencing COVID disruptions, it may be the perfect time for warehouses stateside to reevaluate their sustainability and energy efficiency strategies.
Enter the SEC
Indeed, even the smallest changes to warehouse and distribution center operations can have a widescale impact. Or, at least for publicly traded companies, the Securities and Exchange Commission may move this to the top of your priority list anyway.
The March 21 proposal requiring disclosure of what many are considering "extensive" pieces of climate-related information poses both challenges and opportunities for supply and demand chain executives. So far, the SEC is painting with a broad brush, proposing the disclosure of:
Climate-related risks that are reasonably likely to have a material impact on a public company's business, results of operations, or financial condition.
Greenhouse gas emissions associated with a public company that includes an attestation report by a GHG emissions provider.
Climate-related financial metrics for audited financial statements.
While the details are expansive if you haven't prioritized sustainability and energy efficiency before, here's one more reason to start. For distribution centers and warehouses that already have sustainability and energy efficiency strategies in place, it may just require portfolio-level access to all of your energy data for reporting and analysis from a single source.
If you already have energy-related technology vendors operating within your organization—think solar companies, LED lighting systems, and demand response programs—now may be a great time to start asking if they offer data and reporting that will make your life a lot easier when this ruling goes through as expected. Questions a warehouse or distribution center might ask of a lighting, energy, or services provider could be:
Can I integrate the data from your system with data from another system?
Can I roll up data from individual sites to get a portfolio-level view of my energy-related metrics?
Is it possible to demonstrate action or movement toward reduction goals?
What type of data is available to me, and can I benchmark it against my peers?
What reports and dashboards are readily available, and can they be configured as requirements change?
Asking these questions now will help evaluate the need to procure new or add-on solutions that will enable you to prioritize energy efficiency and make it easy to prove it to the SEC.
Retail still growing, warehouses likely to expand
Owners of warehouse companies that are not publicly traded might think they'd be off the hook. If the government isn't watching, why should it matter?
While there might not be deadlines to meet or potential penalties to pay, private owners of warehouses and distribution centers can still benefit by considering installing systems that deliver efficiency data and identify opportunities to save costs.
Additionally, with hopefully the worst of the pandemic behind us, retail grew by 7% in 2020 and by more than 14% in 2021. The National Retail Federation forecasts that sales will grow by between 6% and 8% to more than $4.9 trillion in 2022.
To meet this continued growth, warehouse companies will most likely expand, partner, or outsource some of their operations to other companies—some of whom might be a publicly traded REIT, like Prologis. Sustainability (and reporting on it) is at the heart of Prologis' operations, and public REITs must disclose information about their Scope 1, 2, and 3 GHG emissions.
Scope 3 encompasses "upstream and downstream activities in the company's value chain," according to the SEC. Category 13, specifically, is downstream leased assets. That means that if a public REIT leases part of your space, you will need a way to measure and report your facility's emissions to that REIT.
How this strengthens the supply chain
Making operational changes to include emissions-tracking data might seem to yield the opposite: higher costs incurred with the purchase and installation of sensors, along with data and analytics platforms to measure performance and gather insights.
However, the technologies in place to track emissions can also unlock overall energy use and inform owners and operators of ways to reduce or optimize. Of 1,835 distribution centers using the EPA's Energy Star Portfolio Manager, the average score is only 61 out of 100, so there is much room for improvement.
With continued uncertainty in the supply chain, controlling costs in logistics facilities can remove headaches and provide an opportunity for owners, operators, and partners to drive profitability.