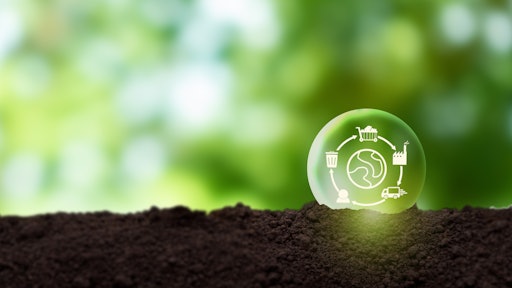 Parradee/stock.adobe.com
Like it or not, the business world prioritizes high-growth environments - ones that leverage external resources and capital investments. While this has helped create a more connected global ecosystem, it's also at the mercy of real-world resource constraints. Supply chain disruptions, geopolitical contention and labor availability are just a few obstacles hindering business and economic prosperity.
Now, consider the trend toward eco-consciousness. There's mounting pressure on organizations to adhere to sustainable practices and responsibilities while these standards are being written. Organizations have most commonly made public pledges to introduce sustainable practices in waste management and emissions reduction, but they cannot go at it alone.
A circular economy at a systemic level will be essential for long-term sustainability, as outlined in a recent World Economic Forum (WEF) white paper. To get real buy-in, we have to understand why it matters, how to get started and the potential impact a circular economy can have on a supply chain-reliant industry.
Why It Matters
As it stands, our global economy is devouring and consuming resources at an unsustainable rate that will lead to shortages or prolonged geopolitical tensions. Paired with booming global population rates, there's a dire need for intervention at the systemic level. Enter: circular practices.
The WEF reports that humans consume almost two times the natural resources our Earth is able to regenerate. A circular economy incentivizes recycling and repurposing materials for as long as possible, whether that be through regenerating materials or reducing waste.
A circular economy offers a number of benefits to supply chain industry personnel:
Supply chain resilience.

Organizations are able to control supply more readily and protect themselves against global disruptions.

Resource efficiency.

Reusing, recycling and refurbishing materials promotes resource efficiency so organizations maximize what they already have.

Environmental sustainability.

Circularity is easier on the environment because it naturally reduces consumption and promotes more efficient production processes.

Profit potential.

There are opportunities for new profitability aligned with consumer

Thus, many industry leaders today are leveraging machine health insights to optimize their assets, but the next step is looking at how AI can further show the interdependence between machines

needs and sustainable demands because market products interact with the value chain multiple times.
Consumers are increasingly searching for brands and products that align with their values and there's a huge opportunity for supply chain and manufacturing organizations to play a role in this transition.
How To Do It
It's not enough for the industry to dream of a sustainable supply chain - there needs to be action. First, there needs to be more partners. A circular economy will not work if the most powerful companies in a supply chain are not involved. Businesses need to branch out and create partnerships in adjacent industries or business functions to expand their collaboration and knowledge sharing beyond a like-minded few. Support can also come from governments and research partners who have the ability to lead legislative change and provide measurable insights for systemic intervention.
Additional investment throughout the supply chain is a second need. Capital investment can help introduce technologies to provide visibility into current operations and set a baseline for improvement. These technologies can lead the way to a more sustainable and efficient supply chain and manufacturing ecosystem by ensuring assets are running optimally.
With a new wave of investment, ROI and quantifiable results will be important to show both investors and skeptics the benefits of a circular transformation.
The Impact
A recent survey from Augury revealed that more than a quarter (26%) of manufacturers believe sustainability efforts hurt their ability to meet production goals. The notion that these two objectives are in opposition is a missed opportunity because, in reality, healthy production means safer working conditions, less emissions and waste, and more efficient lines.
The impact of a circular and sustainable supply chain can be measured. Augury's survey also found that nearly half (42%) of respondents noted their organizations leverage AI to support supply chain management and optimization. While many industry leaders today are leveraging machine health insights to optimize their assets, the next step is looking at how AI can further show the interdependence between machines, processes and operations across the supply chain. Also known as production health, this concept can help businesses improve their circular objectives and empower their workforce with intelligent decision making for both profitability and sustainability.
Practitioners can look at their reduction in wasted energy, the effects on their product yields and asset management statistics to assess unplanned downtime and repair costs. Virtually every stakeholder will want to understand the impact, and the data for doing so already exists.
Start Today
Sustainability does not have to be an abstract idea about the future - we can make it a reality by starting today. Turn to industry partners and be vocal about the work your organization is doing within the larger ecosystem. Invest in new technologies and research to promote the advancement of circular practices, and measure the impact on profit, environment and customer loyalty.
Growth at all costs is no longer an option for businesses because of the resource-constrained world in which we live. The ability to achieve both profitability and sustainability lies in a circular supply chain.