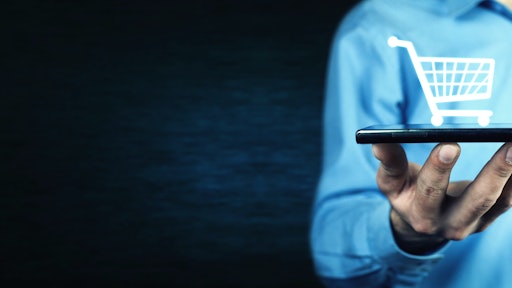 Getty Images
April 22 celebrates Earth Day, an entire day devoted to honoring the planet and shedding light on how to improve it. As e-commerce continues to grow, some online retailers have announced their own sustainability initiatives as consumers are starting to take notice of company's that share the same values as they do.
"They [consumers] see how congested everything is and understand the impacts of climate change. If they can do something that doesn't cost a whole lot to participate in and the supplier makes it easy to do, consumers are more willing to help the planet," Chriss Hess, Director of Supply Chain Solutions, Kenco says.
AP suggests that consumers aim for one box when it comes to their online shopping. Amazon recently unveiled it's "Amazon Day" program that allows customers to choose a single day that their packages get delivered, allowing to limit the need for excessive packaging materials and fewer boxes. According to a release from the company, the program will help Amazon reach net zero carbon by 2030.
"With the introduction of "Amazon Day," the company continues their long history of innovating supply chain services and setting a standard for others in logistics. Much like how the industry has acclimated to Amazon Prime's two-day shipping window, it is essential for other organizations to use Amazon's strategies as inspiration for their own unique solutions," Hess says. "Amazon's continuing strategy to reduce their packaging and delivery costs while also lowering their own carbon footprint from multiple-commerce deliveries is challenging other players to find creative and different ways to lower costs and help the environment at the same time. Consolidating shipments is an important step in reducing the amount of packaging and number of final deliveries but requires a deep understanding of the logistics that go into ensuring products arrive in good condition and on-time."
Meanwhile, other companies like Walmart and Target also offer a discount to customers that choose to consolidate their purchases. Hess explains that Amazon even offers a credit to customers that choose to limit their packaging to future Amazon products purchases as well.
In addition, sending packages to a storage locker will allow shippers to deliver to one place instead of having to drive to individual houses. This allows company's to save on fuel, while also enticing customers to return to the brick-and-mortar store. Companies like Walmart and Home Depot offer lockers for its customers to pick up their packages.
"Denser moves are always better with more inventory going to the same place at the same time. From an e-commerce perspective, it already shows that it's more cost effective than driving multiple places and back," Hess says. "Having one person create a lot of unique package miles is a lot different than a customer doing it themselves."
AP reports that returning packages to the store can also reduce your carbon foot-print as the product may be driven to multiple warehouses before it's sold elsewhere. Many stores, such as Target, offer quick and free returns in-store making a painless experience.
"If they [retailers] adjust customer concerns and potentially change customer behaviors to be in their favor, they can have a greener supply chain," Hess explains. "Everything is about understanding customers, and then you'll be able to optimize your supply chain."