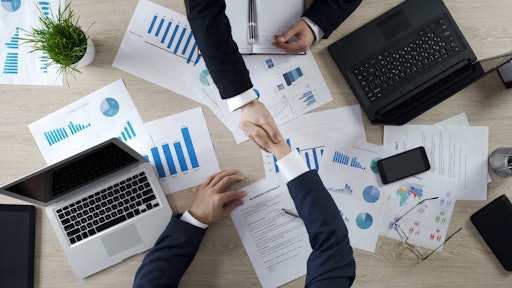 motortion/stock.adobe.com
The last few years have greatly damaged relationships across the supply and value chain. Without strategic intervention, procurement-supplier relationships will be further challenged in 2023 as the supply chain risk that's been building for the last three years continues to unfold.
Ocean freight and carrier costs have strained carrier relationships amid inflexible shipping constraints. Developing geopolitical risks are driving reshoring efforts and massive shifts in global supply chains. A growing number of global companies are reshoring their manufacturing and reevaluating where they purchase their goods. Inflation only adds stress to purchasing agreements.
The companies that get ahead of these risks will win against the rising costs that come with these disruptions and impact the bottom line. Procurement negotiators are well-positioned to combat these growing supply chain risks and ensure business continuity. To be successful, procurement negotiators need the right tools and support to begin rebuilding or strengthening critical supplier relationships.
Here are five ways global enterprises can use procurement negotiations to tackle oncoming supply chain risks:
#1: Align the Procurement Organization with Overall Business Strategy
Today's enterprises need an aligned procurement or sourcing organization with trained teams ready to make successful negotiations and build long-term supplier relationships. Global enterprises too often make the mistake of siloing procurement negotiations within the company or even allowing their project managers or engineers to "negotiate" with suppliers.
Enterprises must align their procurement organizations with business goals and objectives to ensure they create value across the company. If procurement teams are aligned with project managers and engineers, those organizations will have confidence the procurement team is addressing their needs with suppliers.
An aligned procurement organization enables negotiators to better position the company's case advantageously. When negotiators know their company's value and long-term strategy, they can position the company and product to ensure suppliers want to do business with the organization — a critical step in successful negotiations.
#2: Follow a Set Process with Built-in Support, Compliance and Controls
Without a set process, procurement negotiators leave value on the table. With looming fears surrounding inflation, many negotiators are solely focused on cost. This narrow focus doesn't leave room for the alternate negotiables that are increasingly important in the face of today's complex supply chain constraints.
Procurement negotiators need to know the tools they have at their disposal beyond negotiating price. Processes ensure negotiators understand the needs of suppliers and propose alternate negotiables to address those needs. Alternate negotiables allow for creativity in supplier agreements and include concepts like the priority to receive goods, the first right to look at new innovations, or gain access to information like supply chain constraints on the supplier's side.
Negotiation processes certainly should be used to address pricing (See #4), but this is only part of the picture. These processes should also address supply chain risk, build relationships with suppliers and ensure supplier agreements meet the organization's needs. Having a standard negotiation process and terminology across your organization enhances negotiation planning across global business units.
#3: Manage Supply Chain Risk Proactively and Strategically
Shipping delays, rising shipping costs, geopolitical risks, natural disasters and more continue to drive greater supply chain risk. In this climate, no global organization can afford to neglect efforts to ensure supply chain redundancy.
Organizations that prioritize their top risks will have the most success, but first, they have to identify those top risks and then align teams internally. Once those risks are identified, skilled procurement negotiators know how to look for creative supplier agreements, evaluate alternate suppliers and even craft a strategic multiple-supplier approach.
The best negotiators also know broad leadership support is key to the success of new or changing supplier strategies and that this is just one of the first and necessary steps to building supply chain redundancy.
#4: Target Cost Control and Savings
Cost control and savings are difficult to approach and achieve in inflationary environments. However, skilled procurement negotiators know how to lean on healthy tension.
Many procurement buyers like to avoid tension, but how negotiators manage tension can lead to better supplier relationships and long-term outcomes. The good news is that procurement teams can rely on a set process to achieve success and move through the tension.
There are at least two keys to negotiating through tension.
First, negotiators must approach each negotiation by setting high expectations. This ensures there is room to get to the outcome your organization needs. One of the most researched aspects of negotiation is that those who ask for more, get more.
Second, procurement teams must negotiate from a position of power. Skilled negotiators know how to analyze all sources of power and assess their power relative to the other party's power. By focusing on their strengths, procurement teams can minimize inflation concerns and even create deflation opportunities. If negotiators feel powerless, they will act powerless. Confidence in negotiating comes from training, tools and processes.
#5: Look to the Supplier Base for Innovation
When procurement teams build successful supplier relationships, they open the door to creative and innovative agreements that benefit both the supplier and the procurement team. Sometimes a supplier base is also the biggest source of innovation.
For example, a supplier may be testing a new type of plastic or metal that offers the same function and specifications that you need, but offers new benefits that could improve the procurement team's product and cost. Or they may provide a new innovation in another industry that could be adapted for your needs.
When a procurement team has excellent supplier agreements and relationships, suppliers are more likely to collaborate and help their customers innovate. Building these good supplier relationships must be a priority in skilled procurement negotiation.
A key component of building supplier relationships is to manage information skillfully. Skilled negotiators ask three times more questions and talk a third of the time. This approach not only enables negotiation from a position of power but also helps negotiators to learn more about their supplier's needs and where needs align.
Successful negotiations and relationships are more important than ever during times of supply chain disruptions. For example, if a product has limited availability, suppliers will be more likely to prioritize and give their best customers their available supply. When negotiators build beneficial relationships, they enable creativity in how suppliers and buyers approach tough times.
This also ensures greater success when making concessions. Skilled negotiators know that concessions are an opportunity to ask for something creative in return like additional warranties on parts or quicker delivery times, basically items that have value to the business.
Procurement Negotiation and Business Continuity
More than ever, skilled negotiation teams are a necessary component of a strong supply chain organization. Tools, training, and negotiation processes empower procurement negotiators to negotiate from a position of strength and build supplier agreements that reflect the strategic business goals of their company.
In today's environment of supply chain risk, the most successful global enterprises know investing in and supporting their procurement organization will ultimately reinforce business continuity plans to build resilience into their supplier base and value chain.