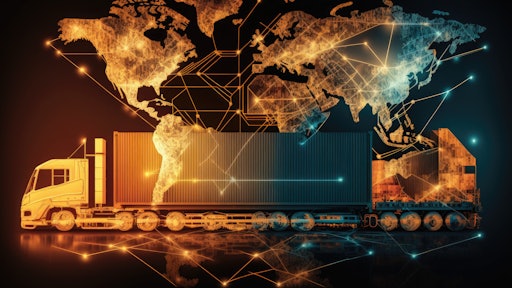 Bernice/stock.adobe.com
There are encouraging signs that the Great Resignation talent exodus is nearing a plateau, after peaking in 2021 and 2022. However, the residual effects of the "Big Quit" are likely to be felt for years to come, especially in industries like trucking that were already suffering from chronic high turnover. The American Trucking Association estimates that for every 100 people that sign up to drive, 91 change jobs within a year (often in search of higher pay). While 91% turnover is an outlier, the job market for critical supply chain roles has been experiencing sharp volatility. The recent "Future of Work: The Global Talent Crunch" series reinforces this, stating that employers should expect a global talent shortage of more than 85 million people through 2030.
Besides losing workers, smooth-running supply chains were another COVID-19 casualty. We can all recall the retail store shelves depleted of essential goods like toilet paper, tampons and baby formula and many of these shortages are still happening today. Ironically, these are products consumers use at a fairly stable, constant rate. So why the shortages all of the sudden? There are numerous contributing factors, but a primary reason is the Great Resignation-induced labor shortage which continues to wreak havoc on the procurement teams responsible for buying or approving purchases for the key links in any supply chain.
Today's procurement teams face major challenges when it comes to attracting and retaining top talent, as well as creating business continuity by retaining institutional knowledge. Across the board (including procurement), supply chain managers quit their jobs in 2021 at the highest rate since at least 2016, often in search of higher pay and more flexible operational tempos. In procurement, even when positions are filled, these new staffers are often less experienced, lacking the on-the-job knowledge and solid supplier relationships their predecessors had.
When there's a perceived scarcity of an item, people tend to panic buy, thus creating a fundamental misalignment between market demand and the operational tempo of constrained procurement teams. The end-result is, of course, a vicious self-perpetuating cycle with store shelves lacking many staples. But the root cause of this isn't a shortage of goods or materials, it's a shortage of the workers who need to buy the right carrier for the right mode of freight for the third-party logistics provider, carrier or shipper at the right time in order to avoid a bottleneck.
Moreover, the panic buying scenario can easily play out in the realm of acquiring logistics, especially in complex intermodal freight portfolios with extremely variable costs between modes. Unlike in the empty shelves example, panic buying in logistics procurement shows up in extended lead times that imperil production and can result in inventory shortages and factory shutdowns. Specifically, during COVID-19, the capacity of major ocean shipping routes became overwhelmed due to a "perfect storm" of U.S. and Chinese lockdowns combined with surges in consumer demand for e-commerce retail which disproportionately relies on ocean shipping.
For companies that had relied for years or decades on cheap materials or components shipped during these routes, the result was a reactive mode shifting of logistics procurement from ocean to air freight. In fact, one Accenture analysis that used data from Seabury Cargo Capacity Tracking database estimated that in 2022 integrators more than 5x'd their air freight capacity relative to ocean, and that the total amount of air freight capacity globally has more than doubled in the past 18 months. That quantity of a swing is simply breathtaking. It goes without saying that from the CFO perspective, the revenue from goods sold or services rendered that rely upon air freight and sea freight is the same, meaning that the more expensive option is pure margin erosion. This has caused a lot of strategic procurement and finance leaders to start paying a lot of attention to how they buy their lanes, what the procurement tech stack for logistics looks like, and ways to gain buying power and leverage over spend in this category.
The Value of Predictive Procurement for Transportation and Logistics
Today, forward-thinking manufacturers and retailers are helping augment the capacity of overworked procurement teams through a technique known as predictive procurement, which simulates the entire procurement process before it begins and suggests preferred outcomes to category managers and stakeholders simultaneously rather than sequentially, avoiding bottlenecks and delays from single-threaded processes. For years, we've seen AI and machine learning used to increase the efficiency of other operational disciplines, like online marketing, customer relationship management, and more.
Now this same thing is happening in procurement - analyzing a wide variety of variables using a dynamic reward function in order to predict, recommend and monitor spend across the supply base, increasing utilization of preferred suppliers with competitive "target" prices, and even notifying procurement to take advantage of changes in relevant markets. Procurement teams using this approach can stay ahead of market volatility and proactively act on demand from their internal stakeholders, enabling them to be better strategic partners and trusted advisors driven by timely data rather than reactive process managers chasing internal approvals or enforcing rigid policies that may conflict with short-term business needs.
While predictive procurement might sound enticing for any procurement of goods and services, it's absolutely essential for the procurement of logistics for any business that relies on the timely delivery of materials, components or spare parts. This is because logistics providers often serve many enterprise customers simultaneously and can quickly become overwhelmed. When this happens, not only can orders be delayed, but expediting fees can spike, leading to added costs and eroded margins for the enterprise customers depending on them.
So, are we just going to have to just get used to supply chain disruptions? For the foreseeable future, the answer is unfortunately yes - until we completely recover from the Great Resignation and the labor shortage is solved. However, in the meantime, we need to equip procurement teams to do more with less – being more efficient at not just procuring goods, but harnessing logistics services that are also critical to avoiding stock-outs and stabilizing supply chains. In fact, logistics providers are already implementing steps to become more efficient and prioritizing new customer acquisition. Whether enterprise customers can keep up and capitalize on these trends remains to be seen.