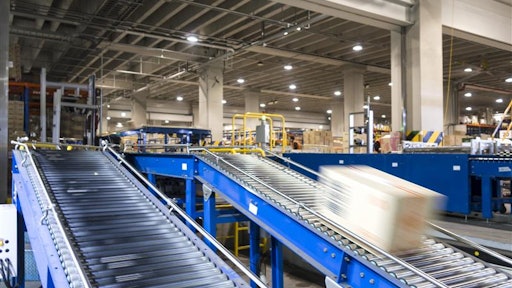 bon_Conveyor Belt system
Every industry has its best-selling, most sought-after product features. In the lighting world, it's high-performance illumination, industry-leading controls, beautifully designed aesthetics and exceptional value.
But, it's no longer the No. 1 request in the lighting sector, or any other industry for that matter. In fact, the No. 1 request is now about same-day shipping.
Today, if a manufacturer says they're shipping on time or even close to on time, it says a lot.
That's because "shipping now" is a promise very few manufacturers can make. Increasing freight costs, higher material expenses, escalating shortages, extensive delays and longer lead times continue to plague manufacturers and distributors in every conceivable industry.
Here are six ways to avoid additional supply chain and production disruptions and ensure your supplier is a dependable, go-to manufacturer that ships right away without compromising quality.
Make and assemble products domestically
To help avert supply chain shipping snarls, first consider working with a manufacturer that designs, creates and assembles all products domestically.
That doesn't mean the manufacturer brings in the finished product and stocks it, nor does it mean they assemble products on-site before tossing them into inventory.
Instead, it means the manufacturer makes sure they have a tremendous amount of physical space to store raw materials. By stocking raw materials instead of finished product, the manufacturer remains entirely flexible.
Consider what many manufacturers have done -- they've committed a significant amount of material into finished product, compromising flexibility. The best manufacturers are a step ahead and work differently. They have ample amounts of free materials to quickly integrate into whatever product is ordered on the spot.
Ensure quality control
Manufacturers that produce and assemble product lines under one roof guarantee another critical ingredient -- quality control.
Having all operations under one roof ensures the quality of the product, the quality of production, the shipping quality and their product's job sites are assured.
Top manufacturers make sure that when their products are used or installed, they operate the way they should, that the end-user is happy and that the product performs the precise way their spec sheet promised.
Above all else, make sure their focus on quality is always on the entire life of its products.
Always stay in close contacts with key vendors
Cognizant of looming shortages in necessities like raw materials and commodity products, the top-rated manufacturers carefully heed their customers' alerts by stretching their financial flexibility and investing more in their inventory to help prepare for uninterrupted shipping.
Getting all the materials you need produced and delivered beforehand puts you in a better competitive position than waiting, hoping for the best and navigating through intensifying logistical issues.
For example, most of the manufacturers shipping right now learned early on about the supply chain management issues that were fast approaching by remaining in close contact with key vendors. In many instances, customers warned that their stock was dwindling, and that three-week lead times were quickly becoming five- or six-week lead times.
When one customer gives such a warning, they all start giving it. Leading manufacturers knew to get ready fast for a long-term bottleneck.
Again, having that close relationship with vendors makes all the difference in putting yourself in a position that beats your competitors.
Have an in-house sales team
A manufacturer with an in-house sales team is better suited to deliver the lighting solutions you need without delay during supply chain clogs.
In-house sales team shares the key responsibility of remaining in constant close contact with all their end-users, whoever they might be—reps, direct customers or distributors.
This type of partnership ensures the manufacturer knows ahead of time what the needs of all their customers might be for the remainder of year, which is detailed awareness they can use to create accurate forecasting modules and acquire the materials they need in advance to meet incoming demand.
Once more, maintaining close relationships is the backbone of supply chain success.
Have an in-house engineering team
While having an in-house sales team better prepares manufacturers for delivering purchase orders on time, so, too does having an in-house engineering team.
Manufacturers can easily streamline design and assembly with an in-house engineering team when supply chain snarls hold up much-needed material.
For instance, manufacturers can design and produce products plus alternate raw materials on the fly when they have an on-site engineering team. While competitors take additional time deciding what to do when certain parts from a vendor are unavailable, an in-house engineering team allows the best manufacturers to make on-the-spot decisions about alternates from their existing supply chain and inventory to ensure quality and deadlines are met.
Full-service project provider
When you work with a manufacturer, you're doing more than just buying a worthwhile product that can ship right away.
Ideally, you're buying a full-service project provider, one that will collaborate during every step of the project and ensure its quality completion in a timely fashion.
The right manufacturing team understands that many people behind the end-user are dependent to get the ordered materials shipped out correctly, with the correct labels, to the right location, on time and on budget.
Being a full-service project provider is particularly advantageous after a change in design or scope leads to value engineering or supply chain holdups. When this happens, a commodity-grade level product is often chosen as a replacement. Unfortunately, far too often, everyone finds out later they may have a mess on their hands. Maybe the product was shipped in pieces and the contractors didn't know which parts went together. Perhaps the product didn't install easily or isn't the right fit. You end up spending more to fix these types of avoidable issues.
A reliable manufacturer, on the other hand, one with a dependable customer service team, can remedy these types of supply chain management issues before they unfold.
These steps require a tremendous amount of strategy and labor from the manufacturers. While it's certainly a lot to ask, each helps ensure the products you bought are shipped and delivered on time, especially during challenging times like these.