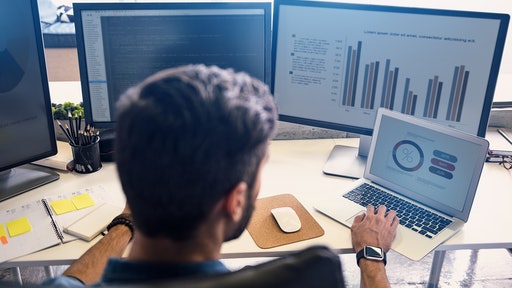 Getty Images
There's no doubt that the pandemic has had a massive impact on businesses all around the world; the Coronavirus disease (COVID 19) crisis has halted growth, disrupted manufacturing and broken supply chains. But, companies that have embraced the inevitable change of automation are navigating through this crisis successfully. It is no different in procurement. With the growing challenges in procurement, the need for procurement automation is inevitable.
How procurement automation enables productivity
Automation is the most significant trend of this decade. The pandemic became a catalyst, making automation and digital transformation necessary for businesses instead of choice. Procurement automation digitizes the procurement process and frees up valuable time of procurement teams that would otherwise be wasted doing repetitive tasks. The repetitive nature of procurement tasks makes it ideal for automation as it minimizes human error.
We can aim at cost reductions up to 75% through procurement automation, operational efficiency and cutting down delivery time by two days on average. That saves time for management to focus on decision-making and sustainable business development.
Procurement automation enables organizations to calculate supplies needed more efficiently and cater to inter-departmental needs regularly. It also helps narrow down the most desirable suppliers and prices for the managers to make more informed decisions.
How benefits of procurement automation go beyond procurement managers
The advantages of automation go beyond the scope of the procurement team. Here are some significant impacts of automation.
1. Revolutionizes accounts payable
Accounts payable (AP) automation allows you to digitally submit and approve purchase orders and invoices, giving you more visibility and control over critical financial data. A user-friendly AP automation solution makes procedures more accessible to everyone, not just finance. With a system that guides them through each step, other teams may safely file purchase orders promptly and efficiently. As a result, they require far less assistance than in the past.
With AP automation software, you can follow the complete history of invoice processing. This includes details such as the date the invoice was received, how it was processed, and what adjustments were made. This allows auditors to easily obtain real-time invoice-related information for a thorough audit. The AP team also has a lot of data to work with thanks to automation and data analysis tools. This information can be used to uncover process flaws, improve back-office operations and make more informed decisions.
2. Aids proactive approach in decision making
As businesses expand, more commercial partners and suppliers are brought into the fold. Every day, communications, contracts, purchase orders and invoices are exchanged between internal and external teams. When there is a large amount of data to record and store, maintaining quality standards can be tough. Humans are prone to making mistakes, especially while performing repetitive and tiresome activities. This is where automation plays a huge role.
With procurement automation, all this data is captured in a centralized repository making it a one source of truth for all the functions. Imagine a sourcing event scenario where the buyer may invite dozens or even hundreds of suppliers to submit bids. Even if the bids are collected fast using an e-sourcing tool rather than manually in a spreadsheet, automated features can swiftly examine the bid data for completeness, outliers, consistency, accuracy and formatting. With all this high-quality data and insights, decision-making becomes a breeze.
3. Assists human resource management
Due to the pandemic, work-from-home is the new normal for most organizations. Ensuring that all employees are adequately facilitated in working towards the organization's strategic goals in such an environment is a complex problem for the human resources department.
Innovation born out of the crisis is now well-positioned to benefit the future of work even after the pandemic eases.
4. Mitigates supply chain risk
Companies are still behind when it comes to implementing a modern solution, even as supplier risk management becomes a higher priority for procurement. Companies may make better decisions and boost supplier collaboration by implementing an automated solution that delivers insights into real-time data. Monitoring supplier performance also allows you to easily evaluate, analyze, and manage a supplier's performance to save money, reduce risk and drive continuous improvement. Using supplier relationship management tools gives you complete and unmatched visibility into your supplier base, providing you with a thorough picture of how your supply chain is impacted and making risk management straightforward.
5. Transparency for audit purposes
Manual procurement processes often kept stakeholders in the dark with a poor trail of transactions. Automated procurement keeps all stakeholders in the loop through digitalized visibility of all procurement processes.
Automated procurement ensures a proper paper trail of all purchases that proves beneficial for audit purposes. It also improves the reliability of the company's internal controls and reduces fraud risk.
6. Better spend
Automating spend management not only assists companies in narrowing down items and services to those with the greatest pricing, but also some platforms may even assist organizations in negotiating better rates with suppliers. This can be accomplished in several ways, including automating the RFP process so that companies can more efficiently solicit and analyze bids, as well as automatically analyzing spend data so that finance and procurement teams can easily see how much money they're spending with each vendor and how well those vendors are performing in areas like delivery fulfillment. If the data shows, for example, that a vendor has not been consistent with delivery, businesses can use that information as leverage to negotiate a better cost.
Procurement teams have a critical role in ensuring that businesses navigate through the new normal brought by the pandemic effectively. Automation is an inevitable change, and the pandemic only further amplifies this change.