leestat AdobeStock_503946321
The GEP Global Supply Chain Volatility Index indicates that global suppliers now have the greatest level of spare capacity since the height of the COVID-19 pandemic three years ago.
"As a result of the gradual managed slowdown in economies worldwide, companies continue to aggressively draw down inventories as they anticipate negotiating lower prices going forward. We expect this buyers' market to continue through at least the third quarter," says Pramod Gupta, VP, supply chain consulting, GEP.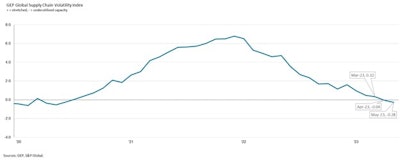 From PR Newswire:
The

GEP

Global Supply Chain Volatility Index fell further below zero in May to -0.28, down from -0.04 in April, its lowest level since May 2020. The difference compared to a year ago, when the index recorded 4.72 — one of the highest levels of stress on global supply chains in two decades of data — is striking.

Global demand for raw materials and components worsened during May, especially across Europe, showing fresh signs of economic weakness. Falling demand for raw materials and improved supply has drastically reduced the need for businesses to stockpile items, with companies continuing to de-stock after building up huge excesses of inventory between 2020 and 2022.

For the first time since August 2020, suppliers in Asia saw spare capacity rise.

GEP's

Supply Chain Volatility Index for Asia avoided falling below zero up until May because of the bump in economic activity following China's reopening. It has since petered out and suppliers have caught up with their backlogs. In Europe and North America, vendor capacity went underutilized by an even larger degree than in April.

Global businesses continue to demonstrate their lack of desire to stockpile items, with reports of firms building safety buffers running at historically typical levels.

Reports of item shortages continue to fall and are now at their lowest level since August 2020, sitting just above their long-term average.

Staffing capacity across global supply chains is sufficient to cope with current workloads.

Global transportation costs are now running below historically average levels. This follows on from the rapid normalization seen throughout 2022 and indicates more competitive pricing of logistics from haulers and cargo handlers.