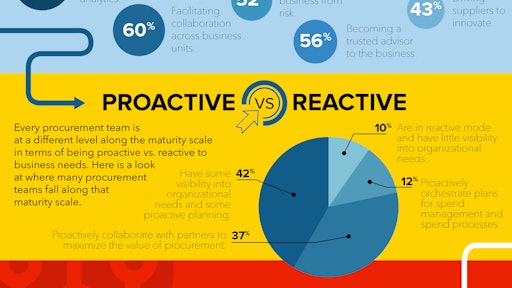 SciQuest Inc., a provider of source-to-pay (S2P) solutions, announced survey results that reveal procurement is evolving into a true profit center, as spend data and analytics are increasingly driving business decisions. The survey polled over 1,000 procurement professionals from SciQuest's global customer network, which includes manufacturing, consumer packaged goods, higher education and transportation companies with an annual spend of between $150 million to $2 billion. Responses were received from nearly 500 companies, and were split between those actively using procurement solutions and those making solution purchasing decisions.
1. The Role of Procurement Is Evolving in Multiple Critical Ways
Specific findings from the survey include:
25 percent strongly feel that procurement is considered a profit center within their companies.
72 percent said they are actively planning or currently using use spend analytics to access data and supplier visibility to drive business decisions.
67 percent of procurement professionals stated they expect that executive interest will increase over the next 12 months, as procurement is encouraged to deliver cost savings and value to their organizations.
60 percent of responders believe the role of procurement is evolving to facilitate collaboration across business units.
56 percent feel they are trusted advisors.
2. Procurement Is Being Tasked with New Areas of Responsibility
As procurement becomes more visible in a company, its reach is expanding to other areas. It's no longer buttonholed into helping users purchase office supplies and other indirect materials. Procurement is now being asked to source and purchase training services, IT/telecom, direct materials, financial services and reagents/chemicals.
Specific findings from the survey include:
52 percent feel that they are tasked with driving the company's risk tolerance.
37 percent of respondents stated that they will be involved with financial services decisions.
29 percent feel that they will gain additional responsibility with legal services.
3. Efficiency, Business Intelligence and Compliance Are the Top Three Challenges for 2017
Specific findings from the survey include:
• 41 percent of respondents feel that greater process efficiency is their biggest challenge of the year.
• 25 percent state that business intelligence and analytics are their biggest challenges.
• 20 percent are concerned with improved supplier management and compliance.
"Today, procurement departments have to look beyond individual metrics to drive success. Procurement managers are consistently challenged at the highest levels to extend that success to the greater organization in order to achieve wider strategic initiatives through a data-driven, process-oriented approach," said Edwin Carter, director of procurement and analytics at the Coca-Cola Co.
"The greater focus on procurement as a profit opportunity has upped the game for software solutions to deliver robust tools that can manage comprehensive challenges. Companies that listen to their customers and respond with innovative solutions will dictate where the market is headed," said Robert Bonavito, CEO of SciQuest.
Companies in this article