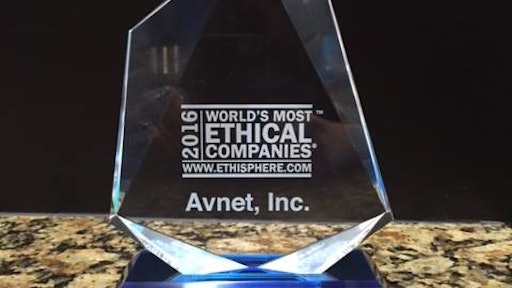 Phoenix—March 10, 2016—Avnet Inc., a global technology distributor, announced that it was recognized as a 2016 World's Most Ethical Company by the Ethisphere Institute, a global advocate for defining and advancing the standards of ethical business practices. The World's Most Ethical Companies designation honors those companies that align principle with action, work tirelessly to make trust part of their corporate DNA and, in doing so, shape future industry standards by introducing tomorrow's best practices today. This marks the third consecutive year Ethisphere selected Avnet for the list, underscoring the company's commitment to ethical business standards and practices around the world.
"Our global team has created a culture focused on integrity, customer service, accountability, teamwork and innovation," said Rick Hamada, chief executive officer of Avnet. "We live these values every day, helping to make Avnet a global leader in socially responsible practices. Ethisphere's recognition reinforces the tremendous work by our team to meet the great responsibilities that come with Avnet's meaningful role in the broad base of technology markets we serve."
Ethisphere continues to recognize Avnet because of its commitment and investment in initiatives that enhance its ethics, compliance, sustainability, governance and community outreach programs, as well as its industry leadership and innovation capabilities. Avnet supports ethical conduct with transparency in its policies, procedures and transactions, as well as with ongoing training and a thorough audit process.
According to Harvey Woodford, chief ethics and compliance officer at Avnet, "We are committed to operating with the utmost integrity and choosing business partners that share this dedication. Being named one of the World's Most Ethical Companies is a great honor for our employees who strive to comply with the law, and operate the right way to reduce our customers' and suppliers' costs and risks."
"Companies rely on Ethisphere to continually raise and measure the standards of corporate behavior. Those that demonstrate leadership in areas like citizenship, integrity and transparency create more value for their investors, communities, customers and employees, thus solidifying a sustainable business advantage," explained Ethisphere Chief Executive Officer Timothy Erblich.
The World's Most Ethical Company assessment is based upon the Ethisphere Institute's Ethics Quotient™ (EQ) framework developed over years of research, and vetted and refined by the expert advice from Ethisphere's World's Most Ethical Company Methodology Advisory Panel. The EQ offers a quantitative way to assess a company's performance in an objective, consistent and standardized way. The information collected provides a comprehensive sampling of definitive criteria of core competencies. Scores are generated in five key categories: ethics and compliance program, corporate citizenship and responsibility, culture of ethics, governance and leadership, innovation and reputation.
Companies in this article