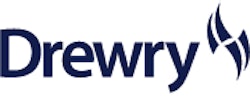 London, UK—March 5, 2016—Drewry, an independent research and consulting firm to the shipping sector, announced the launch of a new e-sourcing solution for global ocean transport exporters and importers. The new e-Sourcing Ocean Freight Solution (eSOFS™) combines Drewry's freight rate benchmarking intelligence and industry expertise with leading-edge technology to bring speed and efficiency to ocean freight sourcing events.
Faced with increasingly complex, data-intensive product flows and budgetary constraints, ocean transport logistics managers within multinational retailers and manufacturers are seeking a more efficient and cost-effective process to handle procurement activities. Drewry's eSOFS™ solution provides the flexibility and analytical capabilities to ensure well-informed procurement decisions. It optimizes processes and utilizes best practices to ensure optimal carrier and route selection decisions that meet a company's cost and strategic goals.
Through the power of this total solution, logistics executives tasked with designing and managing complex, maritime-intensive transport networks can achieve cost savings, as well as performance and productivity improvement.
"Our eSOFS solution is an exciting development that meets the current and future needs of procurement and logistics executives who are under pressure to deliver more with less," said Philip Damas, director of Drewry Supply Chain Advisors, the logistics practice of Drewry. "Increasingly, internal procurement teams are seeking new tools, technology and processes to better manage and measure historical vs. new vs benchmark rates, and take advantage of new opportunities in the marketplace that best meet their organization's needs and objectives."
Chas Deller, a Drewry consultant with extensive experience managing ocean freight procurement events, added: "Unlike the often cumbersome and sometimes inflexible optimization technology previously used in ocean freight tenders, the new technology utilized by eSOFS provides improved flexibility and usability to ensure that immediate improvements in efficiency and analysis can be realized."
In January 2016, Drewry's Supply Chain Advisors began work on the first eSOFS™ implementation at a U.S. multinational, advising and managing their 2016 ocean freight tender.