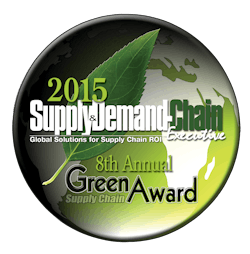 Nov. 5, 2015—The 2015 Green Supply Chain Awards recognize companies that are making green or sustainability a core part of their supply chain strategy, and working to achieve measurable sustainability goals within their own operations and/or supply chains, in the areas of sourcing/procurement, fulfillment/logistics, operations, product lifecycle management and other areas of the supply chain. The awards also recognize providers of supply chain solutions and services assisting their customers in achieving measurable sustainability goals.
The awards highlight companies that are making sustainability a core part of their business and supply chain strategies. And they have the results to show for it. Almost 200 submissions were received through an open nomination process.
Submissions were judged based on the clarity and content of the goals and strategy, the extent of the steps being taken, the impact of the results to date and projected results, and the form and presentation of the information submitted. Using renewable energy, minimizing waste, and maximizing facility and solution lifespans are all components that leading companies in supply chain increasingly enforce. This year's eighth-annual awards recognize small, mid-size and large enterprises that leveraged green practices and solutions to further drive sustainable improvements in their supply chain.
The recipients of the 2015 Green Supply Chain Awards are listed below. More about them and their award-winning projects will be featured in the December print issue of Supply & Demand Chain Executive, as well as on our website, www.sdcexec.com.
ALOM, American Global Logistics, Basware, BizSlate, B-Stock Solutions, Bona, CaseStack, Cass Information Systems, Celestica, Chainalytics, Cisco Systems, Columbia Manufacturing (via SYSPRO), Comerica, C.R. England, Crown Equipment, DiCentral, DSC Logistics, East Coast Warehouse & Distribution, Elemica, eLynxx, enVista, eZCom Software, Geodis Supply Chain, GreenPrint, HighJump, IHS, Ingram Micro Mobility, Inmar, Insight Inc., International Asset Systems.
Kane Is Able, Kenco, Lineage Logistics, Li Tong Group, Locus Traxx Worldwide, Log-Net, Murphy Warehouse Systems, NeoGrid, Omnify Software, Paragon Software Systems, Penske Logistics, PINC Solutions, RM2, Satellite Logistics Group, Schenker, Source One Management Services, Spinnaker, Supply Chain Optimizers, Thomson Terminals, TPS Logistics, Transportation Insight, UNEX Manufacturing, W&H Systems and Westfalia Technologies.