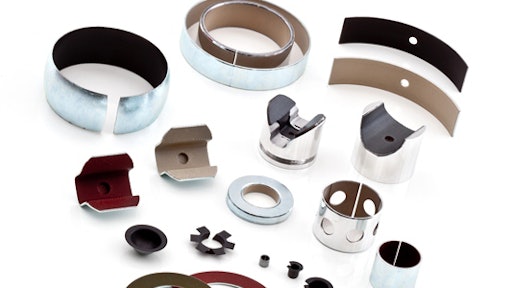 Bristol, United Kingdom—April 23, 2013—Saint-Gobain Performance Plastics launched its NORGLIDE composite bearings solutions for hydraulic pump technology in heavy-duty vehicles throughout Europe and Asia. The company, which develops low-friction, wear-resistant NORGLIDE composite bearings to help manufacturers in the U.S. minimize maintenance requirements for their pump technology, now extends its offering to the United Kingdom and Germany as well as Asian markets, such as China.
"Our NORGLIDE composite bearings have developed a reputation for reliability in North America, supporting our customers' efforts to reduce time-consuming maintenance and comply with increasingly stringent emissions standards," said Ed Rumble, Global Market Manager Industrial, Saint-Gobain Performance Plastics. "Now manufacturers in Europe and Asia can benefit from our expertise in maximizing the efficiency of hydraulic pumps and lowering the total cost of ownership of their products."
Saint-Gobain's technology ensures friction control within pump applications throughout the long life of the mechanism. NORGLIDE composite bearings also help European manufacturers comply with carbon dioxide (CO2) emissions standards, such as the European Union's (EU) Stage IIIB by helping to reduce fuel consumption during pump operation.
Composed of a self-lubricating liner of polytetrafluoroethylene (PTFE) on a laminated metal backing, NORGLIDE composite bearings maintain smooth movement between the shaft of piston pumps and the outer housing. PTFE can tolerate operating temperatures of up to 260 degrees Celsius while the laminated metal backing can withstand the high stresses experienced within pump applications. The use of specialized filler compounds within the PTFE liner minimizes wear, offering consistent maintenance-free composite bearing performance throughout the lifetime of the pump.
Standards currently in place in Europe and the U.S. require manufacturers to achieve a 90 percent reduction in emissions of particulate matter along with a 50 percent cut in the discharge of nitrogen oxides (NOx). New regulations, including the U.S. Environmental Protection Agency (EPA) Tier 4 and the EU Stage IV, due to be introduced in 2014 and fully implemented by 2015, stipulate that manufacturers should lower NOx emissions by a further 80 percent.
The smooth movement offered by the PTFE reduces the energy required to rotate the mechanism's drive, decreasing fuel consumption and enhancing energy efficiency. NORGLIDE composite bearings' split-ring design is smaller and lighter than traditional solutions for pump applications, to allow manufacturers to shrink the footprint of their pumps and to use smaller, more efficient motors for further reduction in fuel consumption. This supports pump manufacturers CO2 emissions reduction efforts for compliance with these standards.
Companies in this article