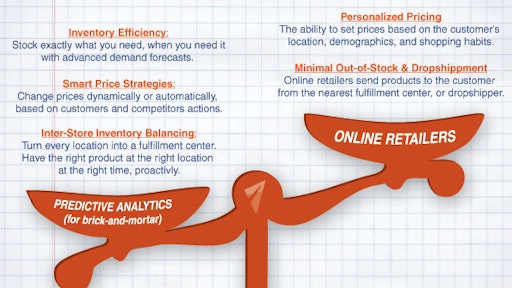 The rapid growth of smart phones, tablets and computer technologies transformed the retail industry. There is no denying that. New generations of consumers grew up with the Internet in their pocket, which provided them with the convenience of online shopping from anywhere, at any time. And while online retailers do have a number of advantages, traditional brick-and-mortar stores are staying competitive by implementing 'smart' analytical tools.
The scale of e-commerce success
Online sales in 2012 accounted for eight percent of all retail sales in the U.S. but that's changing quickly.
$40 billion giant Amazon.com Inc. blurred the lines between stock products and drop shipment, offering an extensively broad range of product categories while incurring little inventory costs. They became almost instantly global from the get-go, yet at the same time, they offer consumers aggressive promotional deals based on your geography/demographics, interests and shopping habits. Moreover, online retailers allow you to access crowed sourced information, discussions and reviews on a particular product. In fact, they collect and crunch through tons of data every day, which allows them to optimize prices, offer promotional deals and lower marketing costs by data mining analysis of consumer shopping habits.
In fact, Forester Research's recent report only confirms even more that U.S. online retailers continue to grow at a rapid rate, surpassing the growth rate of traditional brick-and-mortar retailers. The report predicts that U.S. online retail sales will hit $262 billion in 2013, a 13 percent rise from $231 billion in 2012—and a long way from the $155 billion just five years ago. Meanwhile, last year's overall retail growth was just under three percent.
And the transition was felt in traditional stores, as we saw such retailers as Blockbuster taken out of the industry by Netflix; and Borders close their doors following their Chapter 11 bankruptcy suit in 2011.
So how can brick-and-mortar retailers compete with these new savvy online stores?
Retail predictive analytics
In order to answer this question, it's important to shed some light on an important factor that made online retailers thrive in the past decade—and that is the development of data mining and analytics on the Internet. IDC Manufacturing reported that the advanced business analytics market grew to a $31.7 billion market. In fact, most e-commerce platforms such as Magento, Shopify and Prestashop come with analytics and business intelligence (BI) tools included in their basic packages. The only way that traditional retailers can keep up with such savvy, lean operations is to adapt their own businesses and take advantage of smart tools such as Business Specific Predictive Analytics (BSPA).
Some of the most effective predictive analytics tools that traditional retailers use are Advanced Demand Forecasts; Predictive Pricing Strategies; and Inter-Store Inventory Balancing. These tools enable a retailer to have the right product, at the right place and the right time, proactively, before a customer walks in the door. Sounds like a fantasy? It's not. Brick-and-mortar retailers that use predictive analytics are experiencing 25 to 40 percent in inventory cost reductions and a boost in turnover, in some cases, by up to 3.5 times. Furthermore, these retailers report an average increase in comparable store sales by 15 percent within just one calendar quarter.
Most retail executives will admit that being over stock or out-of-stock is a serious problem—no matter how big the retailer is or what kind of product assortment they carry. IHL Group referred to this phenomenon as "inventory distortion" and reported that it costs retailers nearly $800 billion globally each year, according to its "Inventory Distortion" report.
Yet, online retailers are not affected as strongly by this problem. When a shopper purchases a product through an online retailer, the e-commerce store will often show that the product is in-stock even if it will have to be shipped from a warehouse outside of their area; or drop-shipped from the other side of the world. On the other hand, brick-and-mortar stores are expected to have a product in-stock at the exact time and location that the customer happened to walk into a store. If the product happens to be out-of-stock at this particular location, it can lead to a lost sale. This disadvantage alone costs traditional retailers millions of dollars each year.
Leveling the playing field
Predictive analytics can help level the playing field. Smart inter-store inventory balancing solutions proactively suggest inventory transfers between stores that will move slow-selling merchandise to stores that are out-of-stock and in demand for the same SKU. All of this is done in advance (before the customer appears at the store) thanks to predictive analytics technology.
However, buyer beware. The term "predictive analytics" is now all too common and is now used in such environments as banking, healthcare, social media and more. It's important to understand that retail supply chains are unique and have important factors (see chart illustration) that should be considered when calculating the optimal transfers between stores.
In order to truly take all these factors into account, retailers need to ensure that they use Business Specific Predictive Analytics (BSPA). This technology isn't exclusively available to brick-and-mortar giants with millions of SKU's in thousands of stores. Small-to-medium-size retailers can take advantage of BSPA that is now built into ERP systems such as Microsoft Dynamics or RMS.
If a retailer is new to predictive analytics, it is strongly suggested to request a proof-of-concept or an analytics assessment from your software vendor so that you can see, firsthand, exactly how your business will benefit with the system in place.
Over the long run, intelligent retailing will always win. Building a sustainable competitive advantage means that you need to let smart predictive analytics tools into the driver's seat. Following up with lean and strategic marketing will boost your retail business even further. On the other hand, if you choose to just stick to "business as usual," you may soon find yourself in such similar outcomes as Blockbuster and Borders.