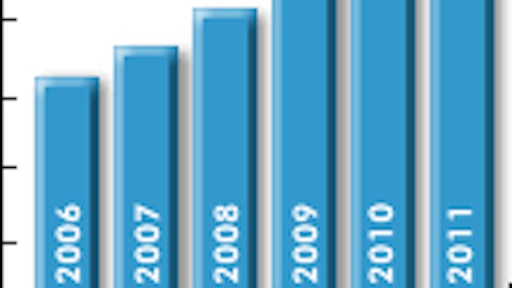 Boston — January 16, 2007 — The collaborative production management market for process manufacturing (CPM-P) is expected to grow at a compound annual growth rate (CAGR) of about 12 percent over the next five years as global competition and regulatory requirements drive growing interest in emerging solutions, according to a new study by the ARC Advisory Group.

Collaborative production management (CPM) solutions are integrated software applications that provide process manufacturers with the means to plan and schedule, track and analyze, and direct and operate their operations.

In its study, "Collaborative Production Management Systems for the Process Industries Worldwide Outlook," ARC estimates that the CPM-P market was slightly greater than $1.6 billion in 2006 and is forecasted to reach nearly $2.8 billion in 2011. Demand for CPM software and services for the process industries is accelerating, benefiting from the prolonged growth cycle for manufacturing IT that will continue for the next couple of years, ARC writes.

"The market will experience significant growth partly because of favorable economic conditions, increased global competition and the need to satisfy regulatory compliance," said Senior Analyst Tom Fiske, the principal author of the report. "Growth is also being spurred by the way CPM solutions address the increased functionality, interoperability and visibility needs of users to link their business, supply chain and manufacturing environments."

"Flat World" Driving Change

The intense global competition brought about by the "flattening world" is driving manufacturers to seek solutions that reduce costs, increase customer responsiveness and deal with growing demand in all regions of the world. Competition on a global basis presents new market opportunities but also presents greater challenges. Customers demand greater product variety and improved responsiveness, along with products that satisfy local specifications.

In addition, as global demand rises, manufacturing facilities are under pressure to improve their asset utilization while maintaining or improving quality. The need for manufacturing facilities to operate safely and more efficiently while extracting greater value from their assets is now imperative. The need to address global markets and global competition is causing rapid growth in most segments of the CPM market, according to ARC.

Globalization is allowing companies to expand their asset base into other regions of the world. Companies have a need to access facilities from corporate offices and center of excellence sites that may be located in other parts of the world. All global organizations have a necessity to respond to dynamic market demands as a single optimized enterprise. Today's global manufacturing enterprises need to coordinate production and distribution across multiple plants, and manufacturers are looking to CPM solutions to provide the visibility and coordination needed to ensure global assets operate at optimal efficiency, ARC writes.