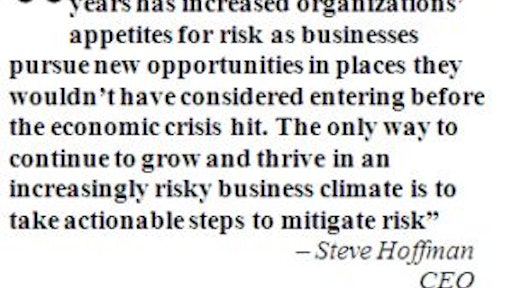 Annapolis, MD — January 12, 2010 — Many of the key risks to the supply chain that defined 2009 will remain in place through 2010, but the global economic slowdown will continue to present the greatest challenge to resuming normal business operations at home and abroad, according to a report released today by
iJET Intelligent Risk Systems
.
The major risks that captured headlines last year still present a threat to business, including piracy and shipping threats in the Gulf of Aden, drug violence in Mexico and the continued spread of the H1N1 virus, according to iJET, which provides global intelligence and business resiliency services.
However, the global recession is creating economic pressures that will continue to generate labor strikes, civil unrest and various forms of political extremism around the globe, the firm suggests.
In addition, iJET expects the emergence of risks unique to 2010. Hotly contested elections in Iraq, as well as several in Central and South America, Asia and elsewhere will likely instigate increased instability in those regions. In addition, the recent attempted terrorist attack on a Detroit-bound flight has refocused attention on Yemen and how longstanding instability in the Middle East can lead to wider disruptions in the region and beyond.
Two major sporting events — the Winter Olympics in Vancouver, Canada, and the World Cup in South Africa — will be the focus of major security efforts in 2010. In anticipation of these events, respective host nations are making significant investments in infrastructure and are implementing extensive security measures at key transportation hubs and tourist locations.
Other, unforeseeable events, including natural disasters and terrorist incidents, will continue to remain a threat to business operations. Additionally, according to iJET's CEO,
Steve Hoffman
, "The economic climate of the past few years has increased organizations' appetites for risk as businesses pursue new opportunities in places they wouldn't have considered entering before the economic crisis hit."
Hoffman noted that managing risks and preparing for the inevitable disruptions that will come from operating in unstable areas is a reality for global organizations today. "The only way to continue to grow and thrive in an increasingly risky business climate is to take actionable steps to mitigate risk," he said.
In light of the ongoing and increased risks to travelers, facilities and other business interests, iJET is recommending that organizations consider the following actions:
Take proactive measures. Realize that disruptions will continue and are likely to increase in many areas of operation in 2010. Conduct security and threat assessments for areas identified for travel, operations or expansion where threats are forecast to increase.
Monitor ongoing trends. Ensure your organization is equipped with the intelligence and technology required to track conditions as they change and develop in locations where you operate. Use a source that incorporates predictive intelligence, which can help identify shifting patterns and areas of potential disruption before events happen.
Track threats to key assets. Identify key operational sites, suppliers and areas of business engagements — current or planned — and continually monitor threats in those regions. Use emerging technology to relate disruptions and threats as they develop, ensure document control and enable smooth crisis response with immediate access to critical information.
Centralize access to data, emergency communications, emergency plans and key documents. Ensure all levels of the organization have appropriate access to reliable, accurate and actionable threat intelligence, information on travelers and expatriates, facility plans and documentation and other critical information. Provide 24x7 emergency response for employees and ensure actionable response plans are in place and enacted.
Build a resilient approach to evacuation and response. Resilient organizations have a well-developed, measured response to disasters, disruptions and threats. Build relationships with providers that take a comprehensive, balanced approach to disruptions, security threats and health crisis, backed by relevant intelligence and rational decision making that is not financially tied to the outcome.