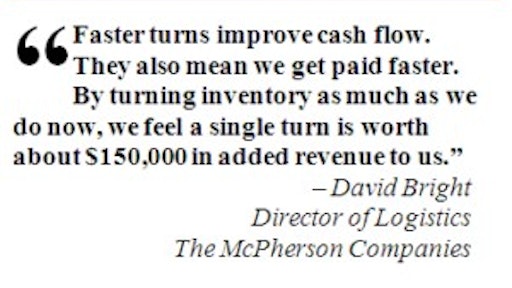 January 21, 2010 —
The McPherson Companies
, founded in 1971, is a large independent lubricant products supplier serving the southeastern U.S. The Trussville, Ala.-based company offers businesses and retail customers a full line of petroleum products and services including oil, lubricants, fuel and gasoline, used oil, equipment, engineering and environmental services.
McPherson is multi-branded and distributes 80 million gallons of gasoline and diesel fuel annually, along with 15 million gallons of lubricants each year. It also serves as a distributor for Exxon Mobile, BP Castrol and Conoco Phillips products.
As the company and its service level demands grew, McPherson grappled with sales forecasting and inventory planning decisions by using financial spreadsheet data more suitable for use by a petroleum product manufacturer than a distributor. In fact, forecasts were based on batch invoicing and completed largely by the manual examination of historically collated customer demand models. Order fill rates suffered because of the outdated and inappropriate system McPherson used.
"Some might believe a look at demand historically is helpful," says David Bright, McPherson's director of logistics. "But history could not account for different scenarios, like a Gulf Coast hurricane creating a spike or drop-off in demand. Until 2008, our purchasing process was to simply buy more or build more to meet needs reactively."
On the personnel side, a sole inventory planner was tasked daily with examining spreadsheets covering all 20,000 to 30,000 products contained within several thousand SKUs. Only then could a determination be made whether an order should be placed. The arduous process and the reactive time lags meant appropriate decisions weren't always possible.
As an example, McPherson would find itself "long" on selected products because it couldn't see a slowdown trend fast enough. Customers would want to move to 5W20 grade oil from 10W30, yet the company experienced lost sales opportunities and added expenses because it was over-stocked on the latter grade yet short-stocked on the first formulation.
Additionally, because it lacked state-of-the-art sales forecasting software, McPherson started suffering from an inability to better manage products soon to be rendered obsolete.
"Customer needs could change and we weren't always ready," Bright explains. "Some motorists in outlying areas of Georgia were servicing their older model cars with 10W30 oil, but in the city of Atlanta there'd be lube shops with customers who drove newer models and needed a different grade oil. We couldn't always do the faster turnaround or quick formulation change."
He adds that McPherson could not always take advantage of "low-hanging fruit" or ready sales opportunities. Geography was starting to play a larger role too. "We simply needed better decisions on exactly where to carry what products."
After finding research studies about the top software companies capable of supporting its needs, McPherson concluded that improving a warehouse management system (WMS) also required successful inventory and demand planning. Bright says the answer would be a system "providing us with visibility into the future and a dashboard-based reporting services module that offered interpretations of sales histories and suggestions on stocking and distribution."
Success with New System
Bright adds that due to the nature of McPherson's business, it "could have numerous large transactions, say, over a two-day period, moving 150,000 gallons of an item. So an attempt to base decisions on two-day old information was illogical."
McPherson Oil elected to utilize a Windows-based JustEnough analysis tool called Reporting Services. "Some of the software makers offered Citrix-like forecasting spreadsheets, but the one we selected stood out because its dashboards offered flexibility and easy, visual interpretations of sales patterns and inventory changes," Bright explains. "The others regurgitated the data for you but required additional software to allow you to both interpret what the raw data revealed and to create still more management reports."
Today, the dashboards give McPherson the ability to pull data up onto a screen, easily navigate screens and interpret key performance indicators (KPIs). Planners work with the dashboards as well to take advantage of the unique ability to drill down several levels from the initial dashboard to gain added information.
In the inventory planning module, McPherson can prepare future budgets, construct inventory scenarios and sales strategies. Using the scenario planning feature, planners can tell managers what future inventories will look like throughout the system if certain decisions are made. The tool helps answer forward-looking questions such as:
How fast can we reach sales goal "A" if acting upon this decision today?
What's the likelihood of success if we take this direction?
Could we encounter customer service issues if inventory is kept this low?
Dashboards are accessible to managers at all levels based on needs for specific types of data. For the first time, vice presidents get full visibility into the performance of their areas and various forecasting scenarios. Warehouse managers see site-specific sales volumes, inventories, fill rates and KPIs pertaining to their facility. Company-wide visibility into the future provides not only a glimpse at what is to come but also an ability to dive down at multiple levels to retrieve and evaluate data for decision-making purposes.
Bright says that in 2007, McPherson turned its inventory 6.5 times. By the close of 2008, inventory was turning nine times, an increase of 2.5 turns, and the company was aiming to achieve 12 turns in 2009. "As an inventory-heavy company, that's significant," he says. "Faster turns improve cash flow. They also mean we get paid faster. By turning inventory as much as we do now, we feel a single turn is worth about $150,000 in added revenue to us."
What's more, new efficiencies have enabled the consolidation of eight warehouses into five, resulting in overall operational savings of an additional $2 million. The company also is improving its service levels using more precise communication, Bright says. "Our customer communication is better — involving any issue that could surface."
He concludes: "Integrating the dashboards during 2008 — most of us thought — was akin to buying an axe to do a basic job. Now that we're working more closely with that original axe, something basic is getting sharpened more and more. Now, it's cutting that tree down quite well."