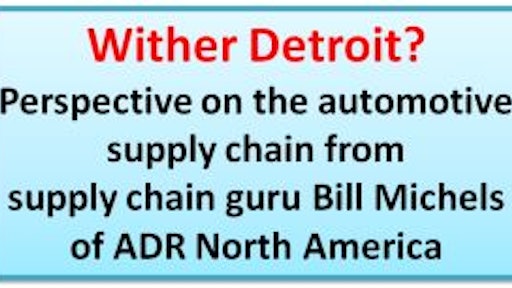 Bonn — February 5, 2010 — Far-reaching technology change in the automotive industry presents a hefty challenge to procurement departments across the sector, and supply management executives must consider taking urgent steps to prepare their supply chains for the new realities in the industry, according to a recent analysis from European consultancy BrainNet Supply Management Group AG.

Many of the materials needed for new technologies such as hybrid drives are scarce, subject to price volatility or sourced from politically unstable regions, the consultancy notes. The availability of these resources is becoming one of the major risks to progress. A recent analysis by BrainNet revealed that corporate purchasing departments in the automotive industry are not adequately prepared for these challenges.

"Economic growth is very resource-intensive," said Dr. Heiko von der Gracht, director of the Center for Futures Studies and Knowledge Management, supported by BrainNet, at the Supply Chain Management Institute (SMI) of the European Business School (EBS). "In years to come, access to raw materials could even far surpass labor as a factor in the choice of location."

Mining of raw materials has increased enormously in recent years, while extraction costs have risen and reserves diminished. And it's not only growth that is making the raw materials issue a key risk criterion for business: technology change is also a resource-intensive process. As a result, the dependence on scarce and expensive resources is becoming a fundamental risk, particularly for the automotive industry.

A Periodic Table on Wheels

The automotive industry is on the brink of a technology revolution, with the development of alternative propulsion systems, the weight reduction required to cut CO2 emissions, and the fast-growing proportion of electronic components providing the main challenges.

"Technology change also represents a paradigm shift for purchasing in the automotive industry," said Sven Marlinghaus, a partner and managing director at BrainNet. "Plastics and rare metals will make up a rapidly increasing share of the total value-added. Manufacturers and system suppliers are not optimally prepared for this development."

The car of the future demands a formidable range of materials. The hybrid engine, hybrid battery, electronic equipment and spray additives require lanthanoids lanthanum, praseodymium, neodymium, cerium, dysprosium and terbium, while the catalytic converter requires zirconium.

Other components demand copper, cobalt, tin, and lithium and also the very rare niobium as an alloy addition. Rare earths such as scandium and yttrium are of enormous importance in future technologies, for example, in energy technology. The switch from steel to duroplastics and thermoplastics in order to reduce weight further adds to the material diversity.

Raw Material Purchasing as Risk Management

This trend presents procurement departments in the automotive industry with some major challenges. "Price fluctuations, limited resource availability, or at least availability that does not match booming demand, rising exploration costs and supplier oligopolies must be defused by supplier agreements and finance strategies," said Marlinghaus. "The automotive industry will be competing for raw materials with companies from other industries who adapted their supply chains to these materials many years ago."

Another problem is the supply risk posed by geopolitical factors: "Many supplier countries are critical regions," explained Marlinghaus. "Only a small proportion of tin and cobalt is mined in stable countries, while up to 90 percent of other metals such as niobium and platinum is controlled by the three biggest suppliers. If product development is based solely on technology aspects, there is a danger of becoming massively dependent on uncontrollable factors."

Marlinghaus believes it is essential to involve procurement while still in the development phase in order to manage the financial and supply risks effectively.

A Six-point Action Plan

What can corporate purchasing departments in the automotive industry do to rise to these new challenges? Marlinghaus sees six main areas of action:

1. Purchasing departments must optimize their procurement marketing, acquire a detailed knowledge of the current situation on the raw materials markets and draw up scenarios for developments over the next few years.

2. It is also essential to invest in supplier development and to fine-tune risk management in terms of existing supplier relationships.

3. Every company in the automotive industry should critically evaluate its material management and take advantage of modern recycling methods. "This can result in huge savings," said Marlinghaus.

4. Larger market players and consortiums in particular must develop strategies to secure long-term control of critical resources, for example, by reintegrating material extraction activities, forming alliances with supplier countries or relocating production to the extraction region.

5. There also needs to be closer and more systematic cooperation between purchasing and technology within the company, which means organizational changes.

6. Finally, technological and macroeconomic changes demand a very high level of knowledge and expertise on the part of purchasers: "Put bluntly, it's no longer enough to simply know about steel and be familiar with your direct competitors," said Marlinghaus. "Purchasers in the automotive industry need to familiarize themselves with the many relevant raw materials markets and understand the sourcing strategies used by competitors in other industries for rare earths and metals."