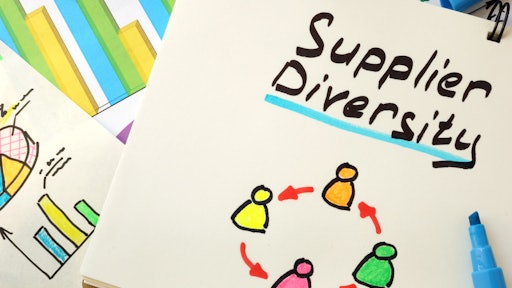 VitaliiVodolazskyi/stock.adobe.com
Multiple factors, ranging from the pandemic in 2020 to the war in Ukraine in 2022, contributed to and worsened the woes of the supply chain. For instance, vehicles, equipment and electronics manufacturers suffered greatly because of the shortage of chips.
While these global events have had a negative impact on the supply chain, they have also highlighted the existing flaws in traditional supply chain management — emphasizing the need for an overhaul. Arguably, the supply chain crisis of 2021-22 was in the making before the pandemic-induced lockdowns began. The 'just in time' model wasn't built to handle the exponential surge in demand.
Supplier diversification may be the answer to many of the problems manufacturing supply chains face. By diversifying suppliers, manufacturers can enhance their resilience to disruptions and establish contingency plans to keep the production lines running.
Manufacturing is a truly globalized effort, thanks to trade and outsourcing. However, it's not uncommon for companies to rely on a single supplier for one or more parts or services because of cost savings or simplicity. In contrast, supplier diversification calls for working with multiple suppliers to mitigate any risks of delays from one supplier.
Supplier diversification trend in action
The recent global supply chain crisis was a wake-up call for numerous companies: many of them are reevaluating their supply chain strategy and management — and it's no surprise that supplier diversification is on their agenda.
According to an Ernst and Young (EY) study in 2022, 62% of industrial companies reported significant changes to their supplier base in the last two years. Those who expanded their supplier network and diversified their sourcing countries saw more resilience in their supply chain. However, that resilience comes with additional costs they plan to offset through measures like automation and temporary price increases.
There are more ways to adopt supplier diversification besides the obvious step of adding extra suppliers, such as multimodal logistics or spreading suppliers geographically. The goal with supply chain diversification, regardless of how it's implemented, is resilience.
Some companies are diversifying their suppliers by relocating certain operations closer to their home markets. In other words, near-shoring has become a popular strategy for companies to increase supply chain resilience. On the other hand, some are leaning on a multi-shoring strategy to ensure they have backup when their primary supply chain faces hindrance.
In addition to supplier location, the nature of relationships between the countries is also serving as a criterion for new suppliers. Drawing from the lessons learned during the pandemic-era supply chain crisis, countries and enterprises are selecting friendlier countries for critical suppliers.
Supplier diversification shouldn't be confused with supplier diversity. The latter refers to working with suppliers run by underserved or underrepresented groups. Governments may also encourage supplier diversity for more inclusion. Similarly, corporations adopt this initiative as part of their corporate social responsibility strategy.
Supplier diversification results in supply chain resilience
Manufacturers have a compelling reason to diversify their supply chain and suppliers, as it brings numerous benefits, including increased flexibility and redundancy. However, the ultimate goal is to achieve resilience. A diversified supply chain is resilient, adjusting rather easily when factors beyond its control throw a curveball.
While globalization has been praised extensively for shaping the world we know today, it has also led to a fragile supply chain that struggles to cope with disruptions. Disruption in one sector has a domino effect on other sectors, creating a disaster for the global economy and consumers.
Supplier diversification deals with this vulnerability of the modern, globalized supply chain. By distributing reliance, companies can ensure they have alternatives when need be.
However, supplier diversification doesn't necessarily mean using more suppliers — it could also involve distributing operations in different strategic locations. For example, some North American companies have adopted the 'China + One' strategy to decrease reliance on Chinese suppliers by replacing some with suppliers from countries like Mexico or India. At the end of the day, it's all about improving flexibility and redundancy in supply chain operations.
Multimodal logistics, which involve multiple modes of transport, is also a viable way to implement diversification across the supply chain. Bahrain, an island nation in the Persian Gulf, launched a Sea-to-Air logistics Hub in 2021 to improve efficiency and reduce disruptions for shipments transiting through their territory. Combined with technology, the multimodal hub proved 40% more cost-effective than sea freight logistics.
How much diversified is too diversified?
Diversifying suppliers and supply chain isn't without its challenges — it's important to strike the right balance without going overboard. It's a big investment with higher upfront costs, which increase further if there are too many suppliers to work with. The best course of action is to increase the number of suppliers in stages, monitoring the return on investment as you go.
On the other hand, supplier diversification doesn't mean adding many suppliers to your network: the selection has to be strategic and in line with your business goals. Location, reliability, service quality and value for money should guide your choice of suppliers. Expertise also matters as a supplier with a specialty will likely provide the best service.
There will be some level of complexity in managing multiple suppliers — but if it gets too complicated, there are probably too many in the mix. Supplier management systems can help consolidate multiple suppliers and streamline the workflows. For instance, a vendor management system can bring all your suppliers under one umbrella, helping you maintain relationships and oversee orders with a singular dashboard. Monitoring progress and analyzing outcomes is recommended when you add a new supplier.
Taking the next step
Supplier diversification effectively reduces supply chain disruptions and increases resilience to unpredictable demand, low supply and geopolitical events.
However, supplier diversification should not be viewed in isolation, it should be combined with improvements in other areas to enhance manufacturing supply chain management. For example, improving inventory management can increase operational efficiency and allow manufacturers to plan manufacturing capacity better.
Similarly, the adoption of automation and advanced technologies like AI and IoT can increase visibility across the supply chain. With the power of data, companies don't only detect bottlenecks in the supply chain at the early stage, but they can also proactively implement improvements.
Looking ahead, regardless of the industry, manufacturers need to analyze their current supply chain and develop ways to diversify their supplier base. Also, it's recommended to do consistent risk assessment through analytics and work with suppliers with the same business values.