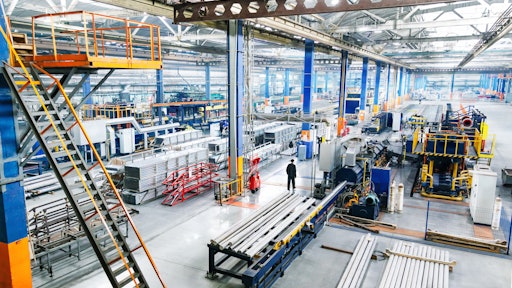 Kostiantyn/stock.adobe.com
In the past two years, several global trends have accelerated the pressing need for digital transformation in the manufacturing industry, pushing businesses to be and doing better.
Long lasting trends such as climate change, the introduction of ESG regulations and 2030 targets, as well as demographic change, are coming to the forefront. Other major disruptors, such as the pandemic and geopolitical tensions, demonstrated how susceptible to breakdown a supply chain is.
The pandemic accelerated the need for digitization to deliver scenario planning to support organizations in working around disruptions, it highlighted the need for real time data, agility across suppliers and the importance of predictive maintenance so nothing fails or is back running quicker. Digitization also goes hand-in-hand with sustainability and will play a critical role in helping organizations track progress against net zero goals.
Despite this, CGI's Voice of the Client Survey confirms that manufacturing is transforming at a much slower pace compared to other industries. With manufacturers 8 percentage points behind the all-industry average of 25% in producing results from their digitization strategies.
So, what must be done?
Manufacturing's next chapter
The next chapter of the industry will be unified manufacturing. With the aid of technology, manufacturers will be able to unify their operation within their plants, across their value chain and with their wider ecosystem: helping them realize Industry 5.0 ambitions and position them as the leaders of tomorrow.
Regardless of how established an organization is, manufacturers are not all at the same point in their digital journey. We see two main cohorts:
1. Digital builders, or those that have just started their digital transformation journey, are the organizations that have still some homework to do when it comes to taking care about both legacy infrastructure or applications, integrating their systems and providing data continuity. This group is overwhelmed by the enormous undertaking in front of them.
2. Digital leaders, are the companies that have already produced results from their digital transformation journey and are moving from proof-of-concept status to 'realization'. They are, on average, eight years ahead of their digital builder counterparts.
Though each group will be in a different stage of their individual journey, there are five key pillars both will need to navigate as they embrace digital transformation that is critical for them to address the future of the industry:
Connected: Leveraging 5G, wireless sensory technology and networks to connect machines, devices, systems and humans.
Digital and paperless: Streamlining, automating and digitizing processes to increase efficiency, improve throughput and quality.
Data-driven: Unlocking the value of data to enable monitoring, simulations and predictions for insight-led decision-making.
IT/OT security: Assessing the risk of the IT/OT environment to implement the right security measures, preventing attacks before they happen.
Factory cloud: Hosting OT from the cloud to benefit from a global ecosystem that connects plants, people and partners across the entire value chain.
To be successful, business segments will need these pillars to operate outside of the historical silos of research and development, engineering, production, supply chain and then towards the sales and after-sales domain. Of these, becoming data-driven is the key pillar enabler of unified processes and operations.
Why the year 2030 matters in an organization's journey
2030 will be the year that really sets apart the digital builders and digital leaders. Manufacturers who do not comply with ESG regulations may face financial, reputational and skill-shortages as ESG regulations become more stringent, investors prioritize ESG factors and younger generations seek to work for companies that align with their values.
Digital transformation can play a significant role in helping manufacturers comply with ESG regulations and address the related risks. Likewise, by placing data at the core of their operations, manufacturers can better track their environmental impact, monitor working conditions and improve governance practices. Digital transformation, and operating a data driven organization, can also help manufactures increase transparency, reduce waste and optimize their supply chains to meet ESG goals.
However, success is not guaranteed.
The number one cause of program failure
80% of all data programs fail because the organization is not ready. They don't have the right culture for the programs to bed into, there are - no targets, no data literacy and a failure to educate employees about how to properly run systems.
With so many organizations struggling with their digital transformation and data programs, there is one singular shift that can set the tone for the rest of the journey: ensure organizational readiness by fostering data-first mindsets and behaviors.
This means creating a structured approach to manage the human side of change by having a shared vision and roadmap. This can look like hosting interviews, surveys and focus groups to gain insight into the current and future desired states of change. Additionally, conducting a skill gap assessment and building competency through regular training programs that range from enabling basic data literacy to upskilling employees with new data-analysis skill sets gives confidence and an aligned sense of purpose.
Considering multiple perspectives not only encourages active participation and clarity of objectives but also ensures diversity of thought, increased creativity and faster problem-solving.
Successful transformational change to meet 2030 targets can only happen with the buy-in and input from all levels of an organization.