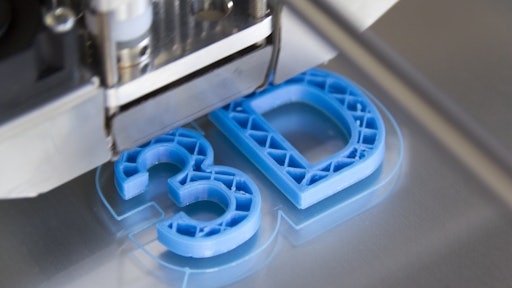 AdobeStock_137317687
Turmoil in the supply chain has been unrelenting. Trucking shortages, pandemic lockdowns, demand fluctuations, the Suez Canal obstruction and other geopolitical factors are just some of the challenges affecting global supply chains. Analysts from McKinsey & Company project these obstacles to continue for the near future and for supply chain upsets to increase in frequency.
As the supply chain evolves with new challenges, all industries must adopt new technologies to become more resilient and mitigate risk. When manufacturers are vulnerable to risk from broken machinery and shortages, it can have a trickle-down effect on supply chain managers who face delays or are forced to raise prices that hurt their margins.
During times of supply chain stability, a machine breakdown used to be no big deal. The fix was quick and easy when replacement parts were at-the-ready to ship within a few days, at most. Now, machine breakdowns are prolonged, with supply chain disruptions either delaying replacement parts' arrival or making them hard to come by altogether. With only a single production method, one misstep or breakdown can cause setbacks that result in shortages or require supply managers to make the choice to absorb high costs from outsourcing or disrupt their supply chain by finding a new manufacturer.
The response to supply chain challenges can no longer be passive, and 3D printing can enable resiliency at the source as one stopgap solution for manufacturers. Rather than replacing traditional manufacturing, supply chain managers can seek manufacturers who use 3D printing to respond nimbly to supply chain disruption.
3D printing as a Swiss Army knife
Automotive equipment, medical devices, plastic products and other manufactured items often comprise multiple parts. If one piece of machinery in the lineup breaks down, halted production has a chain reaction of delays down the supply chain. Typically, a replacement part for broken machinery is expedited to the production site. But, today's shortages and logistics challenges change that reality.
Now, replacement parts can take days to weeks, causing losses all the way up the chain. 3D printing can become a means of alternative production that enables a quick response to breakdowns, redundancies and makes supply chains more resilient. When a machine breaks down, on-site 3D printers can print replacement parts, jigs and fixtures on-demand. Rather than waiting weeks due to shortages or shipping delays, the broken machinery can be fixed within a few hours to days to minimize downtime and continue production.
On-demand part replacement only solves one supply chain challenge. While 3D printing won't replace all manufacturing, it can complement it as a means of alternative production to enable manufacturers and production teams to print products when there are material shortages.
This solution was applied at the onset of the pandemic in 2020. A global nasopharyngeal swab supply shortage effectively precluded the COVID-19 testing needed for diagnosis and care. Medical device manufacturers and hospitals adopted 3D printing for patient-specific care, such as printing physical models of patients' anatomies and surgical guides.
As with the nasal swabs, 3D printing enables a decentralized approach that allows a quick and effective response to production challenges. On-site production of critical components cuts down on the time it takes to get needed equipment or replacement parts. With 3D printers already on-site for other uses, the medical facilities were able to adjust to address the supply shortage.
3D printing can transform production and be an integral part of the supply chain that many manufacturers don't realize yet. Rather than risking profit loss, a 3D printer is now an affordable investment to mitigate supply chain risk.