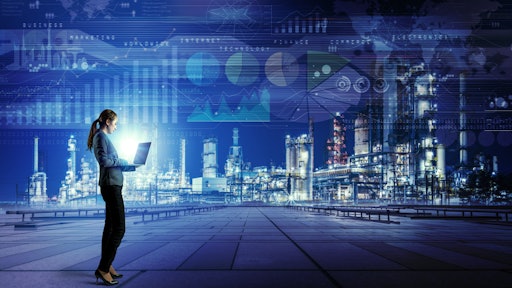 AdobeStock_182350781
The manufacturing industry is undergoing significant changes as new cases of the Delta Variant emerge all over the world. In the past year alone, manufacturers have had to adapt to the unprecedented rising costs of commodities and the substantial shortage of crucial resources such as lumber, steel and aluminum. Likewise, a lack of worldwide shipping capacities and a dwindling labor force are causing additional bottlenecks in the industry.
Despite these setbacks, however, order fulfillments are skyrocketing and are predicted to only increase as the holiday season approaches. Manufacturers and suppliers are struggling to meet demands while combatting these growing problems. As a result, many may be considering ways they can streamline business processes to accommodate the influx of request for documents (RFx) such as request for proposals (RFP), request for information (RFI), request for quotes (RFQ) and request for bids (RFB), all while handling the uncontrollable issues impacting manufacturing right now.
Proposal management software is a vital solution that can positively impact manufacturers and suppliers during these trying times. More specifically, proposal management software offers a variety of tools that can help sales and proposal teams complete more RFx documents to increase revenue opportunities, meet client demands and edge out competition as these industry bottlenecks continue.
Fulfill more RFx documents amid labor shortage
Similar to numerous industries worldwide, manufacturing is facing a major labor shortage. In 2020, a reported 740,000 manufacturing jobs were lost amid the Coronavirus disease (COVID-19) pandemic. Now, recent studies predict that U.S. manufacturing could have 2.1 million unfilled jobs by 2030, resulting in a loss of up to $1 trillion.
As the labor force struggles to bounce back, sales and proposal teams are dealing with an influx of business requests and fewer employees to execute intricate and time-consuming RFx documents. A new study conducted by QorusDocs found that, on average, 62% of the companies surveyed have dedicated proposal teams who spend approximately 7.6 days to complete just one RFP. Additionally, on average, 28 employees are involved in the RFP development process.
However, with the sudden decline of manufacturing employees, departments are readjusting to daily work life with a smaller labor force. For many companies, the dwindling workforce and increase in client orders means that fewer RFx requests are getting fulfilled. According to QorusDocs, 64% of sales and proposal teams reported they saw an increase of 30-56% in RFPs from 2020 to 2021. However, on average, 20% of RFPs are left incomplete each year, resulting in a staggering $725,000 revenue loss for companies.
With proposal management software, manufacturers can complete more RFx documents each year despite operating with fewer employees. Proposal management software helps streamline the RFx process, auto-generating information so teams don't have to tediously enter in data manually for every individual RFx document they receive.
As a comprehensive solution, proposal management software also has the capacity to detect what information performs well in RFx documents, filtering out weaker data to strengthen proposals and cater them to specific clients and their needs. As a result, teams that utilize proposal management software can substantially increase business opportunities with both prospective and existing clients.
More specifically, the QorusDocs study found that 76% of respondents felt proposal management software helped decrease the amount of time spent on RFPs by 53%. Additionally, 70% of respondents were able to process a greater volume of requests with proposal management software.
As demands in the manufacturing industry continue to grow and evolve, sales and proposal teams are in need of tools that will assist in the efficient development of RFx documents and help secure higher win rates among new and existing customers.
Increase revenue and client win rates
According to a survey by Jabil, the COVID-19 pandemic impacted 78% of supply chains worldwide, more than any other event in the past decade. Due to the global supply chain bottlenecks, companies are trying to secure scarce materials as they scramble to complete urgent projects and orders. Many enterprises are also paying even more for expedited shipping to ensure vital materials arrive on time.
For manufacturers and suppliers, it's crucial that they can meet these demands and efficiently respond to inbound business requests. In the first half of 2021 alone, manufacturing technology orders totaled $2.51 billion, a 49% increase over the first half of 2020.
Additionally, manufacturers in several industries are seeing a rapid increase in demand for products and stocked inventories. For example, due to the global pandemic, medical equipment manufacturers saw orders in June increase by 60% in comparison to the first half of 2020.
On average, QorusDocs' survey found that teams without proposal management software work on 13 RFPs per month. Meanwhile, companies with proposal management software can respond to approximately 23 RFPs per month. Overall, 95% of respondents said proposal management software helped them respond to requests in a timelier manner.
By implementing proposal management software, companies are strengthening their chances of earning more revenue through new business ventures with prospective and existing clients. Since proposal management software has the capacity to decrease the amount of time spent on RFx documents, employees can complete even more requests per year, greatly increasing business opportunities during these demanding circumstances.
Streamline digital transformations to edge out competition
With commodities such as wood, gas, steel and other metals in high demand during the global supply chain shortages, various companies are reaching out to additional suppliers to try and secure these important materials. As a result, proposal and sales team are up against even more competitors as they juggle inbound requests and secure new business opportunities.
To edge out competition, manufacturers are making vast business improvements to stand out. In Q2 of 2021, nearly 40% of manufacturers increased CapEx in an effort to keep up with industry demands and the competition looming in the background.
Additionally, the COVID-19 pandemic caused 85% of companies to streamline their digital transformation programs last year. For many enterprises, this means implementing efficient solutions such as proposal management software to improve their business processes and make room for new innovations.
Last year, various manufacturers accelerated their digital transformation plans because they needed new tools that are adaptable, efficient and integral to the advancement of their business. With proposal management software, companies can methodically fill out detailed sections of RFx documents, leaving more time to dedicate towards other revenue-generating tasks. Additionally, proposal management software can generate personalized responses that help close sales and offer a more personable approach to prospective clients.
The QorusDocs study found that teams using proposal management software reported that 34% of average sales revenue came from RFPs for new business in the past year. Meanwhile, 48% saw an increase in win rate from existing customers by 66%, showing the great impact proposal management software has on companies' operations, new business opportunities and the ability to stand out from competition.
Proposal management software is a vital solution
With industry professionals predicting the current global supply chain problems may become a permanent occurrence, it's crucial that manufacturers turn toward new solutions to keep their businesses growing. With proposal management software, manufacturers can fulfill more personalized and efficient RFx documents per year, greatly increasing their chances of earning more revenue, securing new business opportunities and edging out competition during this difficult time for global manufacturers.