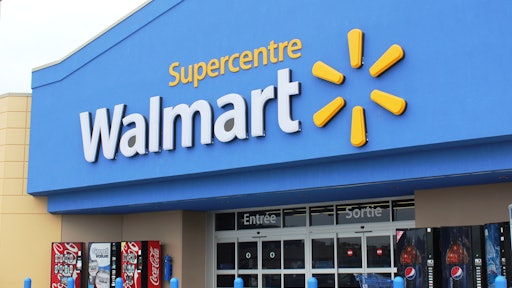 At a time when climate leadership from the federal government is decidedly lacking, today's launch of Wal-Mart's Project Gigaton is a cause for celebration. It is proof that companies can step up to advance solutions that will help business, people and nature thrive.
Just like Wal-Mart itself, this is big.
The world's largest retailer launched an initiative to remove 1 gigaton (that's 1 billion tons—billion with a B) of greenhouse gas emissions (GHGs) from its supply chain by 2030. To put that in perspective, that is the equivalent of removing the annual emissions of Germany—the world's fourth largest economy—from the atmosphere. This audacious goal is impressive; it's corporate America's moonshot and it shows real leadership.
Why? Because, according to the Sustainability Consortium, the modern supply chain is responsible for 60 percent of all greenhouse gas emissions, 80 percent of all water use and 66 percent of all tropical deforestation. And with the global population projected to swell to 9.5 billion consumers by 2050, it is clear there is not just a crucial opportunity for businesses to meet growing global demand, there is also a real need to protect the planet. Embracing sustainable practices is no longer an option for business. It is an imperative. The planet needs fast action on a massive scale.
So do forward-looking CEOs. Shareholders are rewarding resiliency when companies climate-proof their global operations. And customers, especially millennials, expect sustainability to be baked into the things they buy. In short, business is looking to drive bottom-line value, including growth, with sustainability.
Which explains the significant Project Gigaton commitments being made by companies like Unilever (20 million metric tons of GHG reduction) and Land O' Lakes (20 million acres sustainably farmed), and commitments made in the past six months by Apple, Amazon, Google, PepsiCo, Smithfield Foods and others.
Execution and Delivery
But setting goals is just the first step. The execution and delivery must follow to complete this journey.
Which brings me back to this moonshot: Wal-Mart cannot do this alone. Project Gigaton will take a village—in this case, the tens of thousands of companies that make up Wal-Mart's global supplier network—to make this goal a reality. And that's a good thing: Eliminating GHG emissions at this scale will reverberate across entire sectors and industries. It will be the change to business as usual that's long overdue.
That's all fine and well, rhetorically. But what if you're a CEO or corporate social responsibility (CSR) exec who's facing the hard reality of where to start?
Some new research by the Environmental Defense Fund (EDF) starts to sketch out a roadmap to success—and illustrates the need for supply chain partners to get on the bus. While we're just at the beginning of a deep dive into the sustainability of the U.S. retail supply chain, initial findings show two things: the complexity and emission hotspots of box chain retailers, and three clear initial areas of focus:
The supply chain is the largest source of emissions. If any doubt were left, put it to rest: 80 percent of retail emissions occur in the supply chain; 12 percent are associated with the use and disposal of products, and 8 percent come directly from retail operations—mostly buildings and facilities.
Grocery is a huge hotspot and opportunity. Are you a retailer? Food company? Agricultural service provider? Farmer? Nearly half—48 percent—of supply chain GHG emissions come from the grocery category, which encompasses everything from fresh meat, veggies and dairy to baked goods, dry goods, beverages, snacks and frozen foods. Together, these and other products emit 1.7 gigatons of GHGs (there's that billion thing again). In other words, food production—and food waste—is definitely a place to make your numbers—and to make a difference. (Talk about low-hanging fruit.)
Electricity is the biggest activity that contributes to emissions. From factories to farmhouses, whether powering a business or refrigerating an item at home, using electricity is the largest activity that produces emissions for consumer packaged goods production. Think about that: by tackling electricity use, whether from conservation or renewable energy, business leaders not only can run a more efficient operation, they also can engage their customers on which products to buy and how to best use them. That's good business.
For those who have been paying attention to these issues for decades, these big opportunities won't come as a surprise. But they help sharpen the focus for supply chain professionals searching to answer the question of where to put effort and investment to get the most emissions-reduction results. Scale and speed are necessary. Knowing where to focus is critical. The EDF research is in the early stages and the organization plans to release the full results later this year.
In the meantime, kudos to Wal-Mart. As suppliers make commitments for Project Gigaton that will drive reductions from factories to farms to forests to fleets, it will become imperative to identify hotspots to enable the largest impact. That's exactly what drives innovation and the environmental impact we need.
The supply chain may be complicated, but the rewards are well worth it—thriving companies, thriving communities and a thriving planet.
Jump on the Project Gigaton moonshot. It's leaving the launching pad with or without you.
This blog was also published on GreenBiz.com.