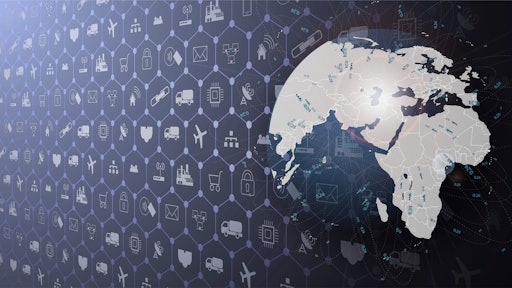 ZinetroN/stock.adobe.com
Supply chains will continue to face disruption this year, causing ongoing delays, previously unseen risks and potentially volatile prices for companies as global economies try to recover from the pandemic.
Given this uncertainty, supply and demand chain executives should look to not only optimize their spending but also build resilience in their supply chain. This is obviously easier said than done—especially considering that most brands work with hundreds of suppliers—but the answer lies in an often-overlooked area: supplier diversity.
By partnering more effectively with diverse suppliers, your brand can strengthen its bottom line in noticeable ways and drive meaningful societal change, all while strengthening your supply chain competitiveness. Understanding the new benchmarking data and competitive intelligence available for your industry will help you get the most out of your program.
How Supplier Diversity Powers Your Business
Every increase in spend toward diverse suppliers is more than just a number on a spreadsheet; it's a family supported, a community uplifted and one step closer to building an equitable and just society. It can also be a force for growing your business and improving your supply chain.
It's understandable for brand leaders to focus internally to promote DEI through training and 1:1 support, but there are many reasons why brands should also prioritize growing their base of diverse suppliers:
New Industry Connections:

By partnering with diverse-owned businesses, your company will diversify its relationships, too. This helps you tap into new markets and access goods or services at potentially better rates and flexibility than the largest suppliers in the market may provide.

Stronger Supply Chain Resilience:

Global supply chains are constantly at risk of disruption due to global events and ongoing health risks. Anything that your company can do to diversify your supply chain will strengthen your ability to navigate complications from inflation, fluctuating fuel costs and labor shortages.

Faster Innovation:

Diverse suppliers can bring new ideas and fresh perspectives that give you a competitive edge. This is especially true if you closely partner with your suppliers and promote a relationship that encourages idea sharing and problem solving.
2023 Supplier Diversity Benchmarks Provide Real-World Insight To Inform Your Strategy
To fully understand your opportunity to invest with diverse suppliers, your company needs to establish systems to track diverse supplier spend and measure the ways they have benefitted your business.
Supplier.io's 2023 Supplier Diversity Benchmarking Report analyzed $1.4 trillion in actual company spend with thousands of certified diverse suppliers—unlike other reports that rely on self-reported metrics or estimates—providing an essential look at how much companies are investing in across more than 15 industries.
When reviewing this data, it's crucial to remember that benchmarking is not a competition. These numbers aren't intended to show who is "winning" at supplier diversity, but instead help you understand how brands across industries can come together to help each other improve.
Specifically, these data points provide an immediate gut check on how your diverse supplier spend compares with others in your industry:
Companies across all industries spend on average 3.6% of their budget with certified diverse suppliers, and this number jumps to 7.5% if you include small and diverse suppliers. This reinforces the importance of looking at consistent data when tracking your growth.

Best-in-class companies across industries can more than double the average spend. For example, the average energy industry company spends 9% with certified diverse suppliers, but top performers achieve 27.8% in spend. High-tech companies on average spend 8%, with best-in-class companies achieving 19.2%. Compare your spend to your industry benchmark to understand where you stand amongst your peers.
The top 10 diverse suppliers receive 17% of all

diverse spend, which suggests that diverse spending is highly concentrated. Seek to engage a growing number of diverse suppliers to ensure that more underserved communities can benefit from your supplier diversity commitment.
5 Tips For Evolving Your Supplier Diversity Program
Once you compare your diverse supplier spend to the industry benchmark, you should create an action plan and a goal to gradually increase your overall diverse supplier budget. Also consider areas including the total number of diverse suppliers you partner with, the average contract size and vendor turnover in the last year.
To help you improve your supplier diversity program results, consider these strategies:
Be Specific About Growth Areas:

As you assess how to increase your diverse supplier spend, focus on commodity categories that present a clear opportunity for growth based on your current spend and how your peers are doing in the same category. List them by category to quickly identify functions that you should focus on first, such as manufacturing, healthcare or arts, entertainment and recreation suppliers.

Be Transparent About Your Opportunities and Challenges:

Vocalizing your commitment to supplier diversity is a big step toward creating legitimacy around your program. After you identify your supplier diversity goals and initial strategies, regularly assess your program health with cross-functional team leaders and openly discuss the challenges you're facing. Tap into your industry network and access benchmarks to understand how other companies prioritize supplier diversity and the innovative strategies they've employed.

Join Industry Organizations and Certifying Agencies:

Closely related to being transparent about your progress, join organizations like the Women's Business Enterprise National Council (WBENC), National Minority Supplier Development Council (NMSDC) and National LGBT Chamber of Commerce (NGLCC) and other certifying agencies to connect with other companies and better understand how you can engage with specific diverse supplier categories. Industry organizations can act as a catalyst to connect you with more diverse suppliers and build lasting partnerships with them.

Help Your Suppliers Grow:

Partnering with only small diverse suppliers will do little to achieve meaningful results. Instead, you should strive to partner with your suppliers and develop lasting relationships that help them grow over time and increase their business with you. To do this, speak directly with each of your suppliers at least once a quarter to uncover ways to better partner with each other. In addition, identify if they are at risk of losing their diverse supplier certification and why. This focus should extend to your Tier 2 suppliers, too, and it can be valuable to encourage them to start tracking and reporting their diverse spend.

Automate Manual Processes:

A major challenge for organizations is collecting and tracking their supplier diversity data and coordinating the onboarding process. Since accurate data is the life blood of any supplier diversity program, it's a smart investment to automate data collection and reporting so your team can focus on connecting with business unit counterparts, conducting category planning and reporting progress to executives.
Benchmarking Promotes Cross-Industry Growth
By sharing your supplier diversity results with your industry peers and partners, you can all identify innovative solutions and new opportunities that can uplift diverse suppliers and communities.
Detailed and objective data is essential to track your supplier diversity program success and industry benchmarks can spark conversations that inspire innovation within your team. Keeping supplier diversity, a top business goal will ensure that you can tap into a growing list of suppliers to help your business thrive.