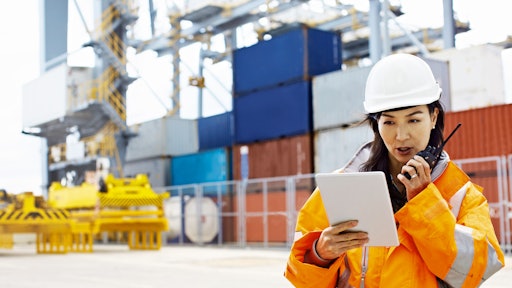 Getty Images
The past few years have shown just how vulnerable the global supply chain can be to disruptions. From labor and critical material shortages during the pandemic to chip shortages afterwards, manufacturers have come to understand the susceptibility of our global supply chains. Geopolitical issues have further highlighted the need to identify strategic sources of components and materials. Countries and companies alike must ensure they have the appropriate contingencies in place to mitigate potential future risks.
Alongside this, companies are looking to reduce the carbon footprint associated with global transportation wherever possible. To thrive in this dynamic (and sometimes turbulent) environment of constant change, manufacturers can leverage the advantages of digital transformation to establish new ways to protect their supply chains amid uncertainty.
Consequently, nearshoring and re-shoring are now being pursued as viable supply chain strategies in many critical industries. A significant number of manufacturing companies are using these strategies to rethink the way they produce goods, while insulating their supply chains from future disruptions and become more adaptable and resilient. In fact, a recent ABB survey found that 70% of U.S. manufacturing companies plan to establish or relocate production capacity closer to home, their customers or potential buyers.
Smart regional manufacturing
Using nearshoring to move closer to customers and suppliers within regional markets has many benefits, such as being more responsive and faster to market. At the same time, this strategy can negate the need for customs and duty charges to customers, help avoid currency fluctuations and simplify alignment with regional requirements and regulations.
The reduction in benefits of scale that traditionally come from global production is compensated by regional plants which introduce new manufacturing techniques for increased agility, flexibility and responsiveness – whilst mitigating the risks associated with over- and under-supply to which mass production systems are more prone.
The transition to a regional smart manufacturing model powered by Industry 4.0 has the added advantage of increased customization and even personalization. For B2B industries this can dramatically reduce inventory storage and integrate them seamlessly into their customers' just-in-time supply chains.
Importantly, the most dramatic operational and productivity benefits will come to those companies that equip their nearshored facilities with Industry 4.0 technology and applications.
Retooling for the digital age
In an Industry 4.0-enabled facility, advanced robotics can move products to, from and around production, warehouse and loading areas, streamlining operations while protecting employees from potentially dangerous work. Sensors throughout the plant collect data that is analyzed by cyber-physical systems and artificial intelligence (AI), improving agility and real-time optimization of operations and workflow processes.
Augmented reality and digital twins can create detailed virtual representations of products and processes, allowing for quick prototyping and shortening the time to design and retool for production. Highly automated and flexible operations equipped with human augmentation can also help companies struggling with the availability of skilled labor in some markets, giving rise to benefits that organizations will derive from "connected workers."
It's an enticing picture but turning this into reality requires the Industry 4.0 approach to work as an effective ecosystem for manufacturers, and essential to this is the requirement for the right networks and connectivity. That means a robust, on-premises wireless network to connect to machines and workers, and an agile edge cloud infrastructure to connect the wireless network to applications running on local servers.
The smart regional factory is a highly dynamic environment. For product lines to be quickly reconfigured in response to market and customer requirements, cabling must be minimized. Cabled Ethernet will still play an important role, but achieving true flexibility calls for increasing wireless communications to connect sensors, workers, vehicles and untethered equipment. Because most factories are filled with machines and equipment that cause significant signal interference, the wireless technology must provide reliable, predictable performance with robust coverage, without constant retuning as factory configurations are changed.
Private industrial wireless connectivity that optimizes these use-cases is provided by 4.9G/LTE and 5G. Private wireless has the high bandwidth, robust coverage, mobile support and low-response times that advanced industrial operations require. For instance, autonomous mobile robots can seamlessly operate across the factory floor to move product parts and tools, speeding up final assembly. AI and augmented reality (AR)/ virtual reality (VR) technologies can also enhance the day-to-day of workers, from immersive on-the-job training to interactive digital representations of factory environments and machines.
Time-sensitive Industry 4.0 applications and process automation, such as cobots with safety zones and emergency stops, require real-time data processing with millisecond response times. On premise, edge-computing is a reliable solution for such technologies, demanding a robust wireless network on-premises and an equally agile Ethernet network.
Taking full advantage of nearshoring means thinking network first. The optimal nearshored facility attains maximum agility, adaptability and production capacity through Industry 4.0 technologies and applications. For optimal performance, this should be enabled by the reliable, secure and business-critical connectivity of an on-premises private wireless network, the underlying edge network and a wide area network linking the facility with corporate resources across its cloud infrastructure.
Supply chain resilience through digital transformation
Businesses and governments were unpleasantly surprised by the fragility of supply chains during the pandemic, and recent geopolitics is focusing strategic priorities on ensuring unhindered access to critical components and materials. This has led both companies and countries to embrace reshoring and nearshoring of strategic elements in their supply chains.
This is a pivotal time to re-imagine how we manufacture by embracing Industry 4.0 and digital technologies to become more agile and resilient. In building out this new industrial infrastructure, we need to consider that a fundamental component for this digital transformation will be a robust, industrial-strength private wireless network. Private wireless based on 4.9G/LTE and 5G meets the requirements for supplying this all-important communications layer for a more resilient, sustainable and secure industrial sector.