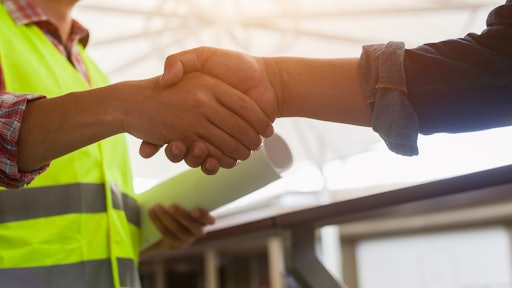 visoot/stock.adobe.com
Global supply chains have experienced a series of major shocks and disruptions over the past two years, and they're still struggling to regain stability amid the war in Ukraine, high shipping and storage costs, and bottlenecks at ports, rail yards, and warehouses. Price gouging has exacerbated these problems for suppliers and distributors, while consumer demand has remained strong despite soaring inflation (which adds production and delivery pressure).
These conditions have forced distributors to ration inventory and created significant uncertainty for suppliers that don't know how demand will fluctuate in the coming months. One of the most effective tools suppliers and distributors have to mitigate risks, reduce prices, and restore stability to their supply chains is data-driven rebate management. Rebates are vital for overall profitability because they allow supply chain partners to correct for discrepancies in real and projected volume, add transparency to the contract negotiation process, and ultimately provide incentives for companies to continue doing business together.
At a time when supply chain costs are out of control and many vendors are capitalizing on the economic chaos by raising prices, suppliers and distributors need to forge healthier relationships that can reduce volatility and drive down costs for both parties. Supply chain partners can accomplish this goal by bringing their expectations and processes into closer alignment, and this process begins with the establishment of a single digital platform to manage their relationships.
Supply chains have to get costs under control
Company leaders are becoming increasingly concerned about the financial impact of supply chain disruptions. As EY Global notes, 50 to 75% of costs are directly influenced by the supply chain, so it's no surprise that (according to a survey conducted by KPMG) CEOs cite supply chain risk as a top concern. The Bureau of Labor Statistics reports that final demand prices in the Producer Price Index saw an 11.2 % increase between March 2021 and 2022, the "largest increase since 12-month data were first calculated in November 2010."
These costs inevitably get transferred to consumers in the form of higher prices. A survey of CFOs published by Duke University and the Federal Reserve Banks of Richmond and Atlanta found that "almost 90% of firms reported larger-than-normal cost increases," while around 80% of companies are raising prices to offset these costs. But even with these adjustments, more than half of companies reported lost or delayed sales (due to abnormal supply chain pressures) equivalent to 5% of 2021 revenue.
It's clear that supply chain partners have overwhelming financial incentives to limit costs that have become increasingly painful and unpredictable. This is why they need to be capable of identifying potential efficiencies and disruptions, increasing the accuracy of their forecasts, and developing more sustainable relationships.
How uncertainty is disrupting supply chains
Even before the COVID-19 pandemic, end-to-end visibility was a core focus for supply chain leaders. This is because it's essential for these leaders to have a clear view of which links of the supply chain are most vulnerable, which ones are performing well, and what interventions are most likely to curtail waste, meet customers' needs, and improve productivity. Visibility doesn't just help companies address supply chain problems (such as production and shipping delays) in real time – it also allows them to predict volume and demand, adjust to shifting economic conditions, and negotiate rebate deals that account for all of the above.
According to McKinsey, 93% of supply chain executives plan to increase flexibility and resilience – priorities that make visibility all the more important. One key element of supply chain visibility is forecasting, which helps companies prepare for volatility and negotiate rebate contracts that can reconcile their orders with their actual needs. Today's supply chains also have to be more responsive to rapidly evolving consumer demands than ever before – supply chains are an integral part of the customer experience, and services such as on-demand delivery tracking require real-time data.
Our CEO recently made the case that 2022 will be the year of the demand chain, and the pressure to arrest surging costs has only made this shift more likely. Just as consumers want more information about their products and services, supply chain leaders will need to limit uncertainty if they want to avoid and mitigate future disruptions.
Digitization is the key to keeping costs low
Despite all the crises supply chains have weathered over the past two years, this era of disruption has also spurred long-overdue changes in the sector. For example, 71% of the companies that struggled to manage their supply chains during the COVID-19 pandemic report that they're increasing their use of advanced analytics. It's no wonder that we're seeing much greater emphasis on digitization – companies that handled recent supply chain problems effectively are 2.5 times more likely to have advanced analytics capacities in place.
Rebates are crucial to keep costs down, as they give supply chain partners a way to account for discrepancies between projections and real-world demand. This means distributors won't be in financial trouble when the volume of their orders isn't aligned with actual demand, or if unforeseen circumstances have an impact on consumer sentiment, delivery schedules, etc. Rebates are especially important right now, as manufacturers increasingly regionalize their supply chains and try to secure contracts that will minimize risk and help them manage exploding costs for products and raw materials.
Many suppliers and distributors are in the process of renegotiating their agreements to secure better terms, control overhead, and limit the costs they impose on consumers. A robust, data-driven rebate management solution won't just help supply chain partners develop mutually beneficial agreements – it will also provide the transparency, agility, and resilience that modern supply chains need to operate as efficiently and productively as possible.