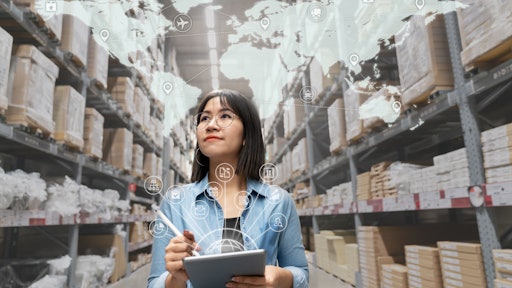 Chaay_tee - stock.adobe.com
Today's supply chains are a complex, global network of networks. Thanks to the increasing sophistication of everyday products and services – from cell phones to automobiles – supply chains often rely on four or more tiers of suppliers to deliver finished goods.
That volume of suppliers, the global spread of supply chains and a lingering dependence on manual processes, make answering simple questions hard. "What's the status of my order, shipment or invoice?" becomes an hours-long endeavor involving emails, Excel spreadsheets and piecing together a trail of individual business documents, often in the form of Electronic Data Interchange (EDI). Identifying and effectively managing disruption is also harder, especially when you consider that while most supply chain professionals collaborate primarily with Tier 1 suppliers – a whopping 40% of supply chain disruptions occur among Tier 2 to Tier 10 suppliers.
For all its benefits in terms of lower-cost labor and materials, globalization has also introduced new complexity and risk. The current global pandemic is the ultimate example. More than 980 of Fortune 1000 companies have tier 2 suppliers in China. When lockdown went into effect in the region, many companies were unable to pivot quickly enough. Since most didn't have visibility into tier 2 suppliers, they didn't realize they had dependencies until they were informed by tier 1 suppliers. Then, because buyer and supplier relationships are predominantly paper-based and onboarding is a complex and lengthy process, companies were unable to quickly find, validate and onboard reliable, new suppliers in other regions. Customers felt the effects everywhere – on production lines, in warehouses and on supermarket shelves worldwide.
The good news is, there is a practical path forward to enable trusted, transparent and efficient supplier collaboration. Two key recommendations coming out of the World Economic Forum right now are digitization and prioritizing data security and privacy across a multi-enterprise supply chain.
The future of supplier onboarding and collaboration is intelligent, digitized and self-serve to improve data quality, ensure information immediacy and reduce disputes across your supply chain. It is built on a secure foundation of transparency and trust, which enables more strategic relationships to help you reduce cost, mitigate risk and drive innovation.
Leading companies across industries are already leveraging smarter supply chain solutions embedded with artificial intelligence (AI) and blockchain to simplify onboarding, enable deeper supplier collaboration and create net-new value for their customers.
helping a major manufacturing customer shift from producing cars to ventilators. Using an AI-enabled business network with built-in blockchain capabilities, this logistics provider can offer its customer frictionless connectivity with countless new suppliers to quickly and cost-effectively obtain the hundreds of unique parts needed to make nearly 30,000 ventilators. Together, they're helping close the gap on critical medical equipment shortages across the United States.
is meeting customer expectations while driving efficiencies with suppliers by using AI to get real-time visibility into the lifecycle of B2B transactions across their supplier networks. Instead of searching through emails, spreadsheets and EDI to see the status of an order, their buyers simply enter the PO number and AI-driven capabilities correlate all the corresponding documents and provide near real-time transaction status. With visibility into the entire transaction lifecycle, all lines of business, including customer service and drop ship teams, can collaborate to ensure more positive customer experiences. Across the supply chain, transaction insights that used to take two to three days to piece together can now be retrieved in seconds.
A fast-growing industrial manufacturer is expanding its network of smaller freight companies, primarily through acquisition. These partners provide a cost-effective way to serve local markets, but they often lack essential EDI capabilities. This industrial manufacturer is addressing the issue with a digital solution that makes it easy for partners to move away from error-prone, manual and paper-based processes. Partners simply log into a web portal to send invoices, which has accelerated processing time by 40%, increasing partner satisfaction. What's more, they've doubled the number of trading partners while freeing up 40 hours a week for transportation team to focus on value-added activities.
A leading, global procurement organization is using blockchain to simplify the labor-intensive validation and onboarding of new suppliers. Before, this process required nearly 70 steps and could take 35 days or more to complete. With a blockchain-based supplier digital passport they are now able to onboard suppliers 75% faster. As business and market conditions change, they can quickly find new suppliers with speed and confidence.
If these examples resonate with you, here are a couple of recommendations to help you get started improving supplier collaboration in your organization.
First, look at your current processes to identify bottlenecks that are likely caused by paper-based processes. Are people involved in these processes working as efficiently as they could be? Inefficient processes combined with underutilized talent, are the most logical places to introduce digitization. While every company is in a different place on their digital supply chain journey, it's essential to continuously identify opportunities for digitalization, especially if you do business globally in places like China and Australia where digital transactions are required.
Once processes are digitized, you can drive even more value with technologies like AI and blockchain. AI lets you do more with data in and outside the organization. It correlates data across siloed systems, delivers real-time visibility into the data, and surfaces anomalies to help you identify disruptions and opportunities faster and make better, more informed decisions. While AI provides better visibility into data and transactions across your supply chain, blockchain allows you to extend trusted visibility to suppliers across your ecosystem. By providing an immutable record of data, blockchain lets permissioned parties securely share information and transact in more transparent ways.
In the months—and even years—ahead, supplier onboarding and collaboration will look very different. You can confidently address today's challenges while enabling your supply chain to be better equipped for the future by accelerating your commitment to digitalization and exploring ways to strategically apply technologies like AI and blockchain. With so many opportunities to reduce costs, mitigate risk, increase supplier and customer satisfaction and drive innovation, the only question for you is: how quickly can you get started?