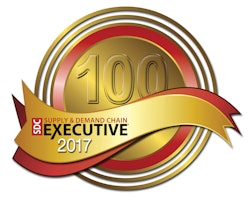 There are many facets to developing world-class supply chain management capabilities. One of the most important activities a company can pursue to develop and implement best practices
is leveraging well-organized, well-scoped projects that are relevant to a company's strategic objectives. The outcomes from projects provide insight, innovation and opportunity for improved operations.
The 2017 Supply & Demand Chain Executive 100 spotlights a few of the industry's most successful and transformational projects that deliver value to enterprises across a range of supply chain functions. The supply chain projects featured in this awards program offer a forward-looking perspective for the industry on new opportunities designed to drive operational success.
This year's projects were selected by management professors and key executive practicum advisers at North Carolina State University as part of the project-based practicum curriculum in the university's supply chain management program.
To see the entire list of SDCE 100 award recipients, please click here. Featured projects are as follows:
Enabler: 3GTMS
Customer: Corsicana Bedding
Project Goal: Enable new business initiatives that would increase automation and streamline operations
Solutions: 3G-TM system
Business Impact: Corsicana required substantial business changes during implementation and after the go-live, particularly around order fulfillment. 3GTMS' responsive teams and flexible software enabled every change. In addition, Corsicana's improved automation and business intelligence have improved efficiencies.
Customer: Top 10 Utility Company
Project Goal: Global supply chain visibility and execution platform.
Solutions: Robust suite of REST APIs, web services, EDI integration and automation
Business Impact: The project continues to evolve as new use cases surface, but hard and soft dollar savings are greater than 22 percent.
Customer: Top 10 International Retailer
Project Goal: Automate and centralize the dock scheduling of all 40 locations for 1,000,000 appointments.
Solutions: ALC Logistics Customized Dock Scheduling Module, a part of the full TMS Suite built on the Oracle platform
Business Impact: ALC Logistics automated the dock scheduling, so that carriers could make their own appointments. Those appointments now automatically show up in an integrated TMS. The solution cut out hundreds of thousands of phone calls, giving visibility to all locations and making the entire system more efficient.
Enabler: ALOM
Customer: Connected Car Navigation Solutions Company
Solutions: Read/write Compact NAND Flash memory with embedded Digital Rights Management software
Project Goal: Create worldwide automotive GPS over air navigational system software installation and update supply chain program for 2018-2024 vehicles.
Business Impact: The customer is poised to enter full production on schedule having achieved all project objectives. Due to the extent of firmware customization that ALOM required from media manufacturers, a new grade level of commercially available Compact Flash SD card media is being manufactured that is less expensive to produce than higher cost automotive grade SD card media. This will save $3 to $6 for each card multiplied by millions of vehicles produced each year. More significant than media component savings however is the navigational map content update benefit gained by Compact Flash media read/write technology. This technology will benefit the automobile manufacturer by allowing over air update of navigation data, eliminating the need for card hard swap updates.
Customer: Apparel manufacturer and distributor
Solutions: Avercast Sales Forecasting (ASF)
Project Goal: Implement forecasting and demand planning software.
Business Impact: Streamlined the forecasting and demand planning process. Improved forecast accuracy through feedback from sales personnel.
Customer: Ace Hardware
Solutions: Blue Ridge Supply Chain Planning
Project Goal: Implement a global demand forecasting solution to improve service level, optimize fill-rates, and strategically keep inventory levels at a minimum.
Business Impact: Through a combination of initiatives, Ace Hardware reduced out of stock numbers to stores by more than 40 percent. In conjunction with this, they have been able to lean inventories by 8 percent. Moreover, the software has exposed some notable issues to buying far beyond their needs. The single largest benefit is the amount of time saved with placing buys. This used to be a laborious, manual task the team dreaded, but with the onset of the new system buys are a very small fraction of the day and are done more effectively.
Customer: Fortune 500 multi-channel consumer electronics retailer
Solutions: B-Stock's B2B Enterprise Technology Solution
Project Goal: To execute a branded B2B marketplace for this Fortune 500 retailer's trade-in mobile inventory.
Business Impact: B-Stock built and launched a branded online auction marketplace, connecting the retailer's trade-in mobile inventory directly to qualified business buyers. Right out of the gate the retailer found that it was just as easy to accept bids from thousands of buyers as it was to sell to a small handful of liquidators. Through its demand generation programs, B-Stock connected its existing global buyer base to the marketplace and continues driving new buyer traffic. The constant stream of new buyers has allowed the retailer to expand its trade-in business significantly by providing better pricing intelligence and by giving inventory access to an ever-expanding buyer base. The buyer base has grown over 1,700 percent since site inception. What's more, the marketplace provides a fully accountable and documented transaction trail, where every point of the process, including price determination and revenue recognition, are recorded systematically. This allows for rigorous compliance and reduces risk.
Customer: Celestica Inc.
Solutions: SAP GTS, Google Drive, Google Documents, Google Sheets, Google Slides, Winshuttle, Strive Project Status, Smart Sheets, Webex.
Project Goal: Deploy Global Trade Services (GTS) to automate Celestica's compliance with international trade laws and regulations governing the export of cross-border transactions.
Business Impact: Celestica deployed SAP's GTS Compliance Management module throughout the global network to replace a manual trade compliance management processes. These manual processes put Celestica at risk for non-compliances as well as limited Celestica from entering into key markets with high trade compliance requirements. The deployment of GTS enables the automation and standardization of transactional denied party screening and export license determinations. Since the first release in July 2016, Celestica has successfully screened 320,958 sales orders and 28,785 customer and vendor records in GTS with no negative customer impact.
Customer: Edwards Garment
Solutions: Conexiom Sales Order Automation
Project Goal: Edwards was seeking ways to maintain their high level of customer service while processing orders with 100 percent accuracy and shipping within one day.
Business Impact: With the goal to remove as much manual data entry as possible to free up the time for CSRs to perform more revenue generating tasks, Edwards Garment streamlined their order processing, resulting in faster order cycles.
Customer: Oakley Transport
Solutions: Decisiv Service Relationship Management (SRM)
Project Goal: To reduce triage, downtime and lower total cost of ownership (TCO), while improving the efficiency of service and repair events.
Business Impact: Prior to adopting the Decisiv Service Relationship Management (SRM) platform, Oakley Transport was handling scheduled and unscheduled service and repair events using a phone-intensive, manual and time-consuming process. They now are using the platform for about 200 external repair orders per month as well as required towing requests. The customer has saved $60,000 annually by eliminating outside systems, reducing paper forms and improving documentation and communications; $50,000 in savings, a 9 percent improvement in five months, by ensuring all warranty claims on covered items are filed and recovered; $40,000 by transferring a breakdown specialist to the company's operations department; $20,000 annually by eliminating estimate-invoice mismatches; 10 percent improvement in asset utilization by collaborating to exchange in-context information, including asset service histories, specifications, inspection reports, campaigns, recalls and preventative maintenance needs; a drop in turnover rate from 95 to 65 percent; and 50 percent less time on the phone by receiving automatic status updates on trucks that are in service provider shops.
Customer: Siemens Healthineers
Solutions: Demand Solutions DS1 and DSX
Project Goal: To migrate off of a homegrown SCP solution to improve the forecast accuracy on reagent and consumable planning.
Business Impact: The entire supply chain has realized benefits from implementing the software as the forecasting methodology has improved, reporting and analysis are more efficient and transparency and collaboration have improved by having the details of the data available, which enabled the team to make precise decisions more rapidly. The customer aimed to meet or exceed 85 percent forecast accuracy and now is consistently at or above that figure throughout their global demand planning organization.
Customer: Top 10 global tire and rubber company
Solutions: Elemica's Supply Chain Operating Network, Elemica's Supplier Management Suite, Elemica's VMI and Logistics Management and Risk Management
Project Goal: Automate the procure-to-pay business process for the purchase of direct materials in the company's rubber divisions.
Business Impact: The company significantly increased productivity and improved operational efficiencies. Other improvements included improved trading partner relationships; on-time payments improved communications; less work for both sides; better priority from supplier, who can help address transportation capacity issues. The company also experienced efficiency gains upstream and unlocked further benefits downstream, such as the ability to calculate the total cost of ownership, increased supplier performance visibility, standardized processes, eliminated paper and freed-up IT resources. The company says the system has allowed them to do a better job of supply-chain planning, and reduced its need for "firefighting." The use of expedited freight, for example, has dropped significantly over the last couple of years, with the company's ability to detect problems earlier. It has realized seven-digit savings in that area alone. And while headcount reduction wasn't the goal from the start, the company has saved additional money by reducing the number of new hires it would otherwise have needed to keep pace with growth.
Customer: Express Pipe & Supply
Solutions: InsiteCommerce Suite, Insite Software
Project Goal: Provide a digital e-commerce experience for plumber contractors and others working with local branch teams of Express Pipe.
Business Impact: Due to the capability of the new e-commerce solution, the company has already recovered a previous customer that represented more than $1 million in sales per year. In addition, Express Pipe expects to increase annual sales by 10 percent based on its new e-commerce functionality—not a small number considering the company generates more than $1 billion per year in annual sales. Another key benefit is that Express Pipe is now able to realize revenue from change orders based on product availability, accessible real time via the new e-commerce site. Beyond the considerable realized and planned growth in sales due to the new e-commerce solution, the increased efficiency for sales representatives and CSRs has been immediate. Although actual monetary savings have yet to be quantified, Express Pipe is sure to benefit from considerable boosts to productivity and sales growth from its new e-commerce solution.
Customer: Bee Sweet Citrus
Solutions: Two Alvey 910 series high-speed in-line palletizers, 28 lanes of Accuglide accumulation conveyor, 215 feet of pallet conveyor, two Orion stretch wrappers, SSI mezzanine, and IntelliSort sliding shoe sorter
Project Goal: Switch from manual palletizing to an automated palletizing system while maintaining flexibility to accommodate diverse product and packaging requirements.
Business Impact: The facility continues to meet its throughput target of 50,000 cartons per day, but does so far more efficiently with fewer and shorter shifts. Palletizing labor requirements dropped from 60 to 10 employees—an 80 percent reduction. The new system enables employees to avoid the most stressful manual work, alleviating lifting and twisting, while reducing congested forklift traffic. Furthermore, as the minimum wage in California rises, the timetable for Bee Sweet's return on investment continues to shrink. Rather than an initial estimate of seven years, they expect a timeframe closer to five or six years. The overall solution design also provides for additional automation, with room for a third palletizing line.
Enabler: Intrigo Systems Inc.
Customer: Albemarle Corporation
Solutions: SAP IBP Software
Project Goal: Reduce working capital requirements, enhance visibility for sales and business forecasting, develop and implement global S&OP process with tighter integration between manufacturing planning.
Business Impact: Defined a process to review all demand signals and historical data, and reduced S&OP cycle time from four weeks to two and a half weeks.
Customer: Continental Tire
Solutions: Atlas Planning Suite
Project Goal: Implement a planning process for vendor managed inventory.
Business Impact: Atlas Planning Suite allowed Continental Tire to build a robust planning process centered around an accurate sales forecast. Orders are now placed daily based on POS data such as sales data and inventory levels. Additionally, Continental Tire can now set strategies for each individual product and category with seasonal safety stock. The planners can manage by exception to meet demand and manually make changes to the forecast if certain SKUs sell faster than expected.
Enabler: Kenandy
Customer: Primus Power
Soltuions: Kenandy Cloud ERP
Project Goal: Implementation of first ERP system.
Business Impact: An engineer can now implement a product idea or improvement in the PLM system and within minutes the new part number is generated. Instantly, people can find parts; there's a pricing history for it, a supply history. People no longer have to ask for status updates on parts. They can find the purchase order and the promised delivery date. Workflows that used to be difficult to track now can be efficiently executed by engineers.
Customer: Holman Parts Distribution
Solutions: Kuebix, Salesforce, PC's, Laptops, Tablets, Smart Phones.
Project Goal: Create visibility by capturing costs, tracking information and invoice auditing within the logistics network.
Business Impact: The ROI on this investment has been a savings of $100,000 annually, due to the information being displayed to show the best carrier for the shipment based on price and shipping times. The rejection of incorrect invoices also has helped add savings to the freight expenses. A time savings of 6 minutes per shipment has been recorded; a shipment now takes about 2 minutes to process utilizing the TMS. Tracking time frames have also been shortened to a 10-20 second process. In addition to financial results, the TMS provided visibility into shipping volume and spend that Holman never had before. They now have the ability to select the best price from freight providers, audit the invoice on the payment side, and report on our volume and spend.
Customer: Fortune 500 power and energy company
Solutions: 2x trailers and 16-axeled modular lowbeds
Project Goal: Deliver a 200-ton stator (the stationary portion of an electric generator) from Gdynia, Poland, to the Yatagan Thermal Power Plant in Mugla, Turkey.
Business Impact: Cargo was delivered on-time and intact according to the desired delivery specifications.
Customer: Global automotive manufacturer
Solutions: SAP/SPP (Service Parts Planning)
Project Goal: Improve parts availability, lower inventory and improve cash flow across the supply chain.
Business Impact: The SPP implementation was a resounding success, with no major system outages or negative impacts to customer service. Neovia exceeded customer expectations and drove significant results for the client's distribution network, including a seamless transition to the new inventory planning system, a 7.1 percent reduction in total supply chain inventory, $20 million improved cash flow, 0.5 percent increase global network facing fill, 20 percent reduction in dealer back orders, 7.2 percent forecast accuracy improvement, and 30 percent reduction in air freight costs.
Enabler: OnProcess
Customer: Fortune 500 communications provider
Solutions: OnProcess' asset recovery managed services leveraging OnProcess' proprietary analytics and visibility platform
Project Goal: Increase set-top box recovery, so the provider could refurbish older ones instead of purchasing new boxes, saving millions of dollars annually.
Business Impact: The client gained a 14-point lift in set-top box returns from voluntary disconnected customers, and an 18-point lift in non-pay recovery. This enabled them to save money plus generate revenue with existing assets, instead of stranding those assets and their revenue potential in the field. Additionally, based on the provider's volume, OnProcess enabled $60 million in annual cost avoidance. The returns process also is much simpler for consumers, who no longer have to find a shipping container, package up their set-top boxes and bring them to the provider or UPS. Instead, every disconnecting customer, whether voluntary or non-pay, is sent a recovery kit that includes a fitted shipping box and prepaid UPS label.
Customer: Leading global logistics company and 3PL provider
Solutions: OptiSlot DC™
Project Goal: Slot product within the warehouse by category, velocity, and support the building of more stable pallets.
Business Impact: The team was able to balance their competing goals and constraints, and implement their new and refined slotting strategy to achieve a high percentage of productivity improvement, while also supporting the ability to build more stable pallets within each chamber. Achieved a 42 percent increase in lines per hour (increase in getting product out of the warehouse and on the road) and 39 percent reduction in travel time to pick orders.
Customer: Ariens Company
Solutions: RedwoodConnectSM
Project Goal: Successfully connect Ariens with their distribution and warehousing partners, material suppliers, and customers by integrating their multiple disparate systems.
Business Impact: Through enhanced visibility and control Ariens' transportation costs reduced by over $1.4 million in year one. Additionally, automation and optimization achieved via the TMS and Redwood's freight managers, Ariens increased their cycle time, decreasing the time from shipment to customer invoicing.
Customer: Roambee Corporation
Solutions: Internet of Things (Iot) sensors, cellular infrastructure, sensor analytics platform and open APIs
Project Goal: Improve supply chain efficiency with better on-time delivery and quality of products.
Business Impact: Eliminated unexpected disruptions, and provided better real-time response to delays, temperature changes and route deviations. ROI gained through reduced insurance premiums, reduced retailer claims and reduced shipment expenses (due to better in-transit times). Plus, enhanced customer satisfaction due to transparency and immediacy of information on deliveries.
Enabler: SpendWorx LLC
Customer: City government
Solutions: Self-Service Procurement Analytics
Project Goal: Implement a self-service analytics solution to provide the city's purchasing division with accurate and timely information for strategic procurement decision making.
Business Impact: From total annual city expenditures of over $1 billion, approximately $600 million of currently unmanaged procurement spend was identified as addressable through strategic sourcing. Subsequent analysis of 16 individual spend categories revealed total potential cost savings in the range of $50 to $90 million. Implementation of the solution enabled centralized reporting of spend for over 1,200 supplier contracts, most of which were managed locally by city departments. Annualized savings of $3 to $5 million were identified from improved contract compliance opportunities. The market intelligence functionality of the solution identified numerous situations where supplier price increases were not supported by market trends. In one case a paper supplier increased price by 11 percent over a 12-month period when the corresponding market index reported by the solution had fallen by 4 percent over the same period. In this and other similar cases the Purchasing Division was able to secure immediate price reductions and in several cases also obtain cash refunds to compensate for the unsupported price increases.
Customer: Orbital ATK
Solutions: SyncKanban pull-based ekanban replenishment and supply chain collaboration software from Synchrono
Project Goal: Right-size inventory levels and reduce the number of systems and steps involved in the materials replenishment process.
Business Impact: In implementing SyncKanban, ASD was able to eliminate 16 systems/steps in the replenishment process. Lost productivity due to material shortage also improved and, overall, there is far less disruption on the production floor. After three months on SyncKanban software, ASD is projected to recognize a cost avoidance of $9.7 million over the life of the program. Their scrap due to out-life materials is now nearly zero.
Customer: DHL
Solutions: Tradeshift Pay
Project Goal: Onboard around 5,000 of DHL's suppliers, and enable digital transactions on a single platform.
Business Impact: For the five focus countries this project launched in, DHL set a KPI of 50 percent. The project now shows above 50 percent electronic invoices. It was achieved by 2015. Through use of the Tradeshift platform, DHL has converted 20 to 30 percent of invited suppliers every month.
Customer: Transplace's North American Control Tower
Solutions: MapQuest, Aeries Weather, ElasticSearch, TMS, Java
Project Goal: Provide a snapshot of customer's current freight with predictive analytics, weather alerts and traffic alerts.
Business Impact: The North American Control Tower has had a positive impact on the customer. Customers can proactively know what shipments will most likely be affected by weather delays and can keep track of arrival and departure issues. This information can be relayed back to the drivers to either take alternate routes or expedite because of known delays.
Customer: National retailer of athletic apparel, footwear and accessories
Solutions: Transportation Insight's integrated Enterprise Logistics solution
Project Goal: Optimize logistics operations to directly align with the retailer's long-term strategy of achieving rapid, efficient growth through expanded e-commerce offerings.
Business Impact: The retailer has developed a more effective shipping program, a competitive market position and total transparency into shipping data. Annual savings reached more than $9 million. Results include increased visibility of carrier performance and package-level transportation costs to enable more informed executive decision-making; improved customer service with added insight into service failures and operational performance gaps; reduced parcel and freight billing errors through audit process; optimized utilization of parcel and LTL, a critical factor in selling commercially versus direct to the customer; established ideal carrier selection services based on the retailer's shipping profile; and ensured smooth transition from B2B relationships to e-commerce operations by leveraging industry knowledge, understanding the carrier network and knowing the retailer's prior metrics.
Enabler: Upland Software Inc.
Customer: Trane Residential Systems, an Ingersoll Rand Company (IR)
Solutions: Ultriva Collaborative Supply Portal (CSP) Module with external supplier e-Kanban, Ultriva RFID Module for 3PL, and Ultriva Lean Factory Management with internal e-Kanban module with production leveling, sequencing and scheduling
Project Goal: Establishing Lean supply, distribution and factory processes and systems across IR Trane's extended enterprise value chain.
Business Impact: More than $750 million in annual material spend managed in CSP. More than 20,000 PO requisition and receipt transactions between Upland Ultriva and Oracle, and more than 10,000 inventory transfers from Ultriva and Oracle. A 98 percent RFID success rate and an estimated 25 percent reduction in inventory.
Companies in this article