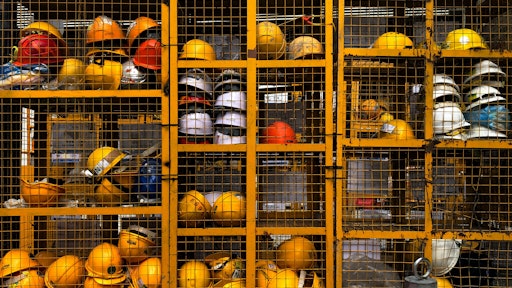 Unsplash
As technology continues to evolve with advances in artificial intelligence (AI), automation, machine learning (ML), hand-free picking applications and robotics, the need for associate training and change management is continually evolving.
For the training to be effective and adopted by the workforce, a training execution plan with contingencies must be in place. First published by Supply & Demand Chain Executive on April 27, 2015; here is an update to the original five steps to improving warehouse employee performance during and after training is complete.
1. Planning for success
The adage of "failing to plan is planning to fail," is great business advice. The development of a realistic training plan is the starting point to ensuring a positive learning experience. Understanding successes and missteps from previous training initiatives should be taken into consideration in the development of a training plan. The training plan should outline all steps, stakeholders, resources, contingencies, and expected timeframes.
When drafting the changing plan, it is important to include the perspective of the associates. Using the What's in it For Me (or WIIFM) approach, along with selling the training issues to be addressed and not the solutions to be implemented, are proven ways to build trust, show empathy and speed adoption of the plan.
A common change management approach for the execution of the plan is to start with a small group of associates to work out all the details before engaging a larger audience. Getting a "quick win," identifies behaviors and activities necessary for project process. These successes can then be socialized to the larger audience. When associates see incremental progress in their work habits and performance measurement metrics, they tend to be more productive, engaged and creative.
Finally, do not be afraid to adjust the plan by slowing down or forging ahead, depending on the results that are being observed.
2. Creating resilience through training
The competition for labor is a never-ending endeavor in the supply chain. The continued growth of e-commerce has created thousands of job opportunities, many of which go unfilled. One strategy to overcome labor shortages, is to create resiliency through cross-training of the workforce. Associates that can execute multiple tasks can immediately step into clear bottlenecks, increase throughput capacity, and reduce overtime, just to name a few benefits.
For facilities that employ temporary or seasonal workforces, communicating proficiency and required training expectations with the staffing agencies prior to onboarding is necessary. One consideration is to educate and train the staffing agency with executing introductory safety and process training prior to onboarding the temporary associates at your facility, thus speeding adoption. This recommendation should increase the training capacity of the warehouse staff to where it is needed.
3. Deliver easy-to-understand training
The idea of training can be overwhelming for employees who might envision a lengthy, boring process. But, training should be done in relatively short increments of 45-60 minutes after the previous two steps take place. The primary benefit of training is to ensure the employees are performing the task as it was documented in step one, ensuring all of the unnecessary motions and any extra steps within the process have been communicated to the employee and are not being utilized. The goal is for the employees to work smarter, not necessarily harder.
When conducting training, make sure it is practical and easy to understand. For most organizations, it should be the supervisors who do this, although sometimes training departments or HR will tackle the observation task. Keep messages short and ensure employees know exactly what will be expected of them. Ask for feedback from employees. They can often have great insights into barriers within the process and how to overcome them. Maybe one person is already using a tactic to be more resourceful with time that can be shared with the team at large and implemented as a company.
For most warehousing tasks, there will be upwards of 15-25 steps to ensure task completion, which could be overwhelming. Find the 3-5 steps that are the most crucial to employee performance and begin your training focus on those. The usage of video is highly encouraged as it can be used to easily identify the steps necessary to perform a task to a new employee. For tenured employees, the usage of video can be used to identify specific steps in a process that an employee may need further training to be successful.
4. Provide feedback, coaching and motivation along the way
Employee performance is the key to warehouse success. And, improving employee performance is not a one-time objective, it is ongoing. Supervisors should continue to monitor their employees on a regular basis—not for full days at a time—but long enough to overcome any discomfort an employee feels over being watched, and short enough to not impact their entire day. After observation sessions, feedback should be shared. Feedback should be given in an environment that does not feel intimidating. For example, rather than calling an employee into your office, you could ask to grab a coffee in the break room for a quick chat. Using the Appreciative Inquiry approach of providing positive feedback should be shared first with employees before any areas of improvement. This will help increase adoption of suggested changes.
Providing coaching and motivation on an ongoing basis ensures that behaviors you want to correct actually are corrected. Perhaps a supervisor will want to offer an incentive as a part of motivation. That could come in the form of bonus pay or gift cards. Coaching is simply a way for a supervisor to stay involved on the floor, not always out of sight, behind a desk. Employees having access to a supervisor makes coaching more attainable. As a coach in the workplace, you need to motivate your employees to help them succeed. Effective supervisors use technology, data and other information to coach. A daily pre-shift meeting can act as a pep talk, encouraging employees to achieve what is expected for the day.
5. Re-evaluate on an ongoing basis
Just as in a business setting where managers often have recurring check ins with employees, supervisors at warehouses should regularly check in and reevaluate processes with warehouse employees. Again, this starts with conducting observations of the facility processes and the associates performing them. From there, a conversation should happen to discuss:
· Whether or not the employee knows exactly what is expected of them
· If there is much variance from employee to employee in the amount of time it takes to complete tasks
· If there is someone outperforming others, it is important to find out what they are doing differently to see if others can adopt methodologies
· Conversely, if there is someone underperforming, it is important to check in with that individual and see why, perhaps more coaching or motivation is needed
One constant when it comes to training is that it is a job, which is never over. Whenever new technology is implemented or a new process is introduced, it is time to train again. Warehouse supervisors and executives should regularly determine whether benchmarks need to be refined or revised, and even if they do not, motivation, coaching and feedback to employees should be ongoing.