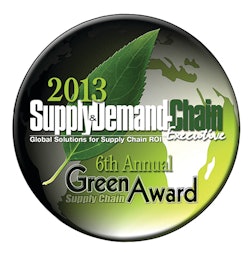 The 2013 Green Supply Chain Awards recognize companies making green or sustainability a core part of their supply chain strategy, and are working to achieve measurable sustainability goals within their own operations and/or supply chains, in the areas of Sourcing/Procurement, Fulfillment/Logistics, Operations, Product Lifecycle Management and other areas of the supply chain. The awards also recognize providers of supply chain solutions and services assisting their customers in achieving measurable sustainability goals.
The awards highlight companies that are making sustainability a core part of the businesses and supply chain strategies. And they have the results to show for it. About 100 submissions were received through an open nomination process. The magazine's editorial staff reviewed the submissions based on clarity and content of the goals and strategy, the extent of the steps being taken, and the impact of the results to date.
Submissions were judged based on the clarity and content of the goals and strategy, the extent of the steps being taken, the impact of the results to date and projected results, and the form and presentation of the information submitted. Utilizing renewable energy, minimizing waste, and maximizing facility and solutions lifespans are all components that leading companies in supply chain increasingly enforce. This year's sixth annual awards recognize small, mid-size and large enterprises that leveraged green practices and solutions to further drive sustainable improvements in their supply chain.
The recipients of the 2013 Green Supply chain Awards are listed below. More about them and their award-winning projects will be featured in the December print issue of Supply & Demand Chain Executive, as well as on our web site, www.sdcexec.com.
Basware, Cass Information Systems, CaseStack, DiCentral, DSC Logistics, EZCom Software, Inmar, ModusLink, NeoGrid, Nipendo, Penske Truck Leasing, Saddle Creek Logistics Services, SciQuest, SYSPRO, Transplace, Transportation Insight, Tyco Retail Solutions, UniCarriers Americas and Wolper Information Services.
Accellos, AFN, ArrowStream, Cadec Global, CHEP Pallecon Solutions (formerly CAPS), Coyote Logistics, DHL Express, Elemica, enVista, Genco, Half Price Books, IHS, Ingram Micro Mobility, Insight Inc., International Asset Systems (IAS), Log-Net, Maersk Line, Murphy Warehouse, National Grid, Omnify Software, OnTrac, Outdoor Industry Association Sustainability Working Group, Paragon Software Systems, Patagonia Inc., Pitt Ohio, Prorizon, Ryder, Source One Management Services, Spinnaker, Squadron Medical Ltd., W&H Systems and YRC Freight.
Companies in this article