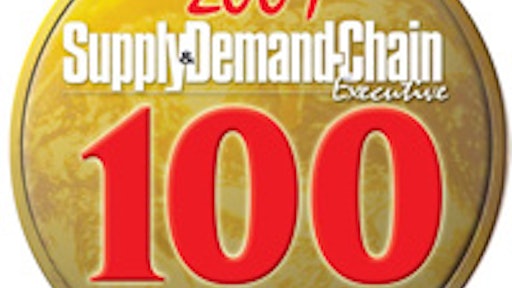 Adaptable. Agile. Customer-focused. Global. Scalable. A modern supply chain must have all these characteristics (and more) as the "push" economy of yesterday gives way to the 21st century's demand-driven "pull" economy. To compete successfully in this new reality, enterprises of all sizes are turning to technology and service cproviders to help them enable their "21st century supply chains."
For this reason, this year's "Supply & Demand Chain Executive 100" feature focuses on how supply chain solution and service providers are helping their customers meet the challenges of today's marketplace. We sought to identify the leading providers of supply chain services and technologies who are at the forefront of enabling the supply chain. But more than that, we sought to uncover the best practices and processes that leading companies are putting in place around these services and technologies to bring new competitive advantage to their supply chains.
The result is a comprehensive list of "tips and tools" that small, midsize and large enterprises and organizations across a variety of vertical sectors are employing to transform their supply chain operations. Certainly not all the "best practices" included in this article will apply to your organization, but you can be certain that your competitors and partners are using many of these new practices and processes to improve their operations.
The results are grouped by functional segment of the supply chain (Order/Demand Management, Sourcing/Procurement, Fulfillment/Logistics, etc.), and then broken down by the different solution providers (in alphabetical order). We suggest scanning through the article section focusing on the functional segment most directly applicable to the challenges you are facing in your supply chain. Then home in on those "best practices" that stand out for their potential to help in your supply chain transformation, and use the supplied information on the service and solution providers to learn more about how the enablers are assisting their customers in making the supply chain enablement journey. Our goal is to provide a vital first step for your own transformation journey.
The 2007 Supply & Demand Chain Executive 100
Order/Demand Management
Digitize "tribal knowledge": To help less senior sales generate timely and accurate quotes, Ingersoll Rand implemented BigMachines Lean Front-End solution to standardize and digitize the tribal knowledge of experienced sales team members. Results: Quote cycle time reduced 75 percent, and order accuracy up 100 percent. BigMachines, Inc. (1999; Deerfield, IL; www.bigmachines.com)
Monitor the supply chain's heart beat: To better sense demand in its Asian sourcing channel, Seagate Technology has connected to customers using E2open to create inbound and outbound transparency. Results: This project made point-of-sale data visible throughout the supply chain, allowing for better customer service and a common record for distributor shipments. E2open, Inc. (2000; Redwood City, CA; www.e2open.com)
Bring electronic parts catalogs in-house: Companies use solutions like Enigma InService EPC not only to manage their catalogs more efficiently and proactively but also to leverage the EPCs as marketing tools by more easily customizing the catalogs for specific customer segments. Results: Better data quality, increased part sales, improved customer/dealer satisfaction and reduced parts mis-orders. Enigma, Inc. (1994; Burlington, MA; www.enigma.com)
Manage demand collaboratively: A top automotive manufacturer's aftermarket service parts business is using Infor solutions to collaboratively manage inventory in real-time, view local demand requirements and manage order delivery. Result: By linking more than 85 business partners and 100 suppliers, the company reached its goal of ensuring a response time of less than two days. Infor (2001; Alpharetta, GA; www.infor.com)
Take a synchronized view of demand: Companies like Pharmavite are using solutions from JDA Software to gain a holistic perspective over the entire supply and demand chain. Results: Improved forecasting, reduced safety stocks, better fill rates and high on-time-delivery levels. JDA Software Group, Inc. (1978; Scottsdale, AZ; www.jda.com)
Consolidate forecasts: DuPont Personal Protection Equipment replaced its disparate, forecasting systems with a consolidated forecasting tool and demand planning system, John Galt's Atlas Planning Suite, which the business unit could use to formulate a detailed production plan for the approximately 3,000 products it manufactures. Results: On-time customer delivery rates have improved from about 85 percent to 93 percent. John Galt Solutions (1996; Chicago; www.johngalt.com)
Develop a "response management" competency: Customers are enabling a "response management" competency by leveraging Kinaxis' RapidResponse solution. Result: Multi-tier visibility across the extended supply network; users empowered to conduct real-time analysis; and more intelligent responses to vigorous and volatile demand. Kinaxis Inc. (1984; Ottawa, Ontario; www.kinaxis.com)
Design (and redesign) the supply chain to support the goals of the business: Global 2000 companies are using tools from SimFlex to formulate the best supply chain strategy to support their overall business objectives at the lowest possible cost. Results: Reduced total supply chain costs, with inventory reductions and improved service levels. SimFlex (1992; San Diego, CA; www.simflexgroup.com)
Embrace SKU proliferation by forecasting better: SKF Vehicle Service Market uses SmartForecasts from Smart Software to more accurately forecast 60,000 parts at six DCs in less than one hour every month. Results: Within six months, SKF reduced its standing inventory by $1 million while adding 600 new and oftentimes expensive parts. Smart Software, Inc. (1984; Belmont, MA; www.smartcorp.com)
Make S&OP routine: Companies are using solutions from Steelwedge Software to turn S&OP into a monthly exercise. Results: Improved margins, with increased customer service levels by 20 percent. Steelwedge Software, Inc. (2001; Pleasanton, CA; www.steelwedge.com)
Make forecasting a real-time process: Companies like XRP, Inc.are tapping into real-time capabilities in the SYSPRO Forecasting solution to more closely align inventory and production with demand. Results: Less inventory while meeting customer requirements, the ability to accommodate seasonal demand changes, improved customer satisfaction. SYSPRO (1978; Costa Mesa, CA; www.syspro.com)
Enable demand planners to become more strategic: Procter & Gamble is using a solution from Terra Technology to cut short-range forecast error dramatically and derive more accurate inventory targets. Results: Long-term benefits as P&G shifts its demand planners away from firefighting and into more strategic activities. Terra Technology (2001; Norwalk, CT; www.terratechnology.com)
Sourcing/Procurement
Ramp up supplier information management: Companies like Oracle are using Aravo solutions to automate and streamline the supplier information lifecycle. Results: Better management of the supplier information that enterprise systems rely on to execute accurate transactions and provide decision support. Aravo Solutions, Inc. (2003; San Francisco, CA; www.aravo.com)
Enable buyers to act as gatekeepers for better business practices: Food companies are using solutions from Ariba to ensure suppliers enforce stringent safety standards. Results: Incorporating environmental compliance into RFP proposals and using these criteria for supplier performance evaluation empowers procurement staff to act as guardians of the companies' regulatory compliance and their brands' reputations. Ariba, Inc. (1996; Sunnyvale, CA; www.ariba.com)
Use technology projects to formalize procedures: A client of BravoSolution used the project to adopt the enabler's sourcing platform to align procedures internally and with its supply base. Results: Cost savings of about 90 percent for the tender prep process, 80 percent cut in the cycle time to produce awards and reports, plus purchase cost savings. BravoSolution (2000; Milan, Italy; www.bravosolution.com)
Leverage scorecards for supplier improvement: A retailer uses Core Solutions to collect data on vendor performance and generate KPIs that its executives can view across any time period. Results: Reduced claims, reduced costs on expedited shipments, delivery schedules met and a compliant supply chain. Core Solutions (1995; Hong Kong; www.coresolutions.com)
Tap into group purchasing organizations: More than 100 companies use the GPO Corporate United to leverage their combined spend for indirect goods and services and take part in category best practice groups for benchmarking. Results: Substantial hard cost and process savings. Corporate United (1997; Cleveland, OH; www.corporateunited.com)
Leverage open-source e-procurement solutions: Thousands of companies have downloaded Coupa's free open source solution for a risk-free introduction to e-procurement's basic capabilities. Coupa recently launched an enterprise version of its solution and will soon announce a SaaS offering, too. Results: A broader spectrum of SMBs can now take advantage of e-procurement's benefits. Coupa Software (2006; Foster City, CA; www.coupa.com)
Saving greenbacks by going green: By using the Green Product Selector from Dolphin Safe Source, one midsize company realized that it was significantly overspending and that its chemicals varied widely in hazard level. Results: The company expects to reduce its overall MRO chemical spend by 30-40 percent and reduce the hazards its chemical present by an average of 60 percent across use categories. Dolphin Software, Inc. (1991; Lake Oswego, OR; www.dolphinsafesource.com)
Borrow a purchasing department: One Fortune 500-sized client engaged DSSI to manage its indirect procurement, including through DSSI's Web-based technology. Results: 18 percent piece price reduction on its MRO buy across locations early in the implementation. DSSI LLC (1999; Southfield, MI; www.directsourcing.com)
Apply e-sourcing technology to "unconventional" categories: When this global company needed a travel and expense automation solution, it used the FlexRFP from EC Sourcing Group to automate the bid process. Results: Demonstrated that a reverse auction can add value for many areas of spend given sufficient qualified competition for the requirement. EC Sourcing Group, Inc. (2001; Morristown, NJ; www.ecsourcinggroup.com)
Start with the data: A large chemical company came to Emptoris because they considered their spend data beyond repair. With Emptoris Spend Analysis, the company was able to analyze $6 billion dollars of spend made up of 3.7 million transactions in 33 currencies. Results: The company went on to save over $40 million in one year. Emptoris, Inc. (1999; Burlington, MA; www.emptoris.com)
Fuel savings by switching to high-octane e-procurement: Ameren Corporation is implementing electronic invoicing with key suppliers through Enporion, while a major global electronics company is using Enporion to enable simpler end-user buying. Results: For Ameren, savings of more than $5 per invoice; for the electronics manufacturer, reduced maverick spend, better financial terms negotiated with suppliers. Enporion, Inc. (2000; Tampa, FL; www.enporion.com)
Pass the e-procurement test: More than 3,000 educational entities use solutions from eSchoolMall to automate traditionally paper-based procurement processes. Results: Public funds saved for use on critical educational programs. eSchoolMall (1999; Horsham, PA; www.eschoolmall.com)
Globalize the procurement of contingent workers — I: Customers of Fieldglass are deploying the enabler's solution to multiple sites in different markets to take a more international approach to managing contract labor and services. Customers ensure compliance with local laws and practices in each locale while improving decision support driven by a single view across divisions and world areas in one company. Fieldglass, Inc. (2000; Chicago; www.fieldglass.com)
Automate supplier collaboration: Varian Medical Systems has deployed a solution from FusionOps to automate its supplier collaboration and direct material procurement processes. Results: Improved customer delivery performance and change-order responsiveness. FusionOps Corporation (2001; Sunnyvale, CA; www.fusionops.com)
Embrace bid complexity: When Brunswick needed a more effective way to collect and analyze complex award scenarios for global ocean freight, the company's sourcing team tapped Iasta to process 6,000 bids from 20 suppliers on 1,800 line items covering 600 freight lanes and three container types. Results: Ability to identify the best award scenario based on allocation and limit constraints rather than purely on lowest possible price. IASTA (2000; Carmel, IN; www.iasta.com)
Seek out solutions providers with a culture of customer intimacy: Some of the world's top companies across a variety of sectors use IQNavigator's on-demand services procurement software and managed service programs to better manage their services spend. But with each customer taking a unique approach to its services spend, IQNavigator works to understand precisely how the customer will use the software, how they will achieve benefits, and how they will define success, to ensure that the customers establish best-practice processes that match their business. IQNavigator (1999; Denver; www.iqnavigator.com)
Bring in outside help: Rather than build an internal competency, one manufacturer brought in K2 Sourcing to review its truckload routing guide. The client viewed weekly management reports and made final selections. Results: Savings above 25 percent, carrier base halved. K2 Sourcing, Inc. (2003; Belgium, WI; www.k2sourcing.com)
Drive compliance with end-user-friendly solutions: When ServiceMaster tapped an e-procurement solution from Ketera, user-friendliness was a key requirement for the company, which had 45,000 employees using disparate systems at 1,000 locations. Results: A 98 percent compliance rate, minimizing maverick spend and driving conservative cost savings of 3 percent for spend through the system. Ketera Technologies, Inc. (2000; Santa Clara, CA; www.ketera.com)
Adopt uniform procurement program: A global firm turned to The Martini Group to deploy an international standard solution across the firm's worldwide offices, leveraging a customized Web-based procurement tool. Results: Worldwide purchasing savings in the range of 47 percent, with combined first year savings of $3.7 million. The Martini Group, Inc. (2003; Irvine, CA; www.martiniglobal.com)
Sourcing/Procurement (Continued)
Maintain your good name online: Art Materials Service uses MFG.com to source parts globally. When the company found that new Chinese suppliers returned quotes asking for a portion of payments upfront, AMS was able to leverage its online references on MFG.com to convince the suppliers to accept open-term payment arrangements. Results: AMS is able to tap into a broader base of suppliers, while the suppliers earn new business. MFG.com (2000; Atlanta; www.mfg.com)
Apply "Theory Z" to supplier relationship management: The Mpower Group (TMG) helps customers base their supplier relations on "Theory Z" — the theory that suppliers will be motivated by long-term relationships and collaboration with their buyers. Results: Increased saving and revenues, incremental value opportunities, and reduction in the buying and selling cycles. The Mpower Group (2000; Oak Brook, IL; www.TheMpowerGroup.com)
Have a vision: A client of Nextance set out a vision for how it wanted to achieve standardization, visibility and control over the purchase request, contracting and A/P processes, and then identified a solution (Nextance Contract Management) that mapped best to the vision. Result: By finding the best fit for its vision, the company has achieved its goals for a collaborative approach to supply management. Nextance, Inc. (2000; Redwood City, CA; www.nextance.com)
Help your suppliers be easier to do business with: If your suppliers seem overwhelmed, suggest they try a solution like Osiris Innovations Group's Revenue Acceleration Module, which captures POs from any e-procurement environment and translates them into a standardized format. Result: More time for the supplier's staff to spend serving your more strategic needs. Osiris Innovations Group (2003; Auburn Hills, MI; www.osirisinnovations.com)
Globalize the procurement of contingent workers — II: A global leader in information technologies engaged ProcureStaff to deploy a managed service program for human capital procurement and was able to establish a standardized procurement process for contingent labor. Results: More centralized control enabled $57 million in cost savings since 2000 and improved compliance with country-specific regulatory requirements. ProcureStaff (1999; New York; www.procurestaff.com)
Leverage supply management for regulatory compliance and risk management: Customers of Procuri are leveraging the enabler's suite not only to streamline sourcing and procurement but also to codify processes for managing compliance and regulatory issues and risk mitigation. Results: Suppliers are now managed under a common program, with the process to screen and validate suppliers now automated. Procuri (1999; Atlanta, GA; www.procuri.com)
When implementing a new solution, start with the process: A major international company recently engaged Prorizon to implement a procurement system for PO processing, as well as all the other systems touching the client order fulfillment (COF) process. Prorizon is also redesigning the company's COF process to streamline steps in the procure-to-pay cycle. Results: The redesigned process should drive the PO-processing cost from about $275 to less than $50, with another $250,000 in human resource savings. Prorizon Corporation (1992; Atlanta; www.prorizon.com)
Consolidate systems: U.S. Bancorp deployed PurchasingNet's PNet Procure-to-Pay solution, pulling requisitioning, purchasing, inventory control and invoice matching into one system. Results: Increased employee productivity, reduced errors and better price negotiations through strategic sourcing. PurchasingNet, Inc. (1983; Red Bank, NJ; www.purchasingnet.com)
Adopt a supplier enablement strategy that meets your business goals: One major managed care provider is looking to rapidly enable a large percentage of its supply base, using solutions from Puridiom, to increase spend under management and reduce transaction-processing costs. A large energy sector customer is taking a "baby step approach," using Puridiom to improve the quality of its supplier information and increase overall productivity for managing supplier data. Puridiom (1983; Mechanicsburg, PA; www.puridiom.com)
Take business services seriously: JDSU's employees are using Rearden Commerce's online business services marketplace to find, purchase and schedule the services they need. Rearden enables JDSU's team to modify policy and add or change suppliers or services company-wide, by group or even by employee, on the fly. Results: The company has doubled its online domestic travel booking activity in the past year, resulting in reduced net ticket costs. Rearden Commerce (2000; Foster City, CA; www.reardencommerce.com)
Use industry-specific procurement solutions — I: Research-intensive institutions use SciQuest's HigherMarkets solution to address their unique procurement challenges. Results: The institutions leverage the savings of e-procurement in an environment that matches their processes. SciQuest, Inc. (1995; Cary, NC; www.sciquest.com)
Tackle contract lifecycle management: Companies like Cummins are using contract management solutions from Selectica to centralize contracts, gain better visibility into agreements and address regulatory requirements, risk management and cost containment. Results: Cummins created a global framework for compliance and enabled a Six Sigma "greenbelt project" with initial savings of more than $150,000. Selectica (1996; San Jose, CA; www.selectica.com)
Use industry-specific procurement solutions — II: Property management companies and corporate owners of commercial real estate use SiteStuff's procurement solution to manage purchases of MRO products and services on a per property basis. Results: Users get the functionality to support their specific operations, plus access to suppliers targeting their industry. SiteStuff, Inc. (1999; Austin, TX; www.sitestuff.com)
Bring in a sourcing partner: A large educational institution partnered with Source One to centralize sourcing and contracting. Results: A pilot yielded savings greater than 20 percent, prompting the organization to appoint Source One as the strategic sourcing partner for the organization's entire spend. Source One Management Services, LLC (1992; Willow Grove, PA; www.sourceoneinc.com)
Find new ways to leverage current suppliers: A large appliance manufacturer is using Staples Contract to create a more flexible, cost-efficient solution for managing price list inventory. Results: Staples stores price data for the customer and prints and delivers updated price lists in 24 hours; the customer saves money and uses less warehouse space. Staples Contract division, Staples Inc. (1986; Framingham MA; www.staplescontract.com)
Go global, remain flexible: Companies using TradeCard's global trade platform automate global sourcing and procurement processes, giving buyers and suppliers "one version of the truth." Results: Increased shipment and invoice volume, decreased transaction costs, greater alignment with consumer demand. TradeCard, Inc. (1999; New York, NY; www.tradecard.com)
Make contract management proactive: Companies using contract lifecycle management solutions from Upside Software automate contract creation and ensure that contractual commitments are captured and proactively managed. Results: Ability to manage more complex agreements; integrate contract information from disparate systems; and comply with legislation and mandates. Upside Software Inc. (2000; Edmonton, Alberta; www.upsidesoft.com)
Synch Procurement with Finance/Treasury: Verian Technologies believes organizations must improve the entire purchase-to-pay operating infrastructure to integrate the traditional supply chain with the financial supply chain. Purchasing and Finance/Treasury must be in sync, communicate openly and frequently with each other, and have their systems coordinated and integrated to reap the greatest possible benefits. Verian (1996; Charlotte, NC; www.verian.com)
Enable suppliers to encourage e-procurement adoption: A Fortune 100 company is using Vinimaya to replace its supplier punchouts and third-party catalog provider and to power its in-house e-procurement "shopping mall." Results: 350 online and stored catalogs help the company meet its end user adoption targets for its e-procurement system. Vinimaya (2000; Shelton, CT; www.vinimaya.com)
Support sustainable supplier development: Vodafone uses a solution from Xcitec to support supplier registration, assessment and auditing, providing a basis for sustainable supplier performance management. Results: Increased supplier performance and continuous supplier development. Xcitec (1999; Munich, Germany; www.xcitec.com)
Fulfillment/Logistics
Re-centralize distribution: Customers of ATC Logistics & Electronics use ATCLE to re-centralize distribution by consolidating inventory from multiple locations and vendors at a central location with serialized tracking. Results: Reduced inventory loss and carrying costs, lower freight costs, elimination of retailer penalties. ATC Logistics & Electronics (1996; Fort Worth, TX; www.atcle.com)
Automate service parts management for the aftermarket: A Fortune 500 company uses Baxter Planning Systems to control inventory across its multi-tiered logistics network, integrating global inventory planning, rebalancing and optimizing replenishment with a third-party logistics plan. Results: Service levels improved to 99.5 percent while reducing inventory months-of-supply by 50 percent. Baxter Planning Systems (1993; Austin, TX; www.bybaxter.com)
Synchronize globally: Blinco Systems's clients use the enabler's solutions to synchronize their value chains, ensuring that relevant supply chain information is instantly visible throughout the organization and available for sharing in real time with authorized partners. Results: Eliminated cost uncertainties, as well as reduced global inventories while maintaining high fulfillment rates. Blinco Systems Inc. (1988; Toronto; www.blinco.com)
Leverage a "single version of the truth": More than 200 companies around the world use CEVA Logistics to orchestrate their supply activities and capture and correlate all supply chain data in a unified repository. Results: These companies and their partners and suppliers operate off a "single version of the truth" to manage demand, logistics, warehouse and settlement operations. CEVA Logistics (1981; Jacksonville, FL; www.us.cevalogistics.com)
Automate global operations for greater visibility: Companies like a major specialty retailer use GT Nexus to automate import operations and enable better import visibility. Results: These companies can now manage their import operations more proactively and by exception. GT Nexus (1998; Alameda, CA; www.gtnexus.com)
Move from intuition to analysis in the warehouse: Stonewall Kitchens uses Integrated Warehousing Solutions to understand the best place to focus resources in the warehouse. Results: 97 percent zero variance of SKUs counted in cycle counts, 99.9 percent accuracy at the unit level, shipments up 35 percent. Integrated Warehousing Solutions (1995; Downers Grove, IL; www.irmswms.com)
Centralize command and control of transportation processes: Carrier usage at each of Rich Products Corporation's 60-plus locations was neither controlled nor measured. The company tapped LeanLogistics to manage daily operations for all locations. Results: Increased coordination and control, at a lower cost. LeanLogistics (1999; Holland, MI; www.leanlogistics.com)
Going green in the warehouse: A number of Manhattan Associates' customers are applying the enabler's solutions to "green" their warehouse and DC operations. Results: Users move and touch products fewer times and reduce forklift usage, lowering handling costs, energy consumption and emissions. Manhattan Associates (1990; Atlanta; www.manh.com)
Consider outsourcing reverse logistics, too: A manufacturer of personal navigation products opted to outsource its supply chain management to ModusLink for both forward and reverse logistics. Results: Customer service improved even as demand more than doubled, while the returns program achieved a 36-hour turnaround. ModusLink — A subsidiary of CMGI (1984; Waltham, MA; www.moduslink.com)
Give warehouse staff access to real-time information: Dorfman Pacific deployed Motorola's wireless infrastructure and a WMS from HighJump Software in its California warehouse to automate order picking and enable mobile workers with real-time visibility into business-critical information. Results: The warehouse is handling approximately twice the number of orders during peak period while cutting labor costs by nearly 30 percent. Motorola, Inc. (1928; Chicago, IL; www.symbol.com)
Leverage your solution and service providers' relationships: With 40,000 returned low-end printers sitting in one of its warehouses, a provider of home office products tapped into New Age Electronics' channel relationships to find a retailer willing to take the units. New Age helped the company get all units processed in less than six weeks. Results: Savings of almost $1 million for the manufacturer and a healthy profit for the retailer. New Age Electronics (1988; Carson, CA; www.newageinc.com)
Synchronize Logistics and Finance: Morningstar Foods is using a TMS by Next Generation Logistics to manage transportation and address freight accrual generation and freight bill payment and audit processing. Finance now uses the TMS to track costs and access freight reports much faster for analysis. Results: Automated freight bill auditing in the field saves time in managing the exceptions rather than hundreds of freight bills. Next Generation Logistics, Inc. (1988; Inverness, IL; www.nextgeneration.com)
Track assets in real time for better material flow: Toyota is supporting its new San Antonio assembly plant with telematics from Ryder System to provide electronic truck communication in real time. Results: Improved inventory flow, cost savings and improved "quick to market" competitiveness. Ryder System, Inc. (1933; Miami; www.ryder.com)
Choose solutions that are a win for supply chain partners, too: Brewers are using Satellite Logistics Group to gain real-time intelligence on product throughout their supply networks and better manage inventories. Results: Less cooperage required to support the brewers' sales efforts, plus happier supply chain partners in the distribution channel. Satellite Logistics Group (1984; Houston; www.slg.com)
Take a strategic approach to the service chain: Avaya deployed a service parts management solution from Servigistics to gain better control of inventory and improve first-time fill rates across its network. Results: Service levels increased to 95 percent, inventory reduced by $50 million. Servigistics (1999; Atlanta; www.servigistics.com)
Accelerate the information cycle: Before implementing Sterling Commerce's TMS, Dial Corp. sent information to its locations monthly, allowing only post-event analysis. Results: Able to more immediately tap cost-saving opportunities, Dial has saved as much as 12-15 percent in high-volume lanes. Sterling Commerce (1996; Dublin, OH; www.sterlingcommerce.com)
Go from high-touch to "one-touch" fulfillment: Leveraging its own software and integration tools, Sun Microsystems created a model for the One-Touch Supply Chain and a portal to give suppliers real-time access to planning and live order information. Results: Logistics costs reduced by over 20 percent, finished goods inventory reduced by up to 40 percent, and more than 50 percent of orders shipped directly to customers from suppliers. Sun Microsystems (1982; Santa Clara, CA; www.sun.com)
Tap electronic pedigree for track and trace: US Oncology launched a pharmaceutical distribution business with an electronic pedigree solution from SupplyScape to secure drug distribution and prevent entry of counterfeit drugs into its network. Results: The E-Pedigree solution tracks the path of each drug through the supply chain, verifies the information in the pedigree has not been altered, and provides automatic self-authentication. SupplyScape Corporation (2003; Woburn, MA; www.supplyscape.com)
Tap into flexible staffing to keep warehouses humming: Customers of Total Logistics Solutions can tap TLS' Rent-a-Supervisor service to bring in a temp supe or manager to oversee DCs throughout North America. Results: Decreased staff turnover and accelerated completion of projects, giving customers the breathing room they need to hire the best permanent individual. Total Logistics Solutions, Inc. (1997; Burbank, CA; www.logisticsociety.com)
Automate trade compliance: A major vendor of test and measurement solutions used TradeBeam to establish a single export control platform that enables compliance automation. The company's ERP system alerts the TradeBeam system when an order comes in, and if TradeBeam identifies a potential violation, the ERP puts the order on hold. Results: Reduced risk of fines, penalties and loss of trade privileges, plus a fully auditable compliance process. TradeBeam, Inc. (1999; San Mateo, CA; www.tradebeam.com)
Turn compliance into an advantage: American Eagle Outfitters uses TradeStone not only to collaborate with supply chain partners but also to ensure compliance with U.S. Customs regulations. Results: A single view of the product lifecycle for all stakeholders, enabling shorter lead times. TradeStone Software, Inc. (1999; Gloucester, MA; www.tradestonesoftware.com)
Optimize transportation network for a global impact: Companies use the on-demand TMS from Transplace to optimize freight spend with carriers by increasing load ratios and minimizing empty miles and detention hours. Results: More efficient transportation management, plus a smaller carbon footprint due to reduced shipments. Transplace (2000; Plano, TX; www.transplace.com)
Don't go global alone: When this distributor began buying products from Asian manufacturers, it had little control over shipping, and its newly global supply chain lacked efficiency, reliability and speed-to-market. That led the company to UPS's Trade Direct solution for distribution, which allows companies to bypass DCs by shipping directly to retail stores or customers' doors. Results: The company cut time to market to 9-11 weeks, increased reliability and won new business. UPS Supply Chain Solutions (2002; Atlanta; ups-scs.com)
Supply Chain Infrastructure & Integration/ERP
Bring ERP to SMBs: More than 550 manufacturers have signed up to use Bowen & Groves' ERP, which focuses on ease of use and integration of modules that can be added incrementally. Results: SMBs can tap into the same benefits of ERP as the Big Boys. Bowen & Groves Pty Ltd (1992; Melbourne, Australia; www.bowen-groves.com)
Create common regional business processes: With plans to become the predominant player in Asia-Pacific CPGs, Unilever wanted to use SAP's Supply Chain Planning solution to integrate disparate systems and establish uniform processes across the region. The company engaged Bristlecone to ensure a smooth rollout and ongoing support as countries went live. Results: Best practices applied across the region drove consistent improvements in service levels in Asia-Pacific. Bristlecone.com (1998; Milpitas, CA; www.bcone.com)
Use on-demand apps to facilitate system-wide integration: Magellan Midstream Partners tapped an on-demand platform from Cape Clear to centralize, standardize and automate information flow across legacy, ad hoc and third-party applications spanning 75 remote locations. Results: Magellan is positioned to streamline its supply chain and use on-demand integration throughout the entire system. Cape Clear Software (1999, San Mateo, CA; www.capeclear.com)
Integrate systems for an integrated business: Teknol, Inc. implemented the DEACOM ERP to integrate and manage its manufacturing business processes through a unified system. Results: Shipping process managed more efficiently through a Web link UPS, with visibility for employees and customers; elimination of formula management issues; improved inventory management. Deacom, Inc. (1995; Wayne, PA; www.deacom.net)
Enable B2B connectivity on customers' terms: eZCom offers a software-as-a-service solution that lets SMBs more easily — and affordably — integrate with major retail supply chains. Results: Less manual work for the SMB, better compliance with customer mandates. eZCom Software Inc. (2002; Englewood, NJ; www.ezcomsoftware.com)
Use connectivity as a competitive advantage: Many companies are seeking to be the easiest supplier to do business with by leveraging Hubspan's Integration-as-a-Service model of B2B connectivity, a Web- and subscription-based integration hub, to make it easier for customers to get information such as product availability and order status in real time. Results: When a company can provide these kinds of data and competitors can't, the game is over. Hubspan (2000; Seattle, WA; www.hubspan.com)
Benchmark, benchmark, benchmark...and then enable: Customers are using Lawson Software's Opportunity Analyzer solution to map current performance again industry benchmarks. The solution highlights which processes to improve by implementing best practices. Results: Benchmarking helps a company understand which solutions can best be applied to drive improvements. Lawson Software (1975; St. Paul, MN; www.lawson.com)
Find new solutions to solve new problems: Companies across a range of industries have turned to Nulogy to develop specialized solutions for the newest and most challenging problems in the supply chain industry. Results: Customers are able to overcome very specific supply chain challenges and advance toward their 21st century supply chain. Nulogy Corporation (2002; Toronto; www.nulogy.com)
Leverage solution capabilities beyond immediate needs: TOMASCO mulciber INC. used an Internet-based system from Plexus Systems to meet its OEM customer's requirements for EDI, but the company leveraged additional capabilities to gain greater shop floor control, traceability, quality management and accounting. Results: Met customer's requirements and ISO certification, inventory reduced over 20 percent, WIP reduced over 40 percent. Plexus Systems, Inc. (1995; Auburn Hills, MI; www.plex.com)
Build flexibility into the IT backbone: Many large enterprises use a development platform from Skyway Software to create service-oriented architecture applications as an integral component of their business process platform. Results: A more responsive IT infrastructure that can be continuously aligned with business requirements and market dynamics. Skyway Software (2001; Tampa, FL; www.skywaysoftware.com)
Outsource connectivity: SPS Commerce currently processes more than 3 million EDI transactions monthly on its customers' behalf. Results: Handing off connectivity frees up IT staff to work on more core projects, while allowing a company to expand its EDI connections to new suppliers or customers. SPS Commerce (1996; Minneapolis; www.spscommerce.com)
When identifying new enterprise solutions, look at what you already have in place: DCI Cheese Company grew rapidly through acquisitions and needed an enterprise system to manage its multiple businesses. DCI discovered that one of its acquisitions was using the Enterprise 21 solution from Technology Group International and opted to roll the system out to the entire corporation rather than bring in a new solution. Technology Group International (1991; Toledo, OH; www.tgiltd.com)
Finding the Value of RFID In…
Customers of Aankhen are incorporating RFID- and GPS-based technologies to establish an on-demand supply chain visibility platform. By adding information from environmental sensors, companies can use the solution to detect, for example, when a container of HDTVs was dropped, triggering exception processing and quality assurance processes. Results: One company is estimated to be saving $150 million a year from the new process. Aankhen Inc. (2001; San Jose, CA; www.aankhen.com)
Companies are tapping into the line of network appliances created by Blue Vector to add RFID and other wireless sensor technologies to their operations and then integrate the information from these sensors with their enterprise software systems. Results: Blue Vector's vision is to create an "Internet of things" to track and manage inventory and assets in real time, and also detect and correct supply chain issues as they occur. Blue Vector Systems (2002, Palo Alto, CA; www.bluevector.com)
CHEP tapped Cactus Commerce to provide real-time visibility to its customers for their products as well as for CHEP's reusable assets in its extended supply chain. Results: Customers are able to see exactly where their products are at any given time, enabling more efficient management of stock throughout the global supply chain. Cactus Commerce (1996; Gatineau, Quebec; www.cactuscommerce.com)
For better management of its shipping and receiving operations, Sun Microsystems's Events Group turned to Fluensee Dock, a solution that uses RFID to automate shipping and receiving as returnable, reusable equipment moves in and out of a facility. Fluensee provides Sun with real-time visibility into the movement of its equipment, prioritization tools, as well as detailed management reports. Results: The real-time information provided by the system allows for a proactive response when something goes awry with a shipment. Fluensee (2005; Englewood, CO; www.fluensee.com)
Dutch flower auctioneer FloraHolland deployed an RFID platform from GlobeRanger to track the thousands of trolleys of flowers that roll through its million-square-foot Naaldwijk distribution and auction site. Results: Savings of $200,000 a year in inventory handling costs. GlobeRanger Corporation (1999; Richardson, TX; www.globeranger.com)
Gulf States Toyota relies on WhereNet's active-RFID tracking system to locate and process more than 190,000 cars annually at its 84-acre processing center in Houston. Results: Reduced labor cost for vehicle processing, and better yard throughput and responsiveness to dealer and customer demand enabled by reduced on-site dwell time. WhereNet (1997; Santa Clara, CA; www.wherenet.com)
With a goal of meeting the Wal-Mart mandate a year ahead of deadline, Beaver Street Fisheries set up a test lab in its warehouse to conduct pilot programs, ultimately selecting a Zebra Technologies printer to encode and validate RFID inlays. Results: The lab environment helped Beaver Streets understand the changes to business processes and software engineering required to make RFID meet the company's vision for the technology. Zebra Technologies (1969; Vernon Hills, IL; www.zebra.com)
Consulting
Focus on skills development: ADR works with clients on staff competency assessments in all areas of supply chain management (SCM), and then develops custom training programs. Results: By building skill sets within its customers' staffs, ADR helps these companies build best-in-class organizations prepared to undertake strategic activities. ADR North America LLC (1986; Ann Arbor, MI; www.adrna.com)
Have your solution provider "walk the process": When Avnet Logistics undertook a supply chain design engagement for a technology customer, the Avnet team traveled to Asia to observe the "life of an order" and how the company's systems managed the supply chain end-to-end. Results: The assessment resulted in practical recommendations on areas that would provide an immediate impact and better align operational processes with the customer's business objectives and conditions. Avnet Logistics, a division of Avnet, Inc. (2005; Phoenix; logistics.avnet.com)
Rethink your services sourcing strategies: Censeo Consulting has worked with U.S. government agencies, customizing goals based on the services being procured. In the area of services, Censeo is sponsoring studies to better understand which industries are the best suited for small business and to "unlock" areas where SMBs can deliver more value and expertise to government. Censeo Consulting Group (2003; Washington, DC; www.censeoconsulting.com)
Integrate the information and physical supply chains: Companies turn to the FORTE to help design and implement new management practices that integrate the physical and information-based supply chains. Results: Building synchronized supply chains helps these companies tailor products and services to increasingly smaller market segments and to respond to new market trends rapidly. FORTE (1980; Mason, OH; www.forte-industries.com)
View complexity as an opportunity: Many complex sourcing deals fail because supply chain organizations approach complex transactions as commodity procurement contracts rather than as catalysts for building relationships with the functions involved. Consulting firm Pace Harmon brings a collaborative approach to its clients, helping the supply chain organization build bridges with functional stakeholders and external partners. Results: Partnering strategies help build long-term relationships that ensure regular communication of performance, risks, issues and progress, while also facilitating the sharing of knowledge and experience. Pace Harmon (2003; Vienna, VA; www.paceharmon.com)
Tap solution providers that can roll with the times: One major soft drink company has had a five year relationship with Precision Industries as its exclusive supply chain services provider for repair parts. This customer's desire to maintain its strategic advantage paired with Precision's ability to engage with changing business conditions have made the two companies partners in maintaining a cutting-edge supply chain. Precision Industries, Inc. (1985; Omaha, NE; www.precisionind.com)
Supply Chain Risk Management
Align supply chain strategy with tactical execution: Leveraging Supply Chain Risk Management solutions from Fogbreak, companies are linking codified agreement information with transactional ERP data to deliver the transparency and predictability needed for cross-enterprise performance. Results: Measurable improvement in reducing material acquisition cost, reducing excess and obsolete inventory, ensuring continuity of supply, and drastically improving productivity across the supply chain. Fogbreak Inc. (2005; Milpitas, CA; www.fogbreak.com)
Business Process Management
Spark better process management: Propane distributor Blue Rhino is using business process management technology from Metastorm for inventory management across its distribution network and for overall corporate governance. Results: Greater inventory visibility for both Blue Rhino and its retail customers, resulting in greater responsiveness to end consumers, as well as compliance with Sarbanes-Oxley. Metastorm (1996; Baltimore, MD; www.metastorm.com)
Payment
Automate the purchase-to-pay process: Corporations like Finnair and Ahlstrom are deploying purchase-to-pay solutions from BasWare to automate invoice processing, adopting the tools they need to improve and speed the purchase and payment function. Results: The same number of staff can process more invoices (twice as many, in Ahlstrom's case), plus increased accuracy and the ability to attract early payment discounts and to avoid pay payment penalties. BasWare (1985; Stamford, CT; www.basware.com)
Automate the financial supply chain: Companies like natural gas distributor KeySpan are closing the loop on the procure-to-pay process by using the electronic settlement network operated by JPMorgan Xign to extend automation to the back end "financial supply chain" processes of purchase order delivery, invoicing and payment. Results: Increased working capital and earnings, greater early payment discounts and increased days payable outstanding (DPO). JPMorgan Xign Corporation (2000; Pleasanton, CA; www.xign.com)
Give suppliers greater payment certainty: Customers of PrimeRevenue are leveraging the enabler's supply chain finance platform to unite their suppliers around a common view of future-dated financial settlements, linking supply chain events, the flow of funds and the flow of goods and services. Results: This common view allows all parties to reduce the excess working capital and expense caused by payment uncertainty. Buying organizations and their suppliers can better manage their cash flow. PrimeRevenue Inc. (2003; Atlanta; www.primerevenue.com)
Product Lifecycle Management
Leverage outside resources to gain faster time-to-market: SafeView leveraged Arena Solutions' PLM offering to manage its outsourced product design and manufacturing relationships as a way of gaining immediate access to key resources, relationships and skills. Results: Time-to-market beat initial estimates by more than 50 percent, and time-to-revenue accelerated by 20 percent. Arena Solutions (2000; Foster City, CA; www.arenasolutions.com)
Centralize and automate product information management: Customers tap FullTilt to centralize and automate their product data processes. Results: Product managers now can spend their time pushing new, innovative products out to their customers and not looking for product data, along with greater new product introduction visibility for senior management, improved customer satisfaction and increased sales. FullTilt Solutions (1987; Wayne, PA; www.fulltilt.com)
Training & Development
Keep skill sets current: A $1 billion-plus manufacturer of furniture and electronic assemblies turned for procurement team training to Next Level Purchasing, which offers the Senior Professional in Supply Management (SPSM) certification. Results: The team's achieved savings in the year after their training outpaced the previous year's savings by millions of dollars. Next Level Purchasing, Inc. (2000; Moon Township, PA; www.NextLevelPurchasing.com)
Quality & Compliance
Take a proactive approach to governance, risk, compliance and quality management: Many leading companies are using enterprise-wide governance, risk, compliance and quality management solutions from MetricStream to meet the risk management challenge. Results: Results: These companies are getting the benefits of centralised visibility, lower risk of noncompliance and lower cost of poor quality. MetricStream Inc. (1999; Redwood Shores, CA; www.metricstream.com)
Business Intelligence
Make business intelligence interactive and real-time: Supply chain managers need to acquire, analyze and act on good information in real time, but they often lack the necessary enabling tools. Cognos aims to fill that gap with its Cognos Now! family of BI solutions. Results: Interactive, self-service dashboards and real-time information monitoring. Cognos Inc. (1969; Ottawa, Ontario; www.cognos.com)
Bridge the gap between strategic and operational decision-making: A global manufacturer uses River Logic to tap into data from ERP, manufacturing, engineering and general ledger systems, modeling "what-if" scenarios. Results: Experimenting with variations of each scenario leads to improved capital proposals and more nuanced marketing initiatives. River Logic, Inc. (2000; Dallas; www.riverlogic.com)
Lean Manufacturing
Challenge conventional wisdom: Factory Physics challenges manufacturers to identify the approach that is best for their environment, even if that runs contrary to popular continuous improvement initiatives such as Lean or Six Sigma. Results: Moog Inc. learned that by increasing its inventory buffer, it could reduce cycle times in the plant/cell from 12 days to 3 while improving on-time delivery from less than 50 percent to more than 95 percent — producing an unexpected 7 percent boost in productivity and an overall inventory level drop of more than 15 percent. Factory Physics Inc. (2001; Bryan, TX; www.factoryphysics.com)
Companies in this article