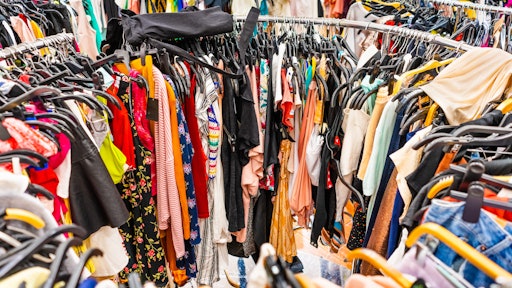 Sundry Photography AdobeStock_320444308
Retailers were beginning to get a handle on the supply chain problems created by the pandemic that upended their well laid inventory and sales plans, and then inflation came calling. Suddenly, summer swimsuits that showed up in October and Christmas decorations that showed up in February weren't the only inventory problems retailers faced. Sudden price surges have consumers holding back, in some areas, and has retailers carefully trying to guess where customers are most likely to tighten their belts, and where they'll decide to splurge with the holidays approaching.
All the while, merchants are still grappling with late arriving inventory, an abundance of marked-down inventory, and their own belt-tightening measures. While it's costly for retailers to take unplanned markdowns, it's also become an inventory storage problem. In an unprecedented move signaling just how severe the inventory problems have become, many retailers have decided it's easier and cheaper to return customers' payment and have them keep the merchandise when an item doesn't work out.
Facing the double whammy of Inflation and supply chain issues has left many of those responsible for managing the retail supply chain scratching their heads trying to figure out how to stay ahead of the game. And ever shifting consumer behavior isn't helping.
Whether or not these problems are short or long term, there are ways for retailers to retool their supply chains to minimize the impact now and in the future. Here are three ways you can safeguard your retail supply chain against future unexpected events that leave you holding the bag.
Manage inventory disruptions by adding more inventory…yes, really.
If you're already having trouble getting inventory in stock and on time, why would you take the risk by adding more? On the surface 'sell more products in more product categories' sounds like something all retailers would be doing if it were that easy. But today it is actually easier than ever.
Now you can extend the range of products you are offering without actually investing in and owning more inventory. Through a third-party marketplace platform, you can add goods in existing categories as well as add entirely new categories by partnering with new suppliers who own and stock the products for you.
By connecting third-party suppliers to your e-commerce platform, you can easily swap and customize merchandise offerings to accommodate consumer's changing needs during challenging times. When specific items or specific suppliers are having supply chain challenges that threaten your ability to stock items on time, you simply turn them off. You're not stuck accepting an order that you paid for months ago, or only buying from a supplier with whom you've spent months negotiating terms.
With third-party marketplaces, you can add new suppliers in days, not weeks or months, to dramatically expand your ability to adjust ever changing inventory demands. And most importantly in challenging economic times, this model gives you the ability to boost revenue without tying up more capital.
Increases focus on regional diversity when expanding suppliers
It's always good to invest back into your community and it's also good for the environment, but sourcing locally also decreases the chances that your critical goods will get caught up in the supply chain crises of late. Sourcing locally can mean your village, state or country, as long as your entire business plan isn't entirely reliant on goods getting across seas, off boats and through customs.
How to source locally means that as you look at range extension strategies, consider the interesting manufacturers on this side of the Atlantic and Pacific. More and more companies are beginning to turn to U.S. manufacturing so invest time in establishing relationships with new suppliers.
But reducing risk through supplier diversification doesn't have to mean focusing exclusively on local suppliers, or exclusively avoiding Asia where many of last year's troubles originated. A range of regional suppliers across Asia, Europe and the Americas will help soften the impact when any one area finds itself with a stalled supply chain.
Get to know your customer – really know them and make it work for you
You have happy customers and you have loyalty programs to help keep them that way in the form of rewards. But how well do you really know your customers? You are most likely sitting on a wealth of data about your customers that you can mine and analyze to stay on top of their needs. And now that your business is more nimble with less capital tied up in inventory, focusing on getting to know your customer's habits and needs even better, will enable you to respond to them quickly and stay ahead of supply chain challenges.
If you can spot a surging trend faster than your competitors, then you can be the first to capture the supply of the product and please your customers in the process.
To stay ahead of their shifting needs, there are many ways to boost your data gathering. Get creative about ways to take the pulse on their shopping habits occasionally by surveying customers and incentivizing them to participate in occasional check-ins as part of loyalty programs.
Changes in consumer behavior and style trends need not take you by surprise if you look at the signs along the way. Communicating with your customers on a regular basis will not only help you prepare as best you can for changing consumer behavior, but it will also help guide you through product range extensions as well.
To be sure, future curve balls will come. The only certainty in business is that change keeps coming. Leaning into the excitement of ever-changing times with these techniques will make it feel less like riding a roller coaster and more like coasting the waves.