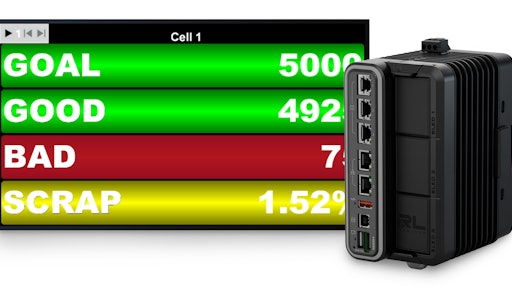 Red Lion
Red Lion introduced FlexEdge Intelligent Edge Automation Platform with HDMI, powered by Crimson and designed with user-friendly configuration capabilities to easily develop and deploy customized dashboards to keep production teams informed of critical KPIs.
"Adding the HDMI feature to FlexEdge is complementary to the already powerful and secure Edge platform," says Courtney Peel, product manager, access, at Red Lion. "Even in the most efficient manufacturing or process environment, the ability to empower operators on the plant floor with real-time data visualization, boosts productivity."
From Red Lion:
Directly collect data from devices such as PLCs, drives, barcode scanners and more. Map data to PLCs, PCs and SCADA systems with a simple no-code drag-and-drop interface.
Use the built-in graphics library, with over 5,000 drag-and-drop elements to visually represent your application, including tanks, gauges and other industrial graphics choices.
Sync data to FTP servers and MS SQL Server to send information where it needs to go.
Set up alerts for important events using the built-in mail manager, which sends notifications to one or more specified recipients via email, with attached report or logged data files.