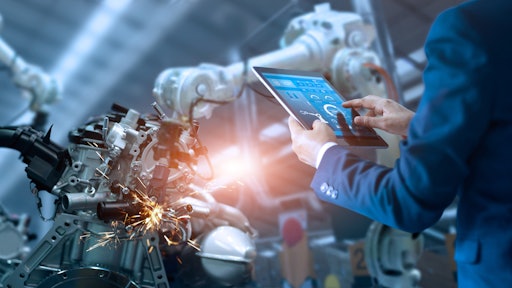 ipopba/adobe.stock.com
Exotec introduced 3 new solutions for automated warehouses in their portfolio -- a new conveyor system, an improved picking solution, and new proprietary warehouse software. Businesses around the world are looking for unique and new ways to address industry needs post-pandemic. What this means is that companies are having to do more with less. Exotec's 3 solutions all integrate with their Skypod system. Giving people the ability to work easier through robotics.
"With these innovations, we are further enabling our customers to run efficient, scalable, and modular warehouses that flex to fit their unique needs," says Exotec CEO and Co-founder Romain Moulin. "Our work with more than 30 industry-leading brands provides us with a unique perspective on the most pressing warehousing needs and allows us to continuously innovate to unlock even more value for our customers."
From PR Newswire:
Skypath is a modular conveyor system that can reach a maximum throughput of 2,500 totes per hour. The modular design consists of straight, curved, and inclined building blocks that fit most logistic needs and layouts and can easily adapt to customer needs.
Skypicker is an intelligent picking solution for modern warehouses. It features machine learning-based vision that automatically detects each item's dimensions to intelligently place items in preparation containers in a way that optimizes for the available space and smooth package handling. Improvements to the system allow the Skypicker to reliably reach outputs of up to 600 items per hour.
Deepsky is an end-to-end warehouse software that seamlessly integrates Exotec technology with most warehouse management and control systems as well as third-party automation equipment. It automatically collects data and feeds it into pre-configured dashboards for immediate visibility and optimizes for consistent performance.