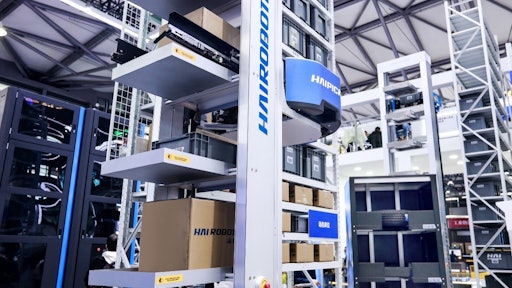 HAI Robotics
HAI ROBOTICS unveiled the HAIPICK A3 fork-lifting ACR, A42-FW flexible-width ACR and the A42T telescopic ACR, which refreshes storage height record in the industry at 10 meters.
"Since we initiated the world's first ACR system in 2015, we have been constantly updating our product as well as solutions, centering on elevated picking height, flexible picking arms, slender robot body and better software system (HAIQ), addressing the demands for higher storage density, mixed picking of totes and cartons and more storage locations against the backdrop of surging e-commerce order-fulfillment strain," says Richie Chen, founder and CEO of HAI ROBOTICS.
From PR Newswire:
The HAIPICK A3 robot, adopting a fork-lifting picking design, is created for wider storage scenarios in which goods are not necessarily placed inside a box.

The HAIPICK A42-FW robot targets higher storage density, allowing for picking and handling of different sizes of totes or cartons.

The new version of HAIQ allows seamless interaction with all kinds of equipment such as Kiva robot, slam robot, conveyor belts, etc.