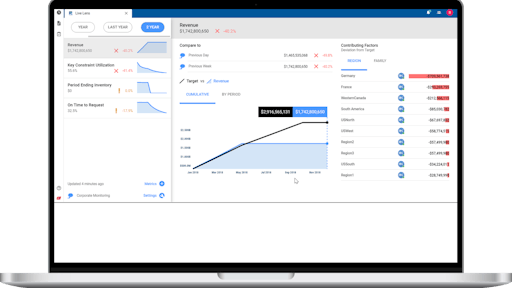 Kinaxis Inc.

Kinaxis Inc. announced that L3Harris Technologies, an agile global aerospace and defense technology innovator, has selected Kinaxis RapidResponse to support strategic and tactical decision-making across its supply chains.
L3Harris, one of the largest defense contractors in the world with 48,000 employees and $18 billion in revenue, provides advanced defense and commercial technologies across air, land, sea, space and cyber domains. To provide end-to-end supply chain visibility to plan, monitor and respond to demand and supply changes in near real-time, L3Harris selected Kinaxis to support the company's enterprise planning, starting with its Space and Airborne Systems and Communication Systems segments.
Kinaxis will help L3Harris enable collaboration with internal stakeholders as well as customers and suppliers on sales and operation trade-offs, engineering changes and supply chain disruptions – all critical to meeting targets. Leveraging the power of Kinaxis RapidResponse and its unique concurrent planning technique, L3Harris gains a single, scalable SaaS planning platform that synchronizes the company's supply chain.
Complex production and supply networks, demand for innovation, and global disruptions are all familiar strains on today's aerospace and defense supply chains. Kinaxis helps manufacturers gain full visibility into the end-to-end supply chain to make it easier to keep pace, adapt to shifting demand and manage complexity. With RapidResponse, companies can collaborate across the supply chain network for fast, feasible demand, supply, inventory and capacity plans, run simulations for situations like rate changes, supply disruptions and engineering changes, and manage data from multiple sources all on a single platform.
"The most successful companies today make the right decisions sooner so that they can act faster than their competitors," said John Sicard, CEO at Kinaxis. "We're glad to have earned the trust of L3Harris and to work with them to give end-to-end supply chain visibility so they can stay responsive to customer needs while enhancing their supply chain agility."