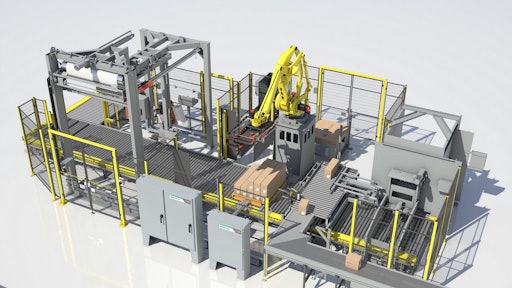 Brenton
Brenton will be showcasing its expertise in end-of-line packaging and robotic integration in case packaging, palletizing and material handling with 12 virtual demonstrations during PACK EXPO Connects 2020, Nov. 9-13.
Pharmaceutical and Medical Devices
End-of-line packaging using robotic pick-and-place is gaining acceptance as the go-to packaging system for the pharmaceutical and medical device industries, and it's easy to see why. Robotic pick-and-place offers a more compact, efficient design; they bring a higher level of cleanliness to end-of-line applications; and they have a proven track record of reliability, durability and accuracy.
Brenton has the industry knowledge to design a wide range of pharmaceutical and medical device packaging solutions, including:
Solid Does end-of-line
Robotic Sterilization tray handling
Thermoformed (blister pack) packaging
Robotic Palletizing
Integrating robotics into palletizing is a great, efficient option for carrying hard-to-handle products, as well as larger scale systems with an optimized footprint. Brenton offers many different options when it comes to picking the right robotic packaging equipment for your exact application, and will fully manage all programming and integration components for your project.
New Technology
One of many things that sets Brenton apart from competing companies is its drive to work closely with customers to develop new technologies. Brenton has been an innovator in the field of end-of-line packaging and robotic integration for more than 30 years, and many of its virtual demonstrations during PACK EXPO Connects 2020 focus on new technologies Brenton has developed for the packaging industries.