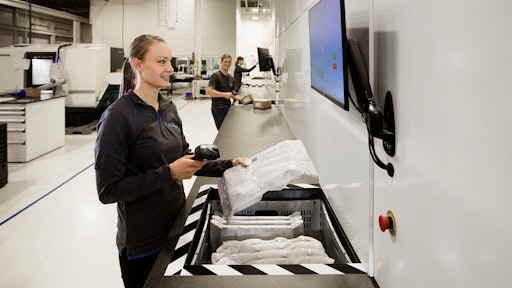 Attabotics
Attabotics announced $50 million in Series C funding led by Ontario Teachers' Pension Plan Board through its Teachers' Innovation Platform (TIP), along with existing investor Honeywell. The round, which brings Attabotics' total funding to $82.7 million, will be used to further accelerate Attabotics' commercial deployment, invest in new technologies, scale manufacturing operations and more.
Attabotics is the world's first supply chain solution for modern commerce. The company's all-in-one fulfillment system makes obsolete the endless aisles, rows, and conveyor belts of traditional warehouses to help retailers meet the needs of today's consumers in a way that's cost-effective and environmentally friendly.
Attabotics addresses the challenges of modern commerce in a scalable, cost-effective way, empowering brands and retailers to operate with a system that saves money, boosts productivity, and benefits the environment. The company currently has six live installations in North America spanning customers across retail, B2B, food and beverage and luxury retailers.
Inspired by ant colonies, Attabotics condenses a traditional warehouse into a single, vertical storage structure. Inside the structure, robotic shuttles move in three-dimensional space (X, Y and Z axes) to store and deliver goods to workers on the perimeter that pick, pack and ship modern commerce orders. Attabotics' single structure also significantly reduces a retailer's warehouse footprint (by up to 85%), allowing them to place warehouses closer to cities for faster delivery times and save money on real estate.
"We're privileged and honored to partner with Ontario Teachers'," said Scott Gravelle, Attabotics founder, CEO & CTO. "Attabotics has seen a significant uptick in interest from retailers and brands because we have created an innovative way for commerce companies to modernize their supply chain. COVID-19 has drastically accelerated commerce growth and demand for warehouse space, making supply chain efficiency a critical issue for all."
"We are excited by the opportunity to become a long-term investor because we believe in Attabotics' differentiated technology and highly skilled team, and how this combination is poised to disrupt existing cube storage solutions currently available in the market," said Olivia Steedman, Senior Managing Director, TIP at Ontario Teachers'. "We believe Scott and his team have created a unique technology that can rapidly be deployed, and which provides concrete benefits to retailers and their customers, including quicker delivery, reduced inventory, more efficient use of warehouse space and lower overall costs."