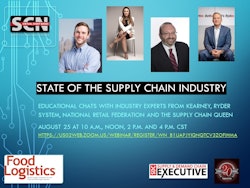 When the Coronavirus disease (COVID-19) hit, most of the nation—and the world--shut down.
Except for supply chains.
Learn more about the state of the supply chain industry--today and in the future--and how this pandemic has re-shaped the future of supply chains in the upcoming SCN Summit session, scheduled for Aug. 25.
The Supply Chain Network (SCN) Summit is a premier virtual event educating logistics professionals on critical issues impacting the supply chain industry.
REGISTER TODAY to reserve your spot!
10 a.m. CST
Track 1: Security of Food Supply
Corey Chafin, principal, food and beverage for Kearney, will discuss the end-to-end supply chain value diagnostic for sourcing and procurement of foods and what this means for the future of food post-pandemic.
Noon CST
Track 2: The Power of Value Creation in Sustainable Supply Chain
Sheri Hinish, The Supply Chain Queen, will discuss the importance of value creation in sustainable supply chains, including an inflection point of disruption in global supply chains, the need for transparency, the paradigm shift of price vs. value, how to position supply chains as a conduit for change, providing a roadmap for sustainable supply chains using sustainable development and more.
2 p.m. CST
Track 3: The Future of Retail
The Coronavirus has thoroughly disrupted the global supply chain from start to finish, forcing retailers to reevaluate their supply chains to ensure resiliency for the future. Jon Gold, vice president for supply chain and customs policy for the National Retail Federation, will talk about how retailers have been impacted, how they have responded and what their plans are for the future.

4 p.m. CST
Track 4: How Supply Chain Disruption Fuels Growth in E-Commerce Fulfillment & Last-Mile Delivery
Steve Sensing, president of global supply chain solutions for Ryder System, will focus on how supply chain disruption is fueling the growth in e-commerce fulfillment and last-mile delivery as well as the race for visibility and collaboration across the supply chain.
REGISTER TODAY to reserve your spot!
CLICK HERE to check out speaker bios.
Companies in this article