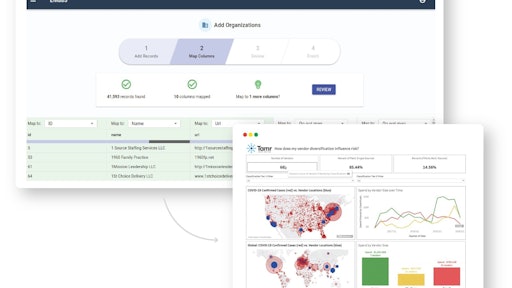 Tamr Inc. announced the launch of its "Data Can Help" solutions to enable global organizations to quickly uncover insights needed to optimize spend, minimize supply chain risks and identify alternative parts & suppliers, in light of the challenges presented by the COVID-19 pandemic.
As organizations deal with major disruptions to their business, many need to identify areas to reduce spending, optimize operations and look to resolve issues in their supply chain. Yet for most organizations, this data is not readily available for use. . Tamr helps organizations around the world increase their ability to make better business decisions by using data about risk, global spend, suppliers, vendors, parts, materials, customers and demand.
"The COVID-19 pandemic has strained organizations in ways many were not prepared to handle. This economic climate demands efficient, nimble operations and data is the key to unlocking that productivity," said Andy Palmer, CEO and co-founder of Tamr. "At Tamr, we are helping enterprises make data-informed decisions that help them address issues today and in the months to come, using our data mastering technology and our new "Data Can Help" solutions."
Tamr's data mastering solutions combine machine learning and human feedback to deliver business outcomes to the world's largest organizations. Tamr's "Data Can Help" solutions layer real-time data on the impact of COVID-19 worldwide on top organizations' supply chain and spend data to allow executives to make immediate decisions and minimize disruption for their organization. Tamr will deliver up to five analytics-ready datasets to power data visualization tools so that organizations can make data-informed decisions with regards to their spending and/or to their supply chain.
Data Can Help for Spend Analytics and Procurement – Allows companies to effectively identify opportunities for cost savings by mastering and categorizing a variety of direct and indirect spend datasets.
Data Can Help for Supply Chain Risk and Planning – Permits organizations to master their global supply chain data from varied datasets and ERP systems alongside global COVID-19 impact data to better anticipate closure impacts and identify alternative suppliers.
Organizations can master their enterprise data on spend and suppliers for six months using Tamr's hosted data mastering solutions. Starting at a price of USD 50,000 Tamr will reconcile business data with public data on COVID-19 outbreaks and lockdowns to deliver up to five analytics-ready datasets to power data visualization tools weekly, and will help organizations classify their spend to identify cost-saving opportunities.