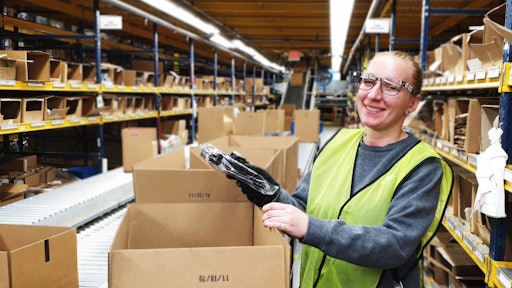 Neovia
Picavi announced that Neovia Logistics now uses 85 of the company's Smart Glasses by Picavi for order picking at its warehouse in Greenwood, Indiana. In addition Neovia has purchased another 100 Smart Glasses for future global rollouts. With this implementation, the 3PL service provider has the world's largest utilization of smart glasses in intralogistics. Neovia is achieving further efficiency gains with the Picavi Cockpit, a new smart application within the Picavi ecosystem. Neovia uses Picavi solutions to handle the processing of motorcycle components and retail merchandise for its internationally renowned motorcycle client at their Greenwood facility.
Neovia has been working with Picavi's smart glasses since 2019. With the latest expansion of its smart glasses fleet, the company now utilizes the hands-free approach of the pick-by-vision solution for order picking at their Greenwood facility. In addition, Neovia has acquired a worldwide location license from Picavi, which will allow the glasses to be used at all Neovia locations in the future.
Neovia has been able to increase their work efficiency by 15 percent after implementation of the smart glasses.
"With the Pick-by-Vision solution we have seen significant productivity improvments in our warehouse picking processes," says Larry Olson, Director Global Business Technology Solutions. "The simplified visual guidance for users also saves us up to 60 percent of our training time and has helped improve our overall outbound order accuracy."
Picavi

Cockpit guides users through the process

Neovia relies on the Picavi Cockpit for the administration of its entire collection of smart glasses. The new business intelligence solution has features to generate smart data as well as provides administration and maintenance of the pick-by-vision glasses. Among other things, the integrated mobile device management simplifies the training for new employees. The Screen Cast function allows the real-time display of the glasses to be projected onto a monitor or tablet. This allows trainers to illustrate work steps, especially for new employees. In addition, Neovia uses the Cockpit tool for analytics. Application parameters and KPI's are collected via sensors on the smart glasses and then optimized with the Picavi Cockpit. With this new tool, Neovia has been able to identify issues and enhance their use of their smart glasses.
Pick-by-Vision increasingly in demand worldwide
The Neovia order for Picavi smart glasses highlights the increasing demand for the Pick-by-Vision solution in the North America logistics sector. The German logistics start-up, founded in 2013, took this development into account last year with the establishment of the U.S. subsidiary Picavi U.S., Inc. This has strengthened customer-specific support for North America and business development from their location in Chicago, Illinois.