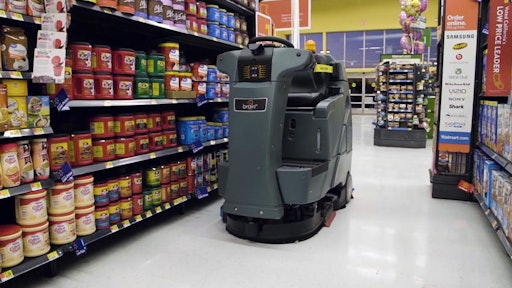 Brain Corp
Brain Corp and Dane Technologies announced a technology partnership to manufacture autonomous material delivery robots for use in public and commercial applications.
Under the partnership, Dane Technologies will license BrainOS, a cloud-connected operating system for commercial autonomous robots, and begin building the delivery robots in Q2 2020. The two companies will pilot the robots with several major retailers this spring.
"Dane Technologies has a successful track record of developing equipment for demanding retail and manufacturing environments, including the pioneering QuicKART shopping cart management system," says John Black, senior vice president of new product development for Brain Corp. "They are a perfect partner to help bring accessible automation to this broad range of applications."
The autonomous delivery robots are capable of operating across a variety of indoor public spaces, enabling the seamless transportation and delivery of goods from point to point. Users of the machine can utilize a simple and intuitive "teach and repeat" approach to building routes, allowing for easy initial deployment and updates to delivery routes as the environment changes. The robots enable workers to avoid pushing several hundred pounds of inventory from the back of a store to in-store displays, thereby increasing efficiency, lowering workers' compensation-related injuries, and freeing up time for employees to serve customers.
"Brain Corp delivers an industry leading AI software platform that enables manufacturers like Dane to build easy-to-use autonomous solutions at scale," says Dan Johnson, founder and CEO of Dane Technologies. "Our customers are looking for dependable automation solutions that can adapt to their changing operating environments and be implemented quickly and cost effectively. The Brain technology platform does not require custom infrastructure investments or specialized training. That allows these robots to deliver increased efficiency, safety, and a compelling return on investment to our clients almost immediately."