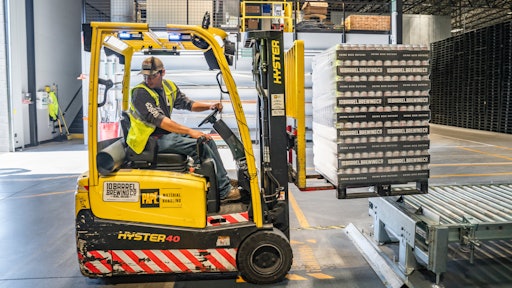 Evans Distribution Systems, a provider of third-party logistics and supply chain solutions, is transforming its warehouse packing line with a machine vision AI solution from ADLINK Technology, a global leader in edge computing. The ADLINK Edge™ Smart Pallet technology will be showcased by ADLINK in booth 614 during the 2020 IWLA Convention & Expo in San Diego, March 15 to 17, 2020.
Evans has deployed the ADLINK Edge™ Smart Pallet solution to improve accuracy and efficiency using two GigE cameras, an Edge AI Gateway computer and ADLINK Edge™ software. Package contents are recorded and classified as they move along the packing line and rule-based analytics are able to identify any incorrect contents.
The solution is able to cross reference real-time vision data viewing the box contents on the packing line against the packing list on Evans' Warehouse Management System and, if an error is detected, a label is printed on the box to signal that a manual quality check is required.
"Our investment in this technology from ADLINK is a small step toward a larger organizational goal: To provide the highest quality service to Evans customers using people and innovation to enhance the end-to-end supply chain," said Steve Ruch,vice president of warehousing at Evans. "The goal is to enhance our current operations with a non disruptive technology and machine vision AI has great potential to transform our business. The packing line conveyor still works in the same way but this machine is over 99% accurate, allowing us to utilize the valuable skills of our people in other areas more efficiently."
"Our Smart Pallet solution is out of the box technology with minimal configuration and is proven to transform warehouse logistics operations. It replaces traditional barcode hand-scanning by using machine learning to help automate correct packing in the warehouse, removing errors in inventory," said Daniel Collins, Director of IoT Solutions for ADLINK Americas. "As a smart solution, Smart Pallet includes all the hardware, software and training needed, including ADLINK's leading Smart Cameras, Edge IoT software for real-time connectivity and Edge IoT apps for machine vision."