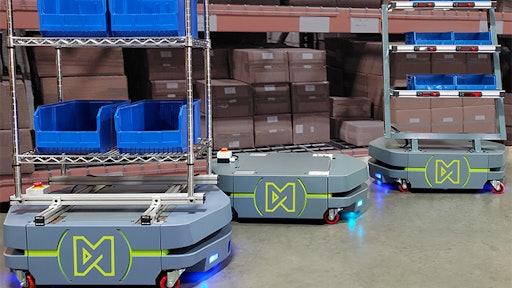 Matthews Automation Solution
The latest generation of Matthews Automation Solutions' Autonomous Mobile Robots (AMR) is on display in Booth 4013 at MODEX, in Atlanta's Georgia World Congress Center, March 9–12, 2020.
At MODEX, Matthews will demonstrate two vital distribution center applications — order picking and material transport — optimized through the collaboration of popular material handling technologies and advanced robotics solutions. Matthews' AMRs are available with different bolt-on-top attachments, each engineered to enhance specific warehousing tasks. These flexible hardware options, plus full controls and software integration with pick-to-light, motor-driven roller (MDR) conveyor and warehouse execution systems (WES), enable the progressive automated systems on display.
"Matthews AMRs are designed to increase efficiency within dynamic environments, such as e-commerce and omni-channel order fulfillment operations," explains Dave Remsing, Vice President of Market Development for Matthews Automation Solutions. "The AMRs manage repetitive work—such as handling and transporting cartons or totes—so associates can focus on value-added tasks, like picking and sorting orders."
To maximize their versatility and adaptability, the latest Matthews AMRs are engineered with easy-access mounting points upon which different, customized top attachments can be secured. Also offered in standard versions, the attachments — such as a motor-driven roller (MDR) conveyor for materials movement or light-directed shelving to carry totes or cartons for picking and order fulfillment — easily bolt on to the AMRs with readily available hardware.
Additionally, the AMRs leverage Matthews' best-of-breed software and proven interface expertise, enabling simple integration with existing host systems utilizing minimal IT support. The AMRs' fleet management software integrates with all major WES, warehouse management systems (WMS), warehouse control systems (WCS), and manufacturing execution systems (MES) and controls, as well as with applications for pick-to-light, put walls, MDR conveyor and other material handling automation.
To help users successfully implement their custom AMR solution, Matthews provides a comprehensive design and adoption process, including:
Consultation and Site/AMR Strategy
Application and Site Survey
Warehouse Layout Discussion/Facility Mapping
Site-Specific AMR Simulation
Hardware/Software Plan
Integration Testing
Site Integration and Installation
User Training and Go-Live Support
"AMRs complement more traditional material handling automation, such as picking systems, put walls and warehouse execution software," adds Remsing. "They reduce errors, minimize operator walking or driving time, and increase throughput with intelligent task routing software. Matthews robotics solutions are adaptable and scalable, enabling fluctuations in volume and process to be easily managed. Plus, the AMRs grow along with a facility's level of automation sophistication."
Matthews Automation Solutions' material handling automation and robotic technologies experts will be available to discuss specific order fulfillment applications in Booth 4013 throughout MODEX.