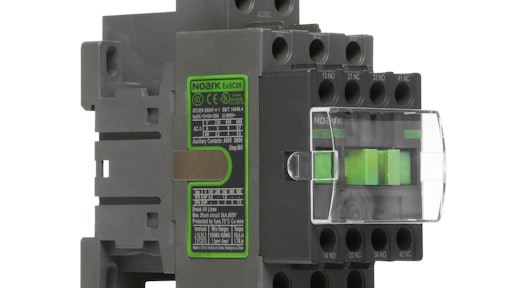 NOARK Electric
The new Ex9C F-type IEC contactors from NOARK Electric provides increased protection and stable performance on any AC or DC system. Featuring an electronic coil, the Ex9C F-Type Contactor compensates for changes in voltage fluctuations, which eliminates noisy, contact damaging chatter conditions. With a more efficient design, this contactor offers valuable integral surge protection and less energy is required to operate the coil which translates to lower operational costs.
Features include:
• Three frame sizes with rated current up to 100 A
• Coil control voltage 24~60 VAC/DC, 48~130 VAC/DC and 100~250 VAC/DC
• Integral surge suppressor – no need for separate component
• Reduced energy consumption
• Electronically controlled coil eliminates chatter – reduced wear and tear
Meanwhile, NOARK Electric is proud to announce the latest addition to the Series – M line of molded case circuit breakers –new 1 and 2 pole, M1 and M2.
These new MCCBs are designed for maximum performance and reliability. The compact case design of these breakers gives them a smaller footprint making them perfectly suited for use inside panels. Both frames sizes are available as 1 pole and 2 pole in a range of interrupting voltage ratings from 240-690 VAC and 250-500 VDC.
The M series conforms to global standards that include UL 489, CSA C22.2 No 5 and IEC 60947-2.
Features include:
• High breaking capacity up to 100 kA @ 480 VDC
• Available with fixed or adjustable trip settings to accommodate a broad range of applications.
• Patented arc extinguishing technology for added safety and durability.
• Patented bearing spindle mechanism reduces operating force needed for operation.
• Compact modular design saves space